Impressionable Years
In July of 2021, I wrote an article for our SoundLife blog called "Overcoming Fear with Music." In this article, I talked about various ways music can help people face fears, and I used myself as an example. I told a story about performing in a 7th-grade talent show in front of the whole school and being laughed off the stage. The result of this incident was a fear of singing in public. From then on, I went out of my way to avoid singing in front of people. Very few people to this day have heard me sing. Today, I am very happy to announce a further update on my personal journey in facing fear through music.
After this disastrous performance in middle school, I dove deep into my instrument and persevered to become a musician. At age 14, I enrolled at the Baltimore School for the Arts. At 18, I began my college studies at Berklee College of Music. At 22, I took my first job as a musician working on a cruise ship. At 24, I moved to Los Angeles. And by the age of 27, I took my first national tour, and since then, I have never had to look for work as a guitar player. For the last several years, I have worked with Air Supply, Leona Lewis, Andre Cymone, Anthony Evans, and many other incredible artists, agencies, and bands locally, nationally, and internationally. I have been blessed. But this fear of singing had not gone away. 
A Call to Action
When I discovered that my wife was pregnant with twins in 2018, I had to take stock of all my fears to ensure that I did not pass them on to my children. I wrote down a list and then prioritized that list. After it was complete, two things stood out at the top. The first was my fear of singing in public. The second was a fear of technology and being left behind. The second one might come as a surprise considering what we do at SoundLife and the type of work I do outside of the school. However, it is important to know that as a musician, when I moved to Los Angeles and began working my way up the ladder, being an engineer was not required. Auditions at that time were in person. I learned the songs and then performed them alongside various other musicians until the powers-that-be found the winning combination they were looking for. I did not need to play multiple instruments. I did not need to sing, and I did not need to run tracks, build playback sessions, and edit stems.
As time passed, it became increasingly important for musicians to be multi-instrumentalists, build and edit sessions, and run live performance tracks. As this happened, I fell further and further behind my peers and developed a fear and anxiety around learning something that seemed so foreign to me. It was a classic case of imposter syndrome. Nonetheless, I stayed plenty busy building a strong reputation by taking the work I felt confident in and passing on the work that might expose my fears.   
So there I sat with this list, these fears, and two little girls on the way. In May of 2018, just months before I was to become a father, I began a long process of facing these two great fears. I began the process slowly by writing down a list of folk songs, children's songs, and popular classics to learn on the guitar and sing for my children. When my girls were born, I sang for them every chance I could, developing a bedtime routine to sing for them as they got older. Then I began to sing in social settings around friends and at jam sessions with other musicians. Then it evolved into singing backup on gigs...and even lead vocals on a few songs per set with a cover band. As I became more confident, I started to write music again for myself.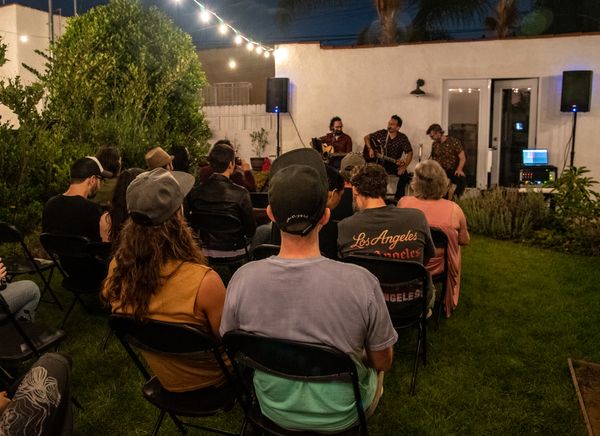 Leading by Example
Then came 2020. At the beginning of 2020, my business partner Mike and I had incredibly high hopes for what SoundLife would accomplish in the year to come. But in March of 2020, we were hit with the harsh reality that Covid-19 would forever change our business. Within a two-week time period, SoundLife lost 30% of our student base. Mike and I came together and committed to giving the students who stuck with us a truly special experience and providing our team of instructors with increased stability while they could no longer perform. We were determined to give students as much of what was taken away from them as we could. This meant connection, experience, community, support, growth, and most importantly, fun. To do this, we knew technology was the answer to organizing students remotely. This turned into a series of three virtual concerts—all of which were a great success. 
To feel a sense of competence throughout this process, I had to build a modest home studio. This resulted in the article "My Affordable Home Studio Adventure." The time to face my second fear had come. With this new equipment, I endeavored to record the songs I had been writing as a way to assimilate quickly. As I recorded, I learned more and more, and I felt a healthy sense of competition with our students who were also participating alongside us. Their resiliency and openness to new concepts, processes, projects, and technologies inspired me daily. Our students blew us away; as teachers, that is exactly what we hope for. 
As the months turned into years, I took stock of the songs I had recorded and realized that to continue to face my fears, I needed to release these songs. I needed to finish them, have them mixed and mastered, and put them out for the world to hear. I needed to let the world hear me sing. In mid-2022 I received the final masters back for my first EP, Silent Man, and began the process of having artwork created and submitting the songs to distribution. Around this time, I stood in my yard and saw not a play area for my kids but a concert venue under the stars.
I committed myself to take my journey of facing the fear of singing one step further by performing these songs for a live audience in a stripped-down acoustic format. In this format, I could not hide behind the recording studio, technology, or band. I couldn't hide behind anything. I asked two of my long-time friends, Enrique Lara, who works with us at SoundLife, and Justin Resnick, who I've known for over 25 years, to perform alongside me with just two guitars, percussion, and three-part vocal arrangements. I invited 25 of my closest friends and family to the event, and we converted our yard into an enchanting outdoor venue.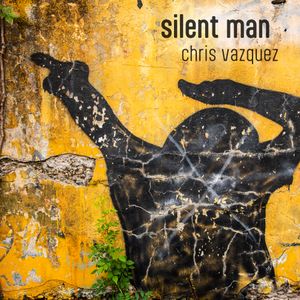 On Friday, September 23, "Silent Man" was released on all streaming platforms. The concert happened two days later on Sunday, September 25. On that day, I performed the entire record along with one new song that I played and sang by myself. As we struck the last chord of the last song, the people in attendance all stood to their feet in applause. I had prepared stories for each song, along with a summarized version of this story so that people had the context. They understood what this meant and why I chose to do it.
The journey will continue in many ways, but this moment felt like an arrival. I do not personally have the ambition to become an artist outside of the work that I already do. My calling is to be a teacher and a leader, to practice what we preach at SoundLife, and be the change we wish to inspire in others. SoundLife is about giving students an environment where they can flourish, conquer their fears, and hopefully prevent some fears from affecting them throughout their lives. To do this, we must be a culture living by example, challenging ourselves, and continually growing so that our students see it, experience it, and are inspired to do it themselves.  
The friends who were at this event were clearly moved and inspired themselves. This is the ultimate goal. Since beginning this journey, I have served as musical director—building sessions and running playback—for a number of artists. I engineer my own guitar sessions, I'm happy to take gigs that require me to sing, and I continue to write and record my music just for the sake of it. I hope that by sharing this story, our students can feel inspired and their parents can know a little bit more about how we as a company think. This is me being very honest, extremely vulnerable, and telling you that you can do it, and we can help.  
*This concert was recorded and will be included on the B-Side of a vinyl pressing being issued in November.
**Concert Photos by Brian Zaik.