Congratulations to Nate on being selected as our 
December Student of the Month!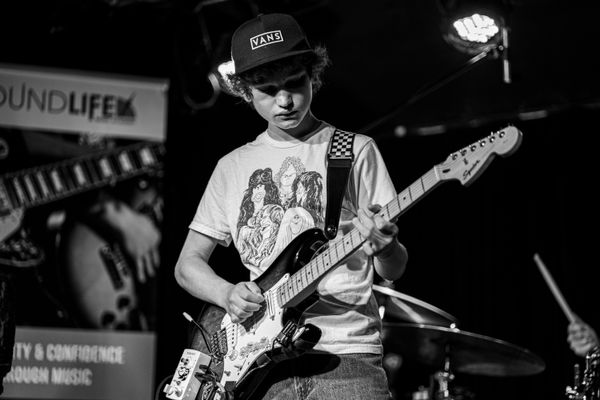 Nate came into the SoundLife family by way of Marlborough Summer School. This was in 2020, at the height of the pandemic. His sister had previously taken lessons with our co-founder Chris, and she recommended him to her brother. The only difference was a dozen miles and a computer screen. In the beginning, Nate attended his virtual lessons with an acoustic guitar shared by the entire family. He came to each lesson eager to learn but struggled to get the sounds he was looking for. The combination of virtual lessons and starting on an acoustic instrument, which can be challenging for the fingers, drew some mild frustration in the early days of lessons. Despite these challenges, Nate was determined to push forward, eventually passing each obstacle.
Nate's progress skyrocketed when in-person lessons resumed, with electric guitar in hand. By this time, he was fully addicted to guitar, music, and the lore of rock n' roll. Around this time, he joined his school "rock band" and was given the opportunity to create strong bonds through music with his classmates. It was also around this time that Nate started tinkering with his guitar, modifying it with pedals, pickups, and switches. Through Nate's experiments, many of which worked, his curiosity and fearlessness have developed into technical skills. (And as a gearhead, he is now on a first-name basis with the guitar tech at Guitar Center.) 
In June of 2022, Nate took the Showcase stage for the first time, performing "Stairway to Heaven" with our House Band. His performance stands as one of the most memorable of the day, and it led right to his next goal. When August rolled around and school resumed, Nate set out to create a band outside of school with his friends from "rock band class." Nate became a recruiter, and the band Sunday was born. On December 10, they will make their on-stage debut, and we can't wait to hear them rock the house. 
Nate's determination, passion, and love for music are wonderful characteristics that exemplify our mission. He currently takes lessons with Lorenzo Taddei, and his band is coached by Lorenzo and our co-founder Chris. We look forward to seeing Nate continue to grow both on his instrument and within his band. Congratulations, Nate!