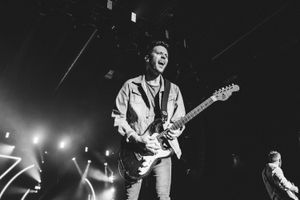 Welcome to Chat w/ Pros, where we talk with working professionals in various areas of the music industry. Today we're talking with Chris Wrate, a Nashville-based guitarist, vocalist, multi-instrumentalist, and musical director currently working with country/pop sensation Kelsea Ballerini. Our Program Director, Chris, sat down for a chat with Mr. Wrate as he gets ready to head out on tour with Kelsea opening for the Jonas Brothers.  
Chris got his start in Los Angeles on the audition circuit just after graduating from the Musician's Institute. It was there that he met SoundLife co-founders, Chris Vazquez and Michael Torres, in the hallways of CenterStaging in Burbank. Chris is a phenomenal musician with a strong foundation in the blues, channeling players like Jimi Hendrix, Stevie Ray Vaughn, and John Mayer. He is also a strong singer with an incredible ear for hearing and blending harmonies...but that's just the beginning. Over the years, Chris has kept busy as a musician by being a five-star human. He always comes prepared, champions those around him, and makes working with him easy for his fellow band members and the artists they support.  
Mr. Wrate has worked with artists such as Colbie Callait, Ariana Grande, Lee DeWyze, David Foster, Charice, Daniel Powter, and many more. He has appeared on Oprah, Ellen, American Idol, The Tonight Show, Jimmy Kimmel Live, and The Today Show. Chris lives in Nashville, Tennessee, with his wife and their two children.  
Today's conversation is an honest talk between two peers who have endless respect for one another. Let's jump in… 
---
Chris Vazquez: Alright, we're here with Chris Wrate today, music director for Kelsea Ballerini, awesome guitar player, long-time friend, and a Nashville native. Chris, thank you so much for joining us.  
Chris Wrate: Pleasure to be here. 
CV: So Chris, you and I met in Los Angeles at an audition that I believe...I can't remember who it was for, but I know it was a Barry Squire audition at CenterStaging.  
CW: Yeah. 
CV: And we met in the hallway, just waiting to go in. Do you remember this or what we were doing?  
CW: I was trying to...I was hoping you would say which artist it was, 'cause I was like, man, we did so many together that I'm like, which one was it? Now, I don't know if it was Selena Gomez, maybe?  
CV: It might have been. There were so many during that time and so...Just to give people who are watching this a little bit of context, when you and I got out of college and were trying to become musicians and find a way to make a living doing this, at that time, Barry Squire was one of the guys, if not the guy, in terms of putting auditions together for artists. You and I kind of got roped in around the same time, and we were at all of these auditions almost every week, sometimes multiple times a week, together. And so during this time, we would see a lot of each other waiting in lines for hours and just became friends. [laughter] Just by talking and...Then a stretch happened where you and I were like in the final callbacks fairly regularly, and...that's just kinda how our friendship started. So if you want to enlighten everybody who's gonna watch this on your experience, I know you went to MI, but kind of walk us through getting in that door to the Barry Squire auditions. How did you get there?   
CW: I left Wisconsin to go to Musicians Institute in Hollywood, and during the brief time that I was in their two-year program, you quickly hear about Barry Squire, the guy you mentioned before. Like you said, he kind of was the guy if you wanted to get into auditions for,  specifically, various touring acts that were putting together bands—whether it was an American Idol artist that had just come off the show or whatever have you—he was the guy that was holding those auditions, and he happens also to be a faculty member at MI. So I, at some point was like, it'd be smart to take his course that he's doing—I think it was called Audition Workshop—just about everything that he had learned and what he looks for and just kind of coaching people on how to make yourself presentable for opportunities, what people are looking for, and just a really cool inside view into what happens at those auditions and what clients are looking for.
I'll never forget, there was one class where he showed up 20, 30 minutes late. I think people had even started leaving 'cause they're just like, "This guy's not gonna show." Eventually walks in, he's like, "I'm so sorry, we have an audition. Actually a lot of times, I have my guys outside of the school that I call when I get calls to put together these auditions. And a lot of times, I like to bring them to the school, comb through and see if there's not anybody that would be a great fit for this as well." He's like, "So it's for The Offspring." And I remember hearing about it and thinking, I don't think that I'm a good candidate for The Offspring. But I was like, I just gotta get in front of this guy, and maybe it'll be a thing where it's like, "Hey, you're not meant for this, but I got another opportunity for you."
And so I quickly, after that class, I went to the hiring hall at the school where they kinda put together all the auditions and talked to the guy about it. Then long story short, well, I wound up going through a lot of the auditions. I think I went through three different auditions to the point where I got to play with The Offspring, which was a super crazy experience, 'cause I was a big fan of theirs as a kid growing up. And didn't get it. I think they specifically said that they didn't wanna tour with somebody that was their son's age. [laughter] So I think they went with somebody a bit older than me, but that's how I got in the door with Barry, and that's how I first met him and kind of got...Yeah, so it started with those first few auditions. Like you said, they were coming once or twice a week for a while there, and I think that's how we met.  
CV: Yeah. So while you were saying that, I did remember it was Jordan Pruitt. And I remember when we met, I think you had just done The  Offspring audition. 
CW: Okay. That sounds right.  
CV: So now we're at this point where...Doing auditions and getting through the callbacks. And just to paint a picture for everybody, at this time, auditions for the most part are either very, very small calls with just a handful of people, or the total opposite—cattle calls with hallways and lines full of people. And when you go through the process and you get the callback, it gets smaller and smaller and smaller. And the stakes get higher, so at this stage, mentally, we're at a place where we want this gig, 'cause we believe that this is gonna change our situation or whatever, and the very final stage of that, they're gonna choose somebody. But you've been hanging out with these people, talking to them all day, and you all know you want the same thing. [laughter]  
CW: Yeah. [laughter] Yeah.  
CV: And you want them to do well, but you wanna do well, and so there's this kind of mental gymnastics that you go through because you wanna be supportive of everybody, but you also want this gig. So I'm gonna be vulnerably honest with you right now. For a lot of gigs, when you got them, I would go home and I would just be like, just devastated. And I felt for a long time like, "Oh my god, this guy! He's always there. And he just keeps getting these gigs!" And there were maybe, I don't know, a handful, and I don't remember specifically what, where I was like, "I'm getting this." And then you would show up and be like, "What's up, bro?" and I would be like,  "Ugh!" [laughter]  
CW: That's hilarious.  
CV: And I remember then I had a choice, like a crossroads to go one way or the other, and to either be really, really supportive of everybody—but especially you, since you and I saw each other so much—or to be bitter about it. And I was like, "Well, one is gonna lead me down a road I don't think I really want, and the other one, I'm gonna feel better about myself. The people around me are gonna feel better about being around me, I'm gonna be a much better person to be around." And so I chose the other path and started deciding, "You know what, I'm gonna celebrate everything everybody does. You know what, if I lose the gig, I'll still encourage them on the gig and continue to support them."And so what I found out over time, and I'm sure you would agree on this, is by doing that, you do two things: one, you're top of mind with someone because you're still in touch with them and you're still supporting them, following up, and you genuinely care about their success. But two, that results in other gigs. Gigs come out of that, more opportunities come out, it opens your doors up more because your circle is getting bigger and bigger instead of smaller and smaller.  
So, kinda walk me through your side of that. You take the auditions with Barry, you start to land a few, and now you're starting to tour, you're starting to kinda build a reputation. What does that transition look like for you? And in terms of relationship building and bringing in people into your circle that you wanna continue to work with, how do you navigate that? What is that experience like for you?      
CW: Well, like you said, I think when you're doing the audition, there's a lot that I think goes into my head just when I'm doing the audition, but I get what you're saying. I think that there's a period of time where everybody that's in that hallway sitting with you, you're sizing up. You're like, "That dude's got good hair, this guy's got a cool guitar," or whatever, and you're kind of just playing this measuring game. But then you slowly realize that these are guys that based off the relationships that can quickly happen in those hallways, so much can come from that. And I always used to joke with people, saying like, "Hey, one of us is gonna get this gig, and one of us might need to sub something else out, so you might as well shake hands with these guys and be cool with them because you're probably more likely to get work from the relationships in the audition than you will from that actual audition." The odds that it works out, that the stars align and you get that actual gig, it is really hard. There's a lot that goes into it that you can't take too much heart into. I've lost gigs for so many different reasons that were just out of my control, you know.  
CV: Yeah.  
CW: But yeah, I think eventually you grow to this place where you start championing your friends, because they do become friends. And I know we've talked about this, just before we hopped on the call, it's like, eventually you start seeing your friends...We all just wanna make it, and I think once we all get to that place of comfortability, you find your gig or a few situations that you're invested in, and you wind up finding longevity in a career. It's just fun to watch your friends succeed, and so, yeah, I think the process is just like, it's self-centered initially 'cause you're just like, "How do I do this, and how do I get this?"
But then you start to realize like, "We're all trying to attain the same thing," and you go through this maturity process of just loving on your friends and championing them, and again, so much can come from that...That's really, at the end of the day, is what's gonna probably happen, is somebody's gonna call you  and be like, "Man, this guy was so cool, and we never actually got to do a gig together, but he was always there at the callback, so that shows me he's always doing his homework and paying attention, and he's clearly a good player, he's been a good hang." And those are people that you eventually bring on the road and surround yourself with. 
CV: There are so many awesome points right there. For us, through all of that, we ended up trading gigs for years. And when you would get a gig that was maybe a further step forward, whatever you were doing that you couldn't keep that commitment anymore, a lot of times I would be able to step in for that, or someone in a similar scenario would be able to. And if I had something that I couldn't do, I could pass it back to you. And when these gigs end, 'cause they always end, at some point... [chuckle]  
CW: Exactly. 
CV: Those relationships are what's gonna keep you working. And that's what I think, for our students, I wanna drive home. Opportunities come and go. Some are longer than others, some are bigger than others, but relationships have the ability to transcend all of that.  
CW: Yeah, 100%. 
CV: So moving forward, you were here in LA. We had been doing a lot of the American Idol auditions, and you ended up with Lee DeWyze, right?  
CW: Correct, yeah. 
CV: Okay, so pivot from there to you had a number of other larger gigs, and then you moved to Nashville. So walk me through that period of time. 
CW: Yeah, so I guess that period between Lee and being in Nashville, I wanna say, pretty quickly after Lee, I wound up working with an artist named Daniel Powter. A lot of times that name doesn't ring a bell for people. I'll say the song "Bad Day," and if that doesn't ring a bell, then I say the song, "You Had a Bad Day," and they're like, "Oh yeah!" Somehow that always connects the dots for people. So he was pretty far removed, I wanna say six, seven, maybe even eight years removed from that single, but still very successful in other countries, and that's kind of a funny thing, I think, as you get working too. Your mind is so focused on playing for these artists you hear on the radio and people that have been on a show that you might know of, and Daniel is somebody that was honestly paying really well. He put us all on retainer. That band that he wound up hiring, it wound up being a really great situation for me for, I wanna say, a couple of years. 
We primarily didn't really even work in America. It was mostly like just going to other countries where he still had a lot of success. And so you start to realize the measure of success isn't necessarily, again, the person that you're hearing on the radio or who's on your TV screen all the time. There's a lot of opportunity to work for artists that might be based in Los Angeles, but touring and working in other countries and whatnot. So I worked with him for a little while, was his musical director.
Then during that period of time while I was still working with him, got a call for Ariana Grande. This is always a funny story to tell. The guy who messaged me—didn't know who he was at the time—his name's Dan Kanter. He was Justin Bieber's musical director for many years. And he Facebook messaged me and said he had a gig for me, and at the time...I just thought I was getting spammed by some random guy basically, and so I ignored it. And his profile picture was him playing a toy guitar as a child, so it was also just like, I don't know who this guy is. And then he messaged me again and essentially was like, "You need to pick up the call. Don't ignore this." And I thumbed through his profile pictures, and then in like the second picture, it was him with Justin, and I was like, "Oh, I do need to pick up this phone." So we wound up talking, and he told me about Ariana. And I didn't know about Ariana at the time. He was basically saying she's a young Mariah Carey, and then it was more adding to the skepticism of a young Mariah Carey. I was just like, "I doubt that." But he wasn't wrong. Obviously, she was an amazing talent to work with. 
CV: She was not yet known. She hadn't really even been fully launched.  
CW: She had just put out a single. She was mainly still kind of fulfilling her contract on  Nickelodeon with the Sam & Cat show. She had just the one song on the radio, which I did hear, but was not even really paying attention to. I was on a summer tour with her, like a radio tour. Kind of like Jingle Balls in the winter where it's like Miley Cyrus, all these different pop artists maybe on the same bill playing quick 10-­20 minute sets. And I didn't even realize that she was on that while I was playing with another artist, but she had just had the one song and she hadn't had a band yet. So basically my job was to come in, put a band together and do her first club tour, help her with radio promotions, and do various acoustic performances and stuff like that.  
And then she stopped working for a while, she wasn't really using a band as much.  Randomly I got a call for Colbie Caillat that was like, "Hey, in two days, can you come to this rehearsal space and audition through your rehearsals, basically, and if all goes well, you're gonna leave in a week for two months?" It's always how it works like that. So I wound up doing [the Colbie gig], and then while I was with Colbie, I remember being in a rehearsal space. My wife came and visited Nashville, and we had kind of joked about looking at houses out here and maybe changing locations simply just 'cause the housing market at the time was super affordable here. Not the case really anymore. But she wound up buying a house while I was on tour with Colbie, and we had to close on the house and do paperwork. I remember sending stuff overnight while I was on the road, at FedEx locations. So yeah, that was kind of the wild road all the way till we got to Nashville. 
CV: And when you got to Nashville, did you think, "I'm gonna stay here"? Or you just didn't know at the time?  
CW: That was never actually the plan. It was like, if I can try to work out here, I will. But I wasn't gonna kid myself that I could just show up and say, "Hey, I'm a guitarist from LA, and I'm here for your gigs." There's plenty of players. Any time people asked me why I was moving to Nashville, I'd always jokingly say that I heard there's a shortage of guitar players, 'cause clearly there never has been. 
But yeah, I spent so much time, as we all did, accruing contacts and going to those auditions and meeting people in LA, that I knew the smart move was to simply just come here, get a house, and have leverage to kind of really get into a neighborhood in an area that if we got stuck in for five, six years down the road and had kids, that we wouldn't feel bad about it. So it quickly turned into, "Wow, I really like it here. I'd love to see if I can start working." I started to kind of network and meet some people. And fortunately, I did have a resume that I brought with me from LA, there just obviously [weren't] any country artists really on there. I'd always loved the idea of working in Nashville, but I just wasn't quite sure and obviously, quickly, it turned into something, which I'm super thankful for. But yeah, that was never the idea at first, I thought we'd be back in LA, in at least a couple of years. 
CV: Well, I thought you'd be back too. Then Kelsea Ballerini came along, it was like, "Oh, he's never coming back now." 
CW: Exactly. [laughter] 
CV: Okay, so now when you're there, and one of the things you told me that I thought would be really interesting to share is that when we were doing auditions in LA, we were just playing guitar, and a lot of what we had to do was program sounds on these giant pedalboards that we were lugging around all over the place. Two suitcases large. And we were doing a lot of tap dancing on our pedalboards to get everything that we wanted the way we wanted, but then you told me when you were in Nashville, you had to learn to play a lot of instruments you had not played before, right? And when you did the Kelsea audition, that was part of it, wasn't it?   
CW: Yeah, it's another story. Now I've been with Kelsea for over five years, so I feel a little more comfortable saying it now than I did a few years ago. I was a little more quiet about it,  but, long story short with that, is when I got the audition, it was posed to me that there were some other auxiliary instruments that they wanted me to be able to play. And when I got the list of it, it was like any instrument that you could think that would find its way on a Nashville record, from a banjo to lap steel, Dobro, all these things. And I was like, "I don't touch any of that." And I told the guy right away, I was like, "I can't do this audition." I'm like, "I don't do any of those instruments." He's like, "It's mainly just...You need to play keys." And I was like, "Yeah, still don't play that." And he's like, "Oh, it's really simple, I promise. I think you're still really great..." He was really trying to convince me to do this audition. And he was like, "It's mainly just I need you on guitar and a few other things, it's just like if we can work it in..." Cool.
And so I eventually say yes to it, they send me the songs, one of the songs is a ballad on piano. [chuckle] And so I didn't even own a keyboard at the time, so I go on Craigslist, I find a cheap MIDI keyboard, and the guy had already sold it. He's like, "I got a guy coming tonight to pick it up for $250," and I think I told him I'd pay $300. And he texted back, "Money talks, come on over." And so I went and picked it up for like 300 bucks, I started learning the song on piano, and it was so bad. It actually got so bad to the point where I was so embarrassed to even attempt this in an audition that I drafted an email, started to write the manager, and as respectfully as I could, be like, "Hey, I'm sorry to do this last minute, but I just don't think that I'm the right guy and equipped for the audition. I'm mainly a guitar player." And I hit save on the email before I hit send, luckily. I went downstairs and talked to my wife about it, and I explained it to her. I was just like, it turns out I am terrible at the keyboards, and I shouldn't expect myself to just be able to learn a song in a day on a keyboard I just bought a few hours ago. 
And she's like, "Why don't you just give it some time and go back up and attack it again with a fresh mind?" I took her wise advice, and I remember going back up, and all of a sudden it was like just clicking. It was really weird, it was like, I'm doing it, "This is happening." I thought, "Okay, maybe I can get by." I did the first audition, and in that audition, they asked me, "Oh, do you play the other Nashville Style instruments?" I said, "Yeah, I play mandolin." Didn't own mandolin when I said that, so go back on Craigslist, and I think I wound up buying a mandolin and learning that for the next audition and worked up something just passable to be able to get through. I just figured at some point it was kind of like back to what we were talking about is, if there's one thing I've learned from auditions, it's that you typically don't get the gig you're going out for, but you get something through it. And, being new in this town, I just didn't wanna say no to anything. I wanted to go and shake hands and just meet people, and I figured people would be like, "Heck of a guitar player, terrible mandolin player. Let's call him for something else, maybe."  
I just figured there's a lot of guys in Nashville that when they say they're auxiliary players, they mean it, and they're really good at it. So I was like, "I'm gonna get found out as a fraud eventually, and then they'll call me out and I won't get the gig." I wound up getting the gig. I don't play the mandolin as much anymore, but I still do a ton of keys with her. It's kind of  funny how it's become a position of mine now. A lot of it is juggling like, okay, I'm gonna start this song playing piano. In the choruses, I'll go to guitar just to kind of beef it up, and I'm singing as well, so it's a lot of juggling and, like you mentioned, tap dancing before with the pedalboards. It's a little bit of that like, remember here, you're over here playing this instrument, then you're doing this, don't forget to sing and do this and...Pat your head and rub your belly at the same time kind of stuff.  
CV: Yeah, that's what we do, and you're doing it on a whole other arena at this point. Now, do you think that bringing in some of those utility skills, those auxiliary skills, has helped you as a music director? Do you think that's a big advantage?   
CW: Yeah, I think so. I am in tune with more and understanding more. I do a lot of work with playing samples and stuff like that and triggering that in our show as well, so...Yeah, I think the more that you're just invested into, the more you're able to, again, have that broader viewpoint of not just being in tune with what you're playing, but the other musicians on stage and what's happening within that arrangement. So yeah, I do feel like that has helped a little bit with that. 
CV: So you start out as a guitar player and end up as the music director for an artist who blows up. Can you define, what does music director mean to you? 'Cause that role has been tackled so differently by so many people.  
CW: That's true. 
CV: When you're thinking about it, how do you perceive that role? 
CW: When I started, I got promoted to bandleader rather quickly, and it's a similar kind of circumstance with that. When people ask what a bandleader is, I never quite know how to describe that 'cause it's like a lot of things. You're a complaint box. You're the person that's kind of helping with the arrangements and deciding on what stuff's gonna happen with like: Should the bass player play with a pick? Should he play with his fingers? It could be as simple as that. With musical director stuff, it gets pretty heavy, especially with touring, 'cause you're thinking about so many things. The obvious things I think to point to with a musical director is you're coming up with a setlist, you're coming up with an arrangement...What's the best way? 
Really, my main thing is always like...The same way a producer, I think, takes in a song when they're listening to a work tape, and it's like, okay, this song is just a vocal and an acoustic, but what is the best way to produce the song and give it its best energy? I think of a story I heard a long time ago where John Mayer was recording "Daughters," and he brought in, I think, three or four different amazing studio drummers to play on the song, and then they just started to realize, this song doesn't need drums. The best way.. The reason why it just doesn't feel right is, it's just...It's an acoustic song, let's just leave it at that. And I think about that all the time, and like...How we do arrangements and how we music direct, like, what is the best way to present the song? Is it: Do things change with a different guitar? Does it change with different tones and sounds, or dynamics, all that stuff? And then getting beyond the music stuff, a lot of work goes into, if we're creating Ableton sessions or whatever we're firing tracks off of. Coordinating that with our lighting directors and show designers, video content, lighting and all of that stuff, that's where those worlds kind of merge and we're making sure that we're sending time codes, which is kind of getting into an area where people might not know what I'm talking about anymore. Just stuff like that.  
One of our last headline tours that we did, it was really cool. We worked with a whole new team that I've never worked with before, and they had a lot of really cool creative ideas, and a lot of it was like, "Hey, we wanna do these really big hits with either the lights or maybe it's pyrotechnics or something like that." And so sometimes usually you're creating the music, and they're then designing lights and the movement of the show based off of the music, 'cause that's typically what comes first. But they oftentimes would also say, "Hey, we have these ideas, what if you added hits here with what we're doing, 'cause this is what we're seeing from our vantage point while you're on stage," which is... I've always said it's the hardest thing about being a musical director inside of a band is trying to be attentive and in tune with what's happening because you are immersed in your playing inside of the band. Anyway, yeah, dude, it's a lot, it's hard to really summarize all that a musical director does, but there's everything from the music to the technical side of stuff. It involves a lot, but it's fun.  
CV: Yeah, I like that you...You can handle all of that, 'cause it can be as simple as what you said, just telling people, "Okay, let's use a pick on this, let's use fingers on this, let's make this pretty, or let's change this dirty. Let's segue from this song to that song. These songs are in the same key, let's put them next to each other. These tempos go well to another." But then there's that other level that you just hit on, which is the technical level, which in today's stage of the game is so massive. When you're touring, especially everything in sync with a track, which is in sync with lights, which is in sync with video, that's...That's another ball game.  
CW: Totally. Totally.  
CV: I wanna give students too, just the insight of like, it's a deep, deep, deep world, and learning to play an instrument is just the beginning.  
CW: Tip of the iceberg.  
CV: So, last thing I wanted to touch on is, you have a very beautiful and awesome family. You and I have both been able to do the family thing and still do the music thing, which to some people is very much like a Rubik's cube. "How did you crack this code?" It can be done. There's lots of different angles and ways to approach it. Something that I share with our parents in the school and our students, I like to say life isn't linear. There are lots of different paths happening at a given time, so if you're working on your career and your trajectory, you can still also be working on trying to find a partner and getting married and buying a home and doing these other things. So that when something in your career is maybe not going the way you want, that's okay. You have all these other things you're working on. And trying to tell students too, it's about balance, and as time goes by, these things start to come together and mature, sometimes all at the same time. You're like, "Oh my God, I have kids and I have all these other things in my life." So I talk about that. You are different in the sense that for me, I do a lot of spot dates or fly dates, but mostly I'm running this music school. You, on the other hand, are on the road a good bit. How do you balance the family life with everything else that you do?   
CW: Yeah, I mean, my wife always just says this, "You just make it work." It sounds like such a simple answer that's very open­-ended, but my wife travels for work too. She's an accountant for film. So, we always say typically we live two places at once. It's wherever she's set up on location where that film happens to be shooting. It's been everywhere from three hours down the road in Atlanta to London, which is a 10-­hour flight. Our thing is, a lot of people come up to us and ask us, "Who's gonna stop working first? Somebody has to stay home and kinda be the anchor for the children and stuff like that." And it almost gets a little frustrating when you hear that, 'cause it just assumes like, "You guys can't do this, you can't possibly keep this up."
My thing is, I wanna raise kids in an environment where they can see a family chasing after goals and aspirations all throughout their life. And nobody conceding to one another that, "Hey, in order for you to do this, I'm just gonna have to take a back seat. Give up on my thing and support you." Sometimes that's how it works out, and I absolutely respect the families that have done that. Some families have a stay-­at-home mom or stay-at-home dad or certain people doing something where they are anchoring at home a little bit more. Sometimes it is necessary, but for us, we just wanna grow up championing our kids to know that just 'cause you're the mom or I grow up to be a mom, doesn't mean that you can't go and do what you wanna do.
Again, it's hard to say, but we just always sit down together and just make it work. It gets super hectic at times when we're doing a tour where it's about two or three months or something like that straight, and it's just like, man, there's only a day or two that you can put together to find time off. You get a little frustrated, and you're just like, "When am I gonna see my kids, when am I gonna see my family?" But you make it work.
It's absolutely worth the time and investment into it, because I know that if I wasn't doing what I'm doing and I gave up on my career—or similar for my wife, if she gave up on hers, that we would be harboring that kind of negativity. I think it just makes us stronger people when we are present at home, and when we come back, we're ready to be parents and ready to be a husband, ready to be a wife. And I just think it builds into that dynamic, and it makes us that much stronger and ready again to give into our family for the times that we are home and present for that, so...Yeah, there's no exact formula, like you said. It's not just one exact path. It's different for every family and situation, but if you want it, you just do it, and you just got to trust in the person that you're with, that you're gonna make it work and make time for everybody and make time for your career. I think it winds up being great at the end of the day.  
CV: Yeah, I love that you just said all of that. There's only one way to instill passion, and that's to live passionately. And that will rub off and plant good seeds, and it seems like you guys have done that for so long, you've got it down. I love that.  
CW: Thanks.  
CV: So just to bring it all in, at the end here, I wanted to say that when you and I first met, like I was saying in the beginning of our little chat, there was jealousy. It was competitiveness, it was frustration, and I don't know if you ever felt any of that coming from me, but I had that internally.  
CW: I didn't, you did a good job hiding it. [laughter] 
CV: Thank you, I worked on that. Mental health is such a huge thing and something that everybody's talking about all of the time, and that was a huge period of time where I was trying to learn more about myself to navigate some of those emotions and not let them get the better of me and make something out of it. And now, looking back, I gotta tell you, I am very happy that was a process that I went through because otherwise, I would have missed out on our friendship. I would have missed out on the example that you have played in my life over these years, 'cause I'm gonna tell you that you are a role model of mine.  
CW: I appreciate that, thank you.  
CV: I do oftentimes use you as an example to motivate me or think about things in terms of the dynamics between people or how people should treat people and all of those things. I'm so very grateful for that friendship over the years.  
CW: Same here, man, I appreciate that. 
CV: Thank you so much. I'm gonna turn the recording off so you and I can chat for a minute more, but thank you so much, Chris, for taking the time. 
CW: Absolutely, it's great to be here.
---  
Connect with Chris to follow his continued musical journey!
---
Interview by Chris Vazquez, Founding Partner of SoundLife Music Academy and a professional session musician in Los Angeles, CA.  At SoundLife Music Academy, we make it our mission to continuously bring valuable, exciting, and helpful information to our students. One of the most valuable things a developing performer can learn is that working in music is so much more than just one single path. This interview is part of our ongoing interview series with professional musicians from all avenues of the music industry, where they share stories of their own personal paths to successful and rewarding careers in music.