We are a community built to empower one another, lift each other up, and share our power with the world. At the core, that's what learning to play an instrument is really all about. How many of you started learning to play to get some of this power? Don't be afraid to raise your hand right where you are! No matter your age, skill level, or personal reasons why you believe you started to learn how to play — at the core, you were after empowerment. You wanted to turn the "I can't" into "I can." Even if you were very young and you just wanted to emulate your favorite artist, that artist represents the power I'm talking about. This is the power over fear.  
A Walk Down Memory Lane
Let me set the stage. I'm 12 years old in 7th grade, and I'm about to sing with my band in front of my whole school for their annual talent show. The fact that I've only been playing the guitar for a year doesn't phase me. Neither does the fact that I've never sung a song in front of people. My band consists of a drummer and a bassist who also are equally unphased by their lack of experience. Ignorance truly is bliss. We're about to play our new (and only) song, an original I wrote called "Drowning In Tears." Our name is Dark Summer. The year is 1997. Sad was cool.  
My masterpiece has no form or structure. Therefore, no real melody can exist. My amplifier has no effects, not that I even know what those even are. My voice is changing, but I have no idea how to sing anyway, so what does it matter?  
Now... How do you think this played out?  
Truthfully, I didn't know what I didn't know, and it didn't matter. For the rest of middle school, I was ridiculed, bullied, and harassed. I would walk the hallways of the school and have kids taunt me: "Are you drowning in tears?" I wish I could say it was just "kids being kids," but it was teachers and parents as well. One of my closest friends' father would taunt me with those same words till I was well into my 20s. I'm sure no one meant any real harm, but the whole experience had a profound effect on me. Thought I was in many successful bands over the years, I did not attempt to sing and share a song of my own again until I was 36.  
Facing the Music
In response to the whole experience, I dove deeper into my instrument and decided that I should indeed seek to know what I did not know. My passion for learning the guitar deepened year after year, and with every bit of progress, I gained more confidence. The stage became like a second home to me, and with the instrument on my shoulders, I felt no fear. 
Meanwhile, there was a monster that was growing, and I wasn't doing anything to face it. As time went by, without even realizing it, I developed a fear of singing. That fear was a tiny baby when I was 12, but by the time I moved to Los Angeles to pursue music full-time, it was a full-blown monster terrorizing the city. Godzilla was loose. If a gig required me to sing, or even suggested that I might be asked, I shied away from it. Who knows how many opportunities I walked away from? Each time I would tell myself it wasn't because I was afraid to sing; it was because I was a guitarist, and my strength was performance, so I didn't want to be tied down to a microphone. Can you imagine?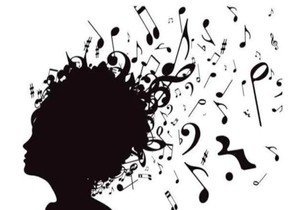 Taking the Monster Down
Then, one day, something changed. Enough was enough. I had to take this monster down. It was in the way, and it needed to go. I started small by making a book of holiday songs and classics to sing at family parties. Then I took a job with a weekend warrior cover band that only played far outside of Los Angeles. I offered to sing all the harmonies, and week after a week, my confidence grew. Then I started taking higher-profile gigs, offering to sing whenever asked. At our wedding I surprised my wife by singing "In My Life" by The Beatles to her just before saying my vowels. This was a huge step forwards since so many of our friends and family are musicians. To get through it I enlisted all of my groomsmen and my grooms woman to help by singing all of the harmonies. Once my wife became pregnant with our girls, I just couldn't imagine being afraid to sing for them, so I turned up the heat and started learning every nursery rhyme I could. Once they were born, I sang for them every night.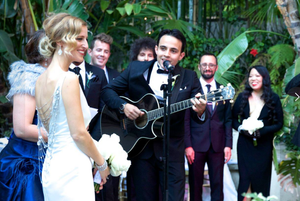 At a certain point, I decided I was ready to put the fear behind me and started writing and recording my own music. In September, I'm going to release an EP of all original music, with me singing, to finally put the beast to rest. 
I relay this story because I know there are so many out there that can relate. Over the years I have worked with hundreds, if not thousands, of students, With each, I am determined to find and defeat their fear. Learning to play comes second to this goal. Fear will prevent them from feeling the power they are truly after. As a result of this approach, I get to see students do things that I could never do at their age. Together, we get to write a unique story where they are the hero, anything is possible, and nothing stands in their way. This approach starts and ends with encouragement. What happened to me as a kid happens all the time. We look to adults and peers for support. Often without realizing it, they push their own fears and insecurities on us, and we carry them for the rest of our lives.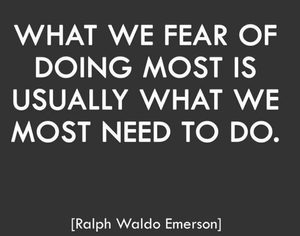 In learning to play an instrument, there is power in gaining a skill, but the skill is not required to gain the power. Often when we first start learning, we don't have the skills to sing in tune, or play completely in time, or get the exact sounds from the songs we're learning. How could we? We're just beginning. But we do have confidence and belief in ourselves, and that is both powerful and fragile. Whenever we have a SoundLife student performing for the first time, we shower them with praise. We champion their courage. We don't focus on what they lack; we focus on what they have and teach them how to build on it.  
Music, like anything else, can be healthy or destructive. It's up to us, the community at large, to determine how it's all going to play out. If you are learning to play and there's something you want, but you're afraid to go for it, let's face it together (teachers, parents, family, friends, and peers.) Let's write a song, sing a song, get on stage, form a band, go on tour, take over the world. Okay, maybe I'm getting a little carried away, but whatever it is, let's do it. After all, as Emerson once said, "What we fear most is usually what we most need to do."
---
Hey there! I'm Chris Vazquez, Program Director and Co-Founder of SoundLife. I've committed my life to sharing the joy of music through performance and education. As the curator of and lead contributor to this blog, I take great care to share inspiring, helpful, and eye-opening stories. It is my hope that each article helps both music students and parents of music students all over the world. As a veteran professional musician with over 15 years of touring experience and 20 years of teaching experience, I can say without doubt that dreams do come true, anything is possible, and music education is a life-altering gift.