Congratulations to Cormac on being selected as our  
November Student of the Month!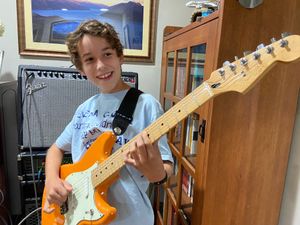 Cormac has been a long time member of the SoundLife family. He began taking piano lessons with Christa along with his sister Laurel, and after a few performances and roaring crowds, Cormac and Laurel joined forces with their classmates to form the band Rock Mojis. In this band, it was his goal to play the guitar, even though he had never done so before. He made that goal a reality, and we're so proud of him! 
Cormac took up the roll of rhythm guitar behind his bandmate Dylan, who had considerably more experience. In the beginning, he played on a small pink guitar, and worked on moving root notes around on the guitar much like a bassist would. This helped him develop his timing and awareness of song forms even though he could not yet grasp chords. Through dedication and hard work, coupled with help from his musical Father Brian, Cormac rapidly excelled on his new instrument. Each week at band practice he showed noticeable improvement in his rhythm, dexterity, tone, and chordal knowledge. This led to more confidence in his performance and his decisions about what parts to take in each song. 
This past weekend Cormac's band, now called "Feedback", took the stage at their school's Monster Mash Halloween fair. They played a 7 song set complete with transitions between songs, stage banter, and some killer rock star moves. And Mr. Cormac, guitarist extraordinaire, even took a killer guitar solo! 
Now Cormac continues to take piano lessons along with his weekly guitar lessons. He's also now in two bands, Feedback and Sweatervest. Sweatervest will make their concert debut at our upcoming December Showcase, so you don't want to miss it! Outside of music, Cormac loves baseball, and can often be found playing games with multiple teams all season long. 
Cormac's story would not be possible with the awesome encouragement of his parents, who provide that extra support, or push when needed. Even though we're proud to teach Cormac in private lessons and in his band, his greatest music teacher is unquestionably his Father, who spends that extra time between lessons and rehearsals helping him hone his skills. 
Congratulations Cormac! We can't wait to see what you do next.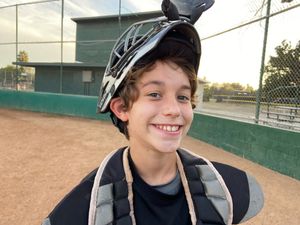 Q&A: Get to Know Cormac!  
What do you like most…? 
My two favorite things about taking lessons and being in a band are that I get to hang out with my friends and play with them, and I also get the opportunity to perform in front of others. 
Ultimate goal with music? 
One of my short-term goals is to play hard solos without too much trouble. My long-term goals are to learn different styles and to play in many bands throughout my life. 
Favorite artist/singer/player? 
My favorite guitar player is Tom Morello because he has a lot of stage presence and he is really confident. My favorite band that he is in is Rage Against the Machine because he always makes really cool sounds and he always plays really well. I also like how he plays awesome solos and he is a nice person. When I grow up, I want to be like him because he is a great guitar player and a cool guy.
---