Congratulations to Cree on being selected as our  
November Student of the Month!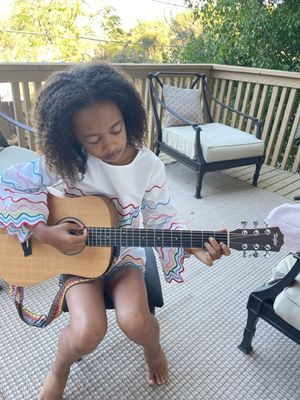 Cree's SoundLife journey began in the Summer of 2022 at Marlborough Summer in Hancock Park. For the last 10 years, our co-founder Chris has been teaching for this amazing program. Luckily for Chris, he got to meet the amazingly bright and determined Cree. During the five weeks at Marlborough, Cree worked diligently through her song list, knocking out song after song and building foundational skills in the process. At a certain point, Cree informed Chris that she wanted to play and sing the now-classic Ed Sheeran song "Thinking Out Loud" for her grandmother's birthday.
This noble cause was an inspiring project, and Chris set the goal for Cree to do a test run of the performance at the end of the 5-week program. The performance was a huge success, and in August, Cree enrolled in lessons with SoundLife. She began studying with our musical wizard Sam, who instantly saw the same determination and focus. In September, Cree finally performed the song for her grandmother, and the video her parents sent us just about brought our whole team to happy tears. 
On Saturday, December 10, Cree will take the stage for her first Showcase. She has been working hard on a piece from the musical Hamilton, and we can't wait to hear what she's been cooking up. Cree is a model student, and we love to see her set goals and check them off the list one by one. Go, Cree!  
Q&A: Get to Know Cree!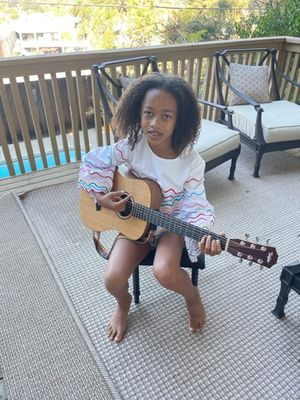 What do you like most about taking lessons/playing in a band/ etc?  
Cree: What I like the best about playing guitar is that I can learn new songs. Even if they're challenging that's what makes it the most fun!! My inspiration is Ed Sheeran. He inspired me to play guitar and now that I've been playing guitar for about a year Ive gotten better and have learned 8 of his songs! 
What is your ultimate goal with music?  
Cree: My ultimate goal in music is to get better, learn more songs, and master acoustic guitar if I just work hard, don't quit, and rise up...I just might. I hope that when I grow up I could be a musician if I worked hard and did my best!!
Who's your favorite artist/singer/player (and why)?  
Cree: My all time favorite artist is Ed Sheeran,I probably would be struggling at guitar right now if it wasn't for Ed Sheeran's motivation and inspiration from all of his songs. Each and every day I practice guitar and listen to Ed Sheeran while playing it. Ed Sheeran is my idol.