Congratulations to Mikayla on being selected as our  
September Student of the Month!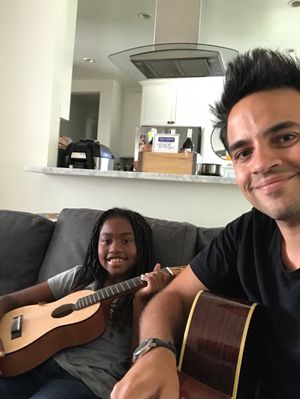 Mikayla began her musical journey on January 22, 2019, but not as pictured. Her first instrument was the piano, on which she excelled even though she was very young at the time. During the pandemic, Mikayla decided to switch over to guitar, and we believe she's found her companion with this instrument! 
Since switching to the guitar, Mikayla has grown tremendously as a budding musician. She participated in the Remote Performance portion of our most recent Virtual Showcase III, performing "If You're Happy and You Know It" alongside her brother and Mom. 
Following her debut performance, Mikayla has learned her open position chords using the song "Yellow Submarine" by the Beatles as a vehicle. She learned the entire song and can now play it in time with the music. 
Mikayla's current project is learning to play the chord and melody for "Happy Birthday" for her Great-Grandmother's upcoming 100th year. Let's give a standing ovation for Mikayla and all of her hard work!