Congratulations to Ralston on being selected as our  
May Student of the Month!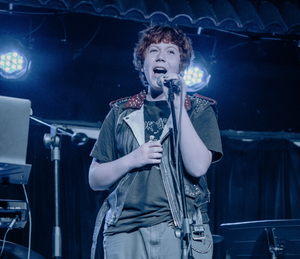 On April 30, 2022, Ralston took the Wesley Palooza stage for the final time. The Wesley Palooza is a cornerstone experience for all students at The Wesley School. It is an annual talent showcase that nearly every student participates in each and every year. Prior to the pandemic, hundreds of parents, family members, and friends would take over the Wesley field enjoying over three hours of performances. SoundLife has helped many students prepare for this performance, and this year was no different. For his final performance, Ralston didn't just put a short show together. He finished two of his own originals, demoed them, and then performed them live with a full band. Following the debut of Ralston's originals, he treated the crowd to an amazing performance of "Everlong" by the Foo Fighters. 
As an eighth-grader, Ralston stands close to 6-feet tall, but his physical growth spurt is overshadowed by his personal growth. Let's be honest, the last two years were tough on everyone, but for middle schoolers... can you imagine how difficult that must have been? Online learning proved to be a challenge for Ralston, as he is very much a hands-on learner; but in spite of the challenges lockdown presented, Ralston still thrived and came out of it stronger than ever. Between 2020 and 2022, Ralston and his bands, Brother and No Recess, created a series of music videos and performance videos. In total, Ralston came out of the pandemic with five music videos and two live-performance videos. Click here to watch Ralston in Brother's cover of "Smash It Up" by The Damned.
Today Ralston is a seasoned performer, commanding the stage and expressing his genuine awesome self fearlessly. He is a songwriter, a guitarist, and a gifted frontman. Ralston is also an actor. Over the years, between performing in musicals with the Village Arts Theater, in concerts with SoundLife, and with his band Brother, Ralston has accumulated thousands of hours of stage experience on his way to mastery. The fact that he has achieved this while being unable to perform for two years is incredible and showcases his determination. When an opportunity to perform presents itself, Ralston raises his hand—over and over and over again. 
Outside of music, Ralston developed a passion for baking. This passion led to Bake For Better, which is a charity where all bakers can bring in their delicious treats with a little note, and then Ralston delivers them to the Interfaith Food Pantry to be given out to the homeless and hungry. We can attest that Ralston's baking is top-notch. One of his cookies is worth a drive across LA in rush hour against the flow of traffic.  
What inspires us most about Ralston is his heart to serve. Whether performing or baking, Ralston gives everything of himself. As performers, we serve by giving people an experience, taking them somewhere else, and letting them lay their burdens down. This only happens when performers are totally present and all in. Ralston doesn't seem to know how to do it any other way.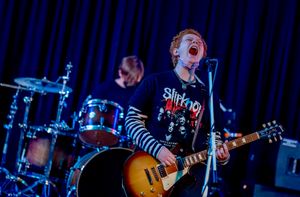 Q&A: Get to Know Ralston!  
What do you like most about music education?  
I like being able to express myself through music, and having an outlet/someone helping you is really special.
What is your ultimate goal with music?  
My ultimate goal in being a musician is to be successful, play lots of shows, and to have a great fan base.
Who is your favorite artist/singer/player?  
My favorite artist changes a lot but right now it's the LA punk band X, I love their sound and vibe. It's a good band for any occasion.