Teacher Feature showcases the incredible journeys and accomplishments of SoundLife mentors that you may or may not be familiar with but should be!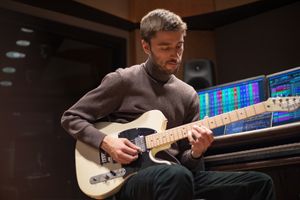 Part of what makes SoundLife such a special community are the stories behind our incredible team of mentors. A music teacher is not just a technician relating a skill, but an individual whose passion for music has gifted them with big dreams and guided them through an adventurous life, eventually leading them to your home for music coaching. Lorenzo Taddei exemplifies this multi-faceted person, bringing his expertise and his well-traveled, worldly spirit to our community.  
Born in Rome, Italy, Lorenzo received his bachelor's and master's degree equivalent from Santa Cecilia Conservatory in Rome. If that was not enough education, Lorenzo followed his dream to the United States to study at the world-renowned Berklee College of Music. In 2022, Lorenzo received a bachelor's degree from Berklee in Contemporary Writing & Production. With his education behind him and the future wide open, Lorenzo relocated from Boston to Los Angeles to set new goals and reach even higher toward his dreams.  
Though his principal instrument is the guitar, Lorenzo is a multi-instrumentalist, composer, and gifted music producer. He works as a composer for various production houses, including CheerSounds & Droid Mafia, as a freelance guitarist, and as an instructor passing on his Jedi ways. A versatile musician, Lorenzo can teach not only the guitar at all levels but also the bass, beginning piano, music production, songwriting, and band coaching. This skill set allows Lorenzo to see what students need to grow and help them fully realize their goals. His passion ensures the joy of learning music is part of the process, being both fun and engaging for every student.  
We are thrilled to share Lorenzo's story with our community. His students benefit not only from his incredible intellect but from the entirety of his musical journey. In each student, our teachers see themselves at the beginning and are reminded of how impactful music can genuinely be. Music education is a vehicle for all those who endeavor to learn. Nobody knows where it will take you, but having an experienced guide like Lorenzo is a game-changer.