As I sit to write this month's feature, I can't help but feel a chip on my shoulder — something heavy and frustrating that has been eating away at me. It's a philosophy that, while harmless in its intention, is dangerous over time. Today I am writing in the air, flying from Los Angeles to Philadelphia to perform a string of shows with the legendary soft rock band Air Supply. Today is Wednesday. We'll play tomorrow just outside of Philly, then fly up to Boston, then drive to Connecticut before flying home. Altogether we'll play three shows in three states over three days. And this is exactly why I feel compelled to relay my concern. 
Fairly recently I came walking out of a student's home, as I usually do, to find a gathering of gentlemen outside of a neighboring home. Seeing the guitar on my back, one of the men hollered out, "What do have in the there, boy? What kinda axe?" Having heard this many times before, I turned around and shouted back, "Taylor. C-114." He nodded in approval, acknowledging that through my answer, we could continue this conversation further. We continued with small talk about different guitars — electrics and acoustic, Strats and Les Pauls. Eventually, the man said, "So, are you a player or a teacher?" To which I confidently replied, "Both." 
Without hesitating, the man continued on to tell me how his friend standing beside him was a real musician, he was famous, and I should look him up. His friend had played with many artists and toured the world, etc…He seemingly dismissed my comment that I was both an educator and a performer, instead taking the approach of trying to inspire me to dream big with stories of his friend's travels. With humility and great respect, I introduced myself further to his friend. Eventually, I was able to relay that I too was a touring musician with decades of experience and that I was very much living my dream. We continued on with an enlightening conversation, but what lingered on was that initial question and what it represents. "Are you a player or teacher?" 
Are You a Player or a Teacher?
Musicians grow up hearing the phrase, "Those who can't play, teach." Or "Those who can, do, and those can't, teach." Or even worse, "Those can't do, teach, and those can't teach, teach gym." And this philosophy is so ingrained in our community that many actually look at teaching as a step down, a compromise made by those who "can't cut it" or "don't have what it takes." They somehow represent failure. The phrase "teacher hands" means someone who has been teaching without playing for so long that their technique is gone.
Between the ages of 22 and 30, musicians are often fresh out of college, looking for work and saddled with college debt. They quickly take a teaching job to pay the bills, but with it comes a certain amount of shame because they're not doing what they really want to do. This shame leads them to prioritize auditions, gigs, rehearsals, and sessions over teaching. After burning bridges with one music store or school after another from too many scheduling changes or last-minute cancellations, they finally get a few gigs that provide enough for them to stop teaching. But the lifestyle is too inconsistent, forcing them to live in a chaotic state of uncertainty and never able to get out from under their debt. Over time this chokes their life, restricting them from being able to buy a home or raise a family. Some musicians go on like this forever, but most walk away from their instrument altogether. Thus the statistics of a successful career in music plummet, resentment grows, mental health becomes unbalanced, and society as a whole agrees, being a musician is not a "wise" choice. 
The residual effect of this is that our innate duty to pay it forward goes away. It gets covered up by our fear of failure and its association with teaching. The voice of our inner child yearning to share gets silenced. Education is our duty. It is our responsibility as citizens of the world, and the more success someone has in any given field, the more they have to offer someone coming up behind them. In the music world, this means that the "doers" who are shamed for also being teachers, the ones with the most knowledge to share, get silenced. So many musicians have tremendous insight and keep it to themselves, not because they are selfish, but because they are scared. They are scared that teaching will interrupt their ambitions instead of strengthening them. This is how we end up with generations of musicians with exceptional skills and no idea how to make a living. 
Those Who Play, Teach
Do you see the dominos falling? We do this to educators. Why can't we see that our educators are integral to society? That kids are told they can dream big, but without inspiring leaders showing them the way, their dreams are meaningless? I want to change the phrase from here on out to "Those who play, teach." When a small child learns something, what is the first thing they do? They share it with everyone they know. They teach. It is our nature to share our experiences and wisdom. This is how we grow as a society and as human beings. If we devalue the importance of this tradition, we risk damaging the evolutionary process. Bitter teachers make bitter students who one day become even more bitter teachers. In the words of Mr. Miyagi: "There are no bad students, just bad teachers."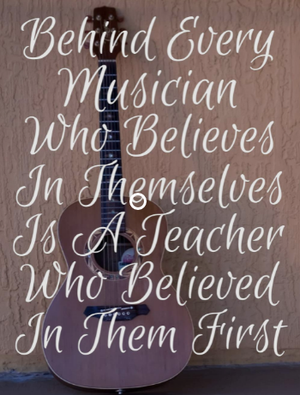 So how do we reverse this? How do we flip the script? At SoundLife, we aim to create a different model for our teachers and to bridge the gap between professionals and educators in the hope that they will one day be one and the same. We do not have a brick-and-mortar building, and we never will. This allows us flexibility with scheduling for both the instructor and the student, which ultimately allows the teacher to continue to pursue their personal passions while maintaining a strong relationship with their students. We encourage the teachers that work with us to take every opportunity possible to further them in their career, as long as they communicate with their students and cancel or reschedule lessons in a respectful and timely manner. Taking it one step further, we celebrate their work at every touchpoint possible. We share their successes with our community on social media, featured articles, and in email, and lift them up in our team meetings.
Over time, the student and instructor grow together, creating a bond built on trust. The trust comes from the student knowing their teacher is out there chasing dreams, and so can they. Their teacher is bringing everything they're learning into the lessons and giving them an advantage in navigating their own dreams. On the other side, the teacher now has the one thing that musicians struggle with most: certainty. They have a stable income that does not restrict their ability to build the life they want. Instead, it aims to create an environment where they can love the life they're living. 
For the musicians who built a career touring, we reach out and find ways for them to share their insights with our community so they too can continue to "teach." We do this through our interview series, and soon through online master classes. Ultimately our goal is to create a space for every musician with the right spirit and reverence for the importance of music education to have a place where they can mentor and inspire the next generation. We will beat the stereotype. Musicians should and can be proud to teach. We will write a new story in which the man on the street says, "So you play and teach? Just as it should be."
---
Article by Chris Vazquez, Founding Partner of SoundLife Music Academy and a professional session musician in Los Angeles, CA.  At SoundLife Music Academy, we make it our mission to continuously bring valuable, exciting, and helpful information to our students. One of the most valuable things a developing performer can learn is that working in music is so much more than just one single path. This interview is part of our ongoing interview series with professional musicians from all avenues of the music industry, where they share stories of their own personal paths to successful and rewarding careers in music.