- A SoundLife Interview Series -  
A Fun and Inspiring Series About the Places Music Can Take You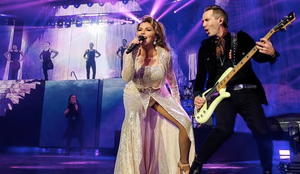 We're back with another Chat with Pros! Today we're talking with Derek Frank, a veteran touring and studio musician in the L.A. music community. He has traveled the world several times over with a "who's-who" of A-list artists and bands, and is currently splitting his time between pop icon Gwen Stefani and country legend Shania Twain. Aside from his work as a session musician, Derek is also an accomplished composer who recently released a new instrumental album of funk, jazz, and R&B called Eleven Years Later. 
Derek was generous with his time and had so much insight to share that we decided to include our entire conversation. Today's chat is all about building a career in music. As we weave through Derek's personal journey, he shares priceless knowledge about auditioning, touring, networking, and most importantly, the mindset that has kept him working at the highest level year after year.  
Derek and I first met in 2013. At the time, SoundLife's co-founder Michael Torres, who is also a bassist, was on tour with Selena Gomez. On the night Mike played the Staples Center, Derek and his wife attended. Along with a handful of close friends, we all congratulated Mike and celebrated his homecoming show together. After that, Derek and I found ourselves crossing paths in various projects over the years, most notably while he was touring with Air Supply and I was called in to sub for their guitarist. We've remained close friends, and aside from Derek being an incredible bassist, I've been fortunate to have seen his professionalism first hand. 
Derek is a class act. He sets the example in terms of how to interact on a gig, how to prepare, how to present yourself, and how to lift everyone in the room up. Derek is often the first one to arrive and the last to leave. He's always dressed the part, and he's quick to respond to all communications. The result is that he makes hiring him an easy decision. As you read, listen to, or watch our conversation, pay attention to the details. Derek is someone I have looked up to for years, someone I'm always honored to make music with and someone I'm proud to call a friend. 
Let's jump in… 
--- 
Chris: Derek, Frank, thank you so much for joining us. It's a privilege to have you as a guest in our Chat w/ Pros series. For some time now, we've been interviewing professional musicians in a variety of different areas of the music industry to chat about the different places that music can take someone in life and the different ways it can prepare someone to be successful in whatever they do. Give us a little bit of insight into your journey in music. I know you've done so many things, but give our readers the cliff notes. What took you from just playing the bass to turning it into your lifelong profession? 
Derek: Well, it's kind of interesting. I pretty much decided when I was eight years old that this is what I was gonna do. I'm old enough to remember when MTV was actually music television, and when I was a kid and first discovered MTV, I was hooked. The first time I saw music videos and live concerts on TV, I saw these guy's playing, and I said I wanted to do that.  
As for the bass, it's interesting; it's like I didn't so much pick the bass as it picked me. When I picked one up in a music store and played it, I just knew that was my instrument. I didn't know anything about it, but it just felt right. I said, "Okay. This is my instrument." I took lessons, I learned songs from bands that I liked, and once I got into high school, I formed a little garage band with my friends. We were, of course, terrible, but we were learning together and it was really cool.  
I was blessed to have had some good teachers that really set me on the right path, taught me some great things. And then I just put in hours and hours of practice time. I also met a lot of other musicians that were like-minded, played with them, learned from them, and it just kinda kept building from that. 
Chris: That's amazing. I can totally relate to that. When I was 11, I saw a Metallica concert live, and I literally came home and told my Mother, " I'm gonna be a musician, Mom, I'm gonna be in my room practicing. I'll be there for the next 20 years."  
Derek: We musicians are lucky when we can discover something like that early on, when we know that's what we want to do, and we're willing to put in whatever work it takes to get to that level. 
Chris: Absolutely. Now for you, was it stylistic or it didn't matter—you just wanted to play? 
Derek: When I was younger, it was kind of stylistic. I was into classic rock, really into Led Zeppelin, Van Halen, The Beatles, and then some of the hair bands of the 80s. Then my mind opened up. As I grew older, I discovered other kinds of music. I discovered jazz eventually and funk and R&B, and used those influences to figure out what I liked. I realized that there's really only two kinds of music: good and bad. There's great things in every genre, and I just learned to appreciate the different qualities of each genre of music, and I think that has helped me in my career because my career is kind of based on versatility. 
Chris: When you're 18 heading off to college for music, you ended up going to University of Miami, what was that experience like? 
Derek: Well, actually before that I went to a summer arts program called Interlochen. My high school band director in Cleveland, Ohio, turned me on to the place. Once I went there and was surrounded with like-minded musicians that were really serious about their craft and saw how good some of these young musicians were, that's when I really got serious. Interlochen had a full year-round boarding school, and after the camp, I convinced my parents to let me stay and attend Interlochen for my senior year of high school. That was where I started my formal education. I did nothing but play music and practice music, and it was amazing. And then from there, I went to University of Miami as a Studio Music and Jazz Major. 
Chris: Did you feel prepared going from this program to the University of Miami? 
Derek: I felt like maybe I had a head start. That doesn't mean that I was at a higher level than a lot of the other people. I felt more prepared. 
Chris: For our audience members that aren't familiar with the University of Miami's music program, they are traditionally one of the most forward-thinking programs, having an incredible jazz program and fusion programs and very renowned faculty. What was that experience like?  
Derek: That's kind of what drew me to the school is that it was forward-thinking. A lot of music schools' jazz programs were very traditional and all about big band. I would have had to just be an Upright player, and they didn't have much in the way of Fusion, Pop, RnB, or Funk, which was where I was coming from, being primarily an electric bass player. Really, my only two choices were Miami and Berklee. My parents were living in Florida at the time—they had moved to Florida when I went to boarding school at Interlochen—so Miami was close to them. They got me a little tour of the school, got me in to do a little school tour with the Dean and turned me on to the different things that it offered, and it just made a lot of sense for me to go there. It ended up being the only school I applied to, and I got in. 
Chris: Funny enough, I picked the other one. I remember going to audition at Miami, and I ended up deciding to go to Berklee. Like you, I was looking for a program with a contemporary approach and those were the two best places at the time to find it. And your parents, were they supportive of this decision to be a musician? 
Derek: Like any responsible parent, they may have said things like, "It's hard to be a musician, it's hard to make money, maybe you wanna find something to fall back on?" But they didn't push too hard. I think they saw how serious I was, because we were living in Cleveland before that, and I just ate, slept, and breathed music. I was playing in the All State Jazz Band called the Ohio Jazz Orchestra Youth. From that I formed my own quintet. I was 15, 16 playing around town with my own Jazz Quintet, and I was practicing all the time. I think they just saw how serious I was about it. I wasn't just some joker that was going off and hanging out with my friends. I was serious, I was putting in the hours, and I think they just saw that I had a passion for it, and luckily they are very supportive.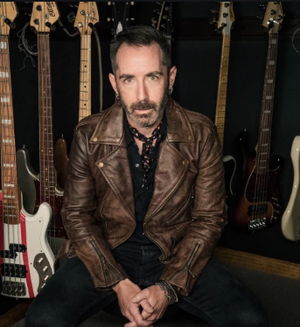 Chris: I think my parents were very much the same. If I worked at something, they would reinforce that effort with support. So now you finish college and you're headed to make a career of it. You can go to Nashville, you can go to Austin, you can go to New York. Why did you choose Los Angeles? 
Derek: Well, it was kind of a fluke. I actually went to Boston first, which, as you know, is a great city, but not the place where you wanna start a career. I finished school, I didn't know exactly what I wanted to do, I just knew that I wanted to make a living playing music. But, I didn't really know how to do that. Back then, you didn't really have people doing career counseling things, kinda like what you are doing with your school and what we're doing now—we're talking about our careers. I didn't get much of that in school. I got instruction on music and how to play and all that, but there was never anybody who said, "These are the steps you need to take to have a career in music."
At the time, I was dating a girl who was a jazz vocal major at Miami, and she wanted to transfer to Berklee. She thought Berklee had more for her, and I said, "You know what, I'll go with you." I thought I would go to Boston, it's a great city, I'll get some gigs. I got no gigs in Boston. So, it didn't last long. I was broke. I was working at Guitar Center. I hated it. And then an opportunity came up to go out on a cruise ship for a few months, and because I was broke, I took the gig. I had done cruise ship gigs every summer throughout college. That was my summer job. I would go out and play on a cruise ship, so I had that connection. 
Chris: I did the same right after college. I worked on cruise ships to get the money to move out to Los Angeles.  
Derek: Cool, okay. Yeah, we probably didn't ever talk about that.Yeah, that's a good gig. For that age, it's great to see the world. I have nothing but great things to say about that whole experience. I got my butt kicked by older guys, and they really kinda taught me about being professional, and I played different styles of music all the time. I also really got my reading together on cruise ships. It kind of saved me. When I was in Boston, completely broke with no gigs, I got a call to go sub on a cruise ship for a couple of months; and of course, I took it. 
When I came back, I just realized that Boston wasn't for me and the relationship wasn't working. I had some friends from Miami that were living in San Francisco, and they were making a living playing jazz, and that's where my head was at at the time. I figured I would move to San Francisco, but while I was in college, my parents had moved to Los Angeles, and I had never really been out there. I figured I would go to L.A., live with my parents for the summer, get a day job, save some money, and then I could go to San Francisco and just kinda restart. I was in L.A. for a couple of weeks, and I had tons of friends from Miami that were already playing gigs in L.A., and they were throwing me some gigs. I just saw that there was so much opportunity here and just saw that this was the place to have a career.  
Chris: Wow, what a journey. So now you're in your early 20s, you're in Los Angeles, the industry as we know has changed so much over the years. Paint a picture of it what it was like then. 
Derek: It took me a while to really get going. At first I was playing a little restaurant, jazz gigs and just little things here and there. I was playing at CityWalk at Universal City in a jazz trio that would just play there and the Third Street Promenade in Santa Monica. Nothing that really paid great money, but it was just a way to just get out there, play music, and make a few bucks. At the time I was living with my parents, so I was living rent-free, which helped while I got established. Then I started playing in cover bands, just your standard Top 40 bands. I joined one of those, and we played a couple of different clubs. Back then, I feel like there was a lot more work in that world. Every bar had a cover band playing in it back then. This is '97, '98. All the beach bars had cover bands. I was working all the time playing in one cover band, and then from that, I got to know some other people and then started subbing in some other cover bands.  
That was my weekend gig: I'd be doing the cover band thing. Then during the week, I started doing all these singer-songwriter gigs. There were clubs like The Mint, Genghis Cohen, and The Roxy, and The Whisky. Many of the clubs aren't there anymore, but I played with tons of singer-songwriters, and I was doing a lot of recording sessions back then too. There was more of that because not everybody had a home studio back then. You had to go to a studio and hire people to play, so I was doing a lot of work. Things have obviously changed over the years, but back then, I was working every night doing something. 
Chris: Let's turn our attention now to touring. Your resume reads like a who's who of artists. You've travelled all over the world many times over, but let's look back. What was it like getting that first gig? 
Derek: The first actual tour, my first real road gig came in 2002 with an artist named Brian Auger. He's a Hammond B3 organ player who came to prominence in the late '60s, early '70s with a group called the Trinity and then Brian Auger's Oblivion Express, which is kind of like a fusion band. They had a big following. He is thought of as a legendary Hammond B3 player. So that was my first tour. My buddy Dan Lutz had been playing in the band, and he couldn't do a tour, so he threw my name in the hat. I went and jammed with them, and we gelled pretty well right away, so they invited me on a tour. We did a U.S. tour to start, then that turned into many years with Brian. We played Europe and Australia, New Zealand, Japan. Man, Brian took me all over the world, and it was a lot of fun.  
Chris: Moving into the pop world, I remember when I graduated from Berklee, the whispers were to go find a man in Los Angeles named Barry Squire, that he was the key to entering the pop music world. So when I first moved to L.A., I tracked him down by visiting every show or jam session in town. When I finally did meet him, it was not what I expected. 
Derek: Yeah, he's a very unassuming guy. You think he's gonna be this big time music mogul, but he's a very soft-spoken, mellow guy.  
Chris: Very much so. He and I hit it off, and he really did change the game for me. At that point, he had access to people and opportunities that I otherwise would not have access to. This was essentially how I met so many people in the L.A. music scene. What was that like for you, moving into the more of that pop world? 
Derek: Yeah, I used to do auditions for Barry all the time. There were a few guys that were holding auditions as well, like Bruce Sterling and Ricky Minor. But yeah, I was doing tons of those auditions. Many were what we refer to as "cattle calls", where you'll show up and it could be 20 guitar players or 20 bass players. You have no idea who they're gonna pick, or why they're gonna pick that person, so you do your best. You learn the music, you go in and play and hope that they like you. I did a ton of those things, and then the first one that actually worked out was an act called Aly & AJ. It was these two sisters that were on Hollywood Records, which was a division of Disney, and they came from Disney TV shows. They also had a movie together. They were Disney stars, and their music was played on Radio Disney, and that was my first pop gig. And it was great. 
We did a U.S. tour playing amphitheaters, theme parks, and a couple of arenas. We did TV shows as well. I was with them for a couple of years. Great band, great musicians. Jaco Caraco was on guitar, who's now been with Miley Cyrus for years. The musical director was a guy named Zu who went on to play with Macy Gray and a bunch of other folks.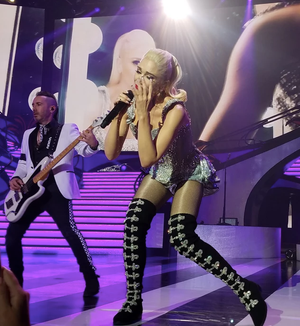 Chris: So, true story regarding the Aly & AJ band...when I first moved to Los Angeles, I went out with a friend, and he brought his high school buddy he grew up with, who he wanted me to meet. In walks Jaco Caraco. My buddy knew I was a guitar player and knew how much I wanted to get into touring. So I'm having a drink with Jaco, and he's telling me about the road and everything, and this is right when you're doing that gig, the Aly & AJ gig.  
Derek: Wow, okay.  
Chris: Yeah, this is right when you're on Aly & AJ, and I'm hearing Jaco's stories and thinking, "Man, to be able to do that would be amazing." Fast forward, Bruce Sterling calls me for an audition with Ashley Tisdale, and at that point, the music director is Jaco! 
Derek: Woah, I was at that audition, but I don't think we met then. I think we went in, we do not... 
Chris: No, we met years later. At that point, this was my first big audition. I didn't know how to dress or how anything worked. I didn't know how to program sounds. I don't know the right look in terms of what ax (guitar) to bring. And in this world, I didn't know how important those things are. And Jaco, he owns those things and was so helpful.  
Derek: He told you that stuff before the audition? 
Chris: Not before the addition, before the call back. So I go to the audition, and he comes out. He's like, "I'm gonna give you a call back, but you gotta go get some clothes, go get a Strat (Fender Stratocaster) or Les Paul. I don't care where you get it from, borrow things if you have to."
Derek: Wow, that's so great that he told you that. I did a handful of auditions not knowing those things as well. I remember I did one audition when I moved to town, I had a five-string bass with the EMG pickups, and it was purple. I had no sense of style, wore baggy jeans and oversized t-shirts. I went and I know I learned the songs well, and I played them as well as I could, and the MD who was a drummer was like, "That was great, but we're gonna call back, but do you have another bass?" And I was like, "No." So he says, "Oh dude, if you're gonna be in L.A. and playing rock and roll, you gotta have a Fender P Bass." I was like, Wow, I didn't know. No one ever told me that. 
So same as you, I immediately went out and got the right stuff. I went to Guitar Center Hollywood and bought a 78 P Bass. I went in the next day, and he's like, "Did you just buy that?" I said "yes," and he just said, "Good man."  
Chris: We teach a lot of our students this: people listen with their eyes. You need to present yourself in a way that they can hear.  
Derek: And that's one thing that we learn as we go on in this town, that we're not just in the music business, we're in the entertainment business. It's a show. It's as much visual as it is musical. 
And of course, the visual should never be taken more seriously than the music. Music is always first, but we need to be aware that there is a visual presentation to it. We just need to be open to that and know how to fit in within the visual element.  
Chris: Yeah absolutely. I wanted to chat about something that I've always admired about you, and that's your work ethic. No matter what's happening, you're always active, you are always into something. As soon as the pandemic hit and gigging was not an option, you started working on your solo record, which is now out and sounds incredible. Over the years, you've always been doing that, whether it's playing in corporate or cover bands when there isn't a tour happening, or when you're on tour, working on your website or doing sessions. The point is, you are always building something or working on something for after what you're currently involved in is over. Can you talk a little bit about that? 
Derek: I think that just comes down to me loving music and loving playing. It's not just a job for me, it's something I honestly enjoy doing. So, if I'm in between gigs, I'm gonna do something just because I can't not play. I can't not be involved in music somehow. Like you said, it could be working on a website or something like that. It could also be the fact that, okay, if one gig ends, I wanna do whatever I can to prepare myself for the next gig so that I'm ready. I might put a little band together to play gigs around town. I might just go sub some with other bands, whether they're cover or original bands. I just love playing. I love doing it. I also gotta make a living too, as I'm sure you've explained to your students. You may go out on a tour, but when that tour is done, you're not getting paid. So you have to figure out what the next gig is. A lot of staying busy is preparing for that, just trying to keep my schedule full so that I can pay my bills. 
Chris: Yeah, I remember something our friend Martin Estrada told me when I first started doing auditions and he was mentoring me. He said, "When you're doing a tour, cut everything you make in half, because you're gonna have to live off of that after the tour is over." 
Derek: That's good advice. 
Chris: For the last few years you have been working with two of the most powerful female forces in music, Shania Twain and Gwen Stefani. Tell us about these experiences, the audition process, and what it's been like working with these incredible artists. 
Derek: Of course. That goes back quite a few years actually. In 2007, I was recommended to audition for the Dancing with the Stars band. It wasn't a TV show band; it was the touring version of the show. They would do a season of the TV show and then go out and do a tour, and it was a full arena tour with a 10-piece band. I got recommended to do the audition. The musical director was a guy named Will Hollis. I ended up getting the gig, and I did three tours with Dancing with the Stars until they stopped doing the live tours. That connection I made with the MD was very important. A few years later in 2015, he became Shania Twain's MD. He was putting together her tour called Rock This Country, and she needed a bass player. My buddy Joshua Ray Gooch—he's her guitarist—threw my name in the hat, as I didn't even know that Will was MD. Once Josh threw my name in the hat, Will was like, "Oh yeah, I know Derek. He did Dancing with the Stars. So I had that connection, which ensured I got the call for the audition. 
I ended up getting that gig, and I did that for a couple of years. Then when she [Shania] was taking a break, Will was called to put together a band for Gwen Stefani, as she was doing a tour in 2016. Because Will and I had just worked together with Shania, he called me to audition for Gwen. So I go to audition for Gwen, and this one was really unique because I just went to a studio. Gwen wasn't there. It was just Will and Steven Bradley, who's been Gwen's long-time trumpet and keyboard player. He was in the band No Doubt with her. So it was just Will and Stephen and a video camera and me. No band, no singer. They just put on the tracks without bass, and I stood there in front of a camera and in front of two or three people playing Gwen's tunes. That was my audition. It's kind of awkward doing that, but that's just kind of the way it worked out.
I got a call back, and then I went to an audition where Gwen actually was there. She had chosen two bass players to audition. It was me and another guy named Brian Jones. We auditioned, and she ended up picking Brian for that tour. They went out and did the tour, and then like a year and a half or two years later, Brian ended up leaving Gwen to join the band Vampire Weekend. So, once again, she needed a bass player, and because I was kind of the runner-up for that audition Will, the MD, just called me and said, "Hey, Gwen's doing a Vegas residency. Do you wanna do it? There's no audition. You already auditioned a couple of years ago, she knows who you are, how you play, etc…" This is now 2018, and of course, I said yes. The timing worked out great. Shania didn't need me that year, and so I joined Gwen's band. 
Chris: That is a perfect example of the power of relationships. 
Derek: Absolutely. Just because I'd known Will from a couple of other gigs and made a good impression I kinda got in his database as somebody who he knew he could call for these things. And, I learned a lesson on that audition, because honestly, when I didn't get the gig the first time, I was pretty bummed. I was pretty confident at the time. I'd just come off of a big tour with Shania Twain. I had a really good relationship with Will. He was with Gwen. I went into the audition. I knew I crushed it. I learned all the songs, all the back up vocals. I programmed a ton of stuff. I was very prepared when I went in, but sometimes it just doesn't work out. Sometimes the artist just gets a feeling about somebody else, and there's nothing you can do about it. Even though you were very prepared, they just picked somebody else, and that's just the way it is. So yeah, I was pretty bummed when I didn't get the gig at that time, but it just goes to show that if you don't get a gig, you can't be too bummed because maybe that call will come later on. 
It kind of taught me to trust the universe a little bit more, like maybe it wasn't the time for me to do it that year. Actually, that year is when I joined Air Supply, and I had a great time playing with Air Supply. I played with them for about a year and a half, and it was a great experience. If I was on tour with Gwen, I wouldn't have had the experience of Air Supply. Sometimes things work out for a reason. And when I did get to join Gwen's band, it felt like it was the right time. Maybe it just wasn't in 2016. 
Chris: Yeah, you never know. There are things that are in our control and there are things that aren't in our control, and as long as we do everything in our power to take those things that are in our control and make the most out of them, then rest has a way of working itself out. 
Derek: Exactly, and I learned that as I got older. I think we all do, we just have to go through different experiences. We learn that there's a plan, and like you said, you do your best to give the best of your ability, you try to learn from your mistakes. When things don't work out the way you want them to, you have to learn to trust that.  
Chris: When you were doing Air Supply, this when I first came in as a sub guitarist for Aaron. I know it's kind of something that you just embody, but you were very generous with your time and helped to make sure the best tools and information to go in and do that first gig confidently. That's the kind of stuff that's in our control, and that's the kind of stuff that sends that energy out into the universe. You have no idea how it's gonna come back, but those are the things. Now, I will always remember that. 
Derek: I try to do things the way that I would want them done for me. Like when you came to sub, and I think I gave you a board mix and whatever info I could give you to make it easier for you to prepare, that's because I would have wanted the same thing. I would have wanted as much information about the gig as possible so that I could go in there and play it to the best of my ability. 
It's for the greater good of the show when everybody's prepared. We can all relax more and just play music rather than trying to think about things and struggle.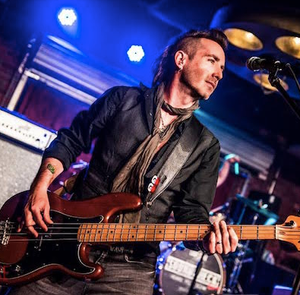 Chris: Tell me about the Shania Twain audition. What was that like? 
Derek: That was a really fun one. Of course, it was fun because I ended up getting the gig, but it was also a very unique audition. It was a long process, and like I said, my friend Josh Gooch had been playing guitar for her for a long time. He's the one that threw my name in the hat, and then because I knew Will, I had two people in my corner. Josh told me that the position might be opening up, she might be making some band changes. He put me in touch with Will and Cory Churko, who's now her musical director, but at the time, he was kind of like the road band leader. He's been with her for years. He's a guitarist, fiddle player, singer, and a utility guy who's an amazing musician. Cory was helping put that together, along with Will. So I sent Cory some web links, some YouTube videos, website, and whatever. Everyone was submitting this stuff, and then Will and Cory would pass it to Shania, who would narrow it down. 
When the audition finally happened, she had it down to only four bass players and six drummers, and that was it. She was keeping the rest of her current band. At this audition, three of the guys were in that band already—Josh, Cory, and Jason Mallory, who's another multi-instrumentalist. So it was the three of them, and then bass players and drummers for the audition. They told us to block out the whole day. We went down to Center Staging, and they just mixed and matched every bass player play with every drummer just to see who gelled the most. The rest of the time we were all just hanging out outside. It was just a really nice camaraderie. We were all auditioning for the same gig, but it didn't feel competitive. We were all just friendly musicians, and we were joking around and just having a good time. 
Shania was not there. It was just a video thing, but she had had her guitar tech, her front-of-house engineer, and her monitor engineer. It was the most pro audition I had been to by far. I gave my basses to the guitar tech when I showed up. He's back there tuning my basses, making intonation adjustments. Then he hands me my bass for the audition. I've never had that before. I had never had a guitar tech take care of me at an audition. That was really cool. It was really pro. After the audition, I didn't hear anything for three-and-a-half weeks. 
Then, finally, I got the call from Will telling me I got the gig. The whole process was like three months from first hearing about the gig to when I finally got the gig. It was interesting; it doesn't usually take that long, and of course, it was on my mind the whole time. 
Chris: Yeah, that's the worst, waiting for the phone to ring for three months. 
Derek: I'm thinking about it the whole time. For some reason, I just felt really good about it. It ended up being a great experience, and I'm still with her. Still in her band. 
Chris: Wow, what story. Over this last year, since obviously Shania and Gwen were not able to do their Las Vegas residencies as a result of the pandemic, you made a new record! I've been spinning this record ever since you gave it to me, and it is crushing. Everybody on the record is at their best. You created an environment on this record for people to be themselves and to really shine. The songs are these great vehicles for everybody to do their thing, and Josh Gooch, his guitar playing on this is ridiculous. It's so tasteful. What was that experience like? How much of this was live? How much pre-production did you do in terms of getting them kind of acquainted with what your goal was? 
Derek: It came together pretty quickly. I started writing as soon as the pandemic hit and live shows were cancelled. I had a super busy schedule the whole year with Gwen and Shania. My schedule was full, but when that all shut down, it was just like, "Wow, okay, what do I do now"? As we were talking about earlier, I don't sit still. I always try to fill up the free time with something. I was just thinking, you know what, maybe now is the time to do a record. The last solo record I did was in 2009. It had been a while because I just didn't have time. So I was just like, "You know what, I'm home, I'm gonna sit here and write songs and do a record." I started writing the tunes, and as I started to see what was coming out of my brain, I started trying to think of who would be the best players for these songs. Because I've been in L.A. for a long time, I've played with a lot of great musicians. 
I kinda know how a lot of people play and how a lot of people approach things, and I started just going through my mind and trying to figure out who to call. I ended up calling Josh Gooch, the guitarist from Shania's band, Randy Cook, and Ty Bailey on keyboards. Ty plays with Katy Perry. That's his main gig. Randy Cook has played with tons of people. He's been in the band Smash Mouth for a while, and Colbie Caillat. He's also played in Ringo Starr's band. I've done gigs with all of them around town, so I knew how they all played. I just thought it would be a good combination of people. Once I had 10 songs together, I sent them demos, and we got together at my place and rehearsed a few times. Then we went into the studio, and we just sort of made it a band thing. I had these demos of the songs, but we got together and really arranged them and really honed in on parts. And then when we went to the studio, we played together. We did it all old school in the same room together, playing at the same time. 
Chris: Very last question here...If you were to start from scratch and you were going to give yourself one piece of advice, what would it be? 
Derek: Wow. One piece of advice, I would say just be open-minded and observant. I think that's one thing that has helped me to have whatever success I have had in the music industry. Learn from mistakes and learn from other people. Learn with your eyes and ears open. See when somebody's doing something right, or somebody is doing something wrong, when you're doing something right, or when you're doing something wrong. That's the one thing that has helped me be successful. I'm observant. If something doesn't work out for me, I try to figure out why, and if it worked out for somebody else, I try to figure out why it worked out for that person and not me. I don't get envious about it. It's more just like, "How can I learn from this?" 
Chris: That is priceless advice! Thank you, Derek. Thank you so much for taking the time to share these insights with us.
--- 
Connect with Derek in all your favorite places!  
---
Interview by Chris Vazquez, Founding Partner of SoundLife Music Academy and a professional session musician in Los Angeles, CA. 
At SoundLife Music Academy, we make it our mission to continuously bring valuable, exciting, and helpful information to our students. One of the most valuable things a developing performer can learn is that working in music is so much more than just one single path. This interview is part of our ongoing interview series with professional musicians from all avenues of the music industry, where they share stories of their own personal paths to successful and rewarding careers in music.