Are you a songwriter? An artist? A dreamer? There has never been a time in the history of music when artists have more power and control over their own destinies than they do right now.  
Long ago (and not so long ago), composers needed the support of the church, monarchy, or wealthy elite to get their music heard. During the Classical Era, musicians participated in what was called the "patronage system", in which musicians were hired to compose and perform for powerful noblemen and their guests. If you were not part of this elite system, good luck. Composers who tried to break away, like Mozart, lived in uncertainty and struggled financially. Though disguised as record labels, promoters, sponsors, etc, this system was still in place up until the mid 1990s. The wealthy elite still held the power to decide who gets heard, and who does not. 
Now, the floodgates have opened, and there's no going back. Today if I write a song, I can get it out to the entire world within a few weeks for less than the cost of buying one physical album. And so can you! Of course, there are drawbacks to this newfound freedom, but today, we'll only focus on the empowering truth that you can "sign yourself". You can bypass the wealthy nobleman, build your own audience, and get your music directly to them. My Father used to tell me, "If you don't invest in yourself, then how can you expect anyone to invest in you?"  
Music Distribution w/ Distrokid  
Right now there are many services that, for a small fee, will distribute music to all major streaming platforms at once. Yes, this means Apple Music, Spotify, Tidal, Tik Tok, Amazon Music, and nearly every other platform—large and small—for one fixed annual price. Some of these platforms include TuneCore, Amuse, Ditto, and CD Baby (the pioneers of the rise of independent distribution). These companies are "digital music aggregators" and act as distribution serves for digital music, giving the teenager in their bedroom the same access as the 10x Grammy winner. They then go the extra mile to track sales and streams and make sure the artist gets paid.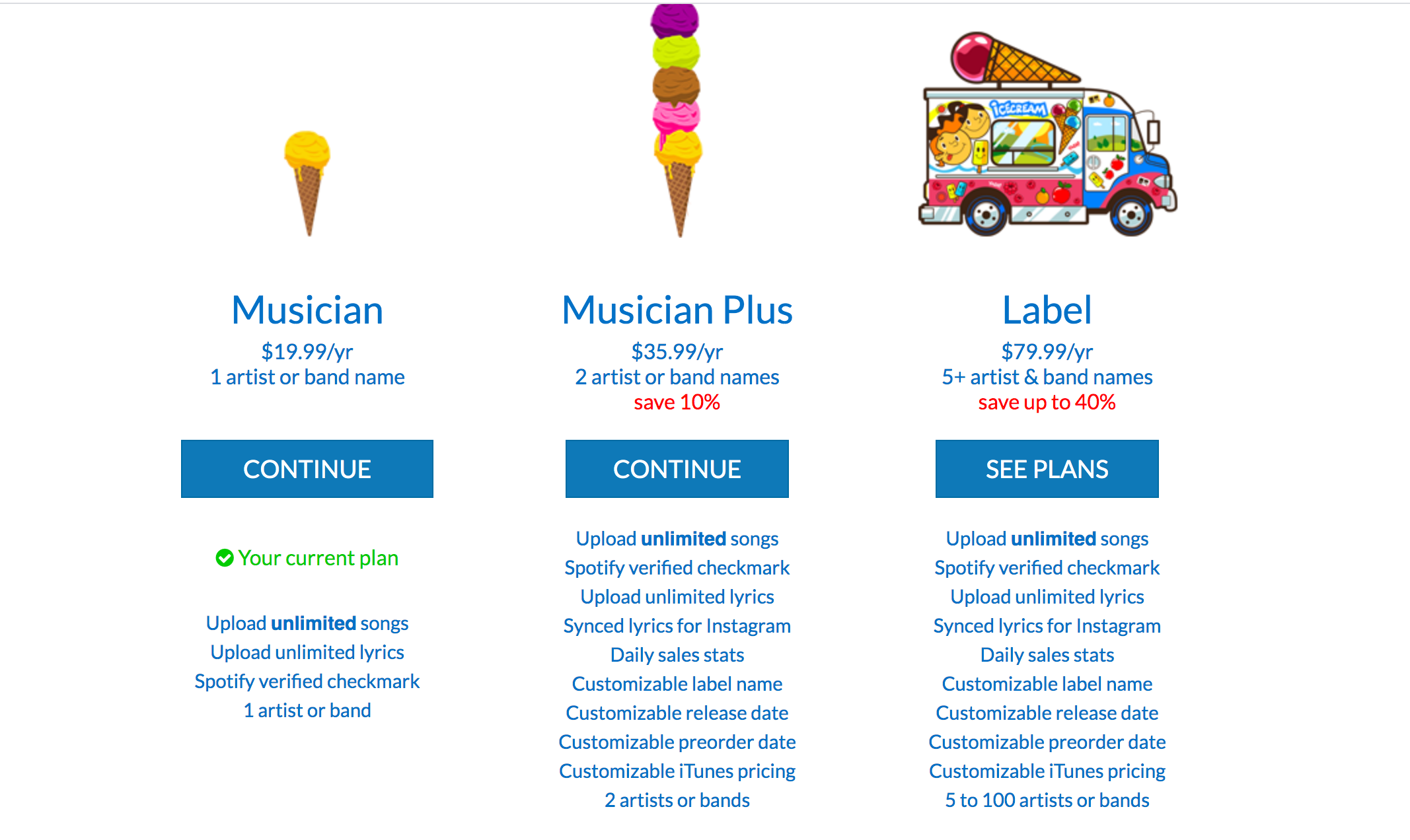 Of all the options available, we have found Distrokid to be the most affordable, reliable, and transparent. For just $20 a year, you can upload unlimited songs, and Distrokid will distribute your music to all major streaming platforms, monitor your streams, and pay you 100% of your royalties. Their platform can even manage the distribution of cover songs, ensuring that everyone gets properly compensated.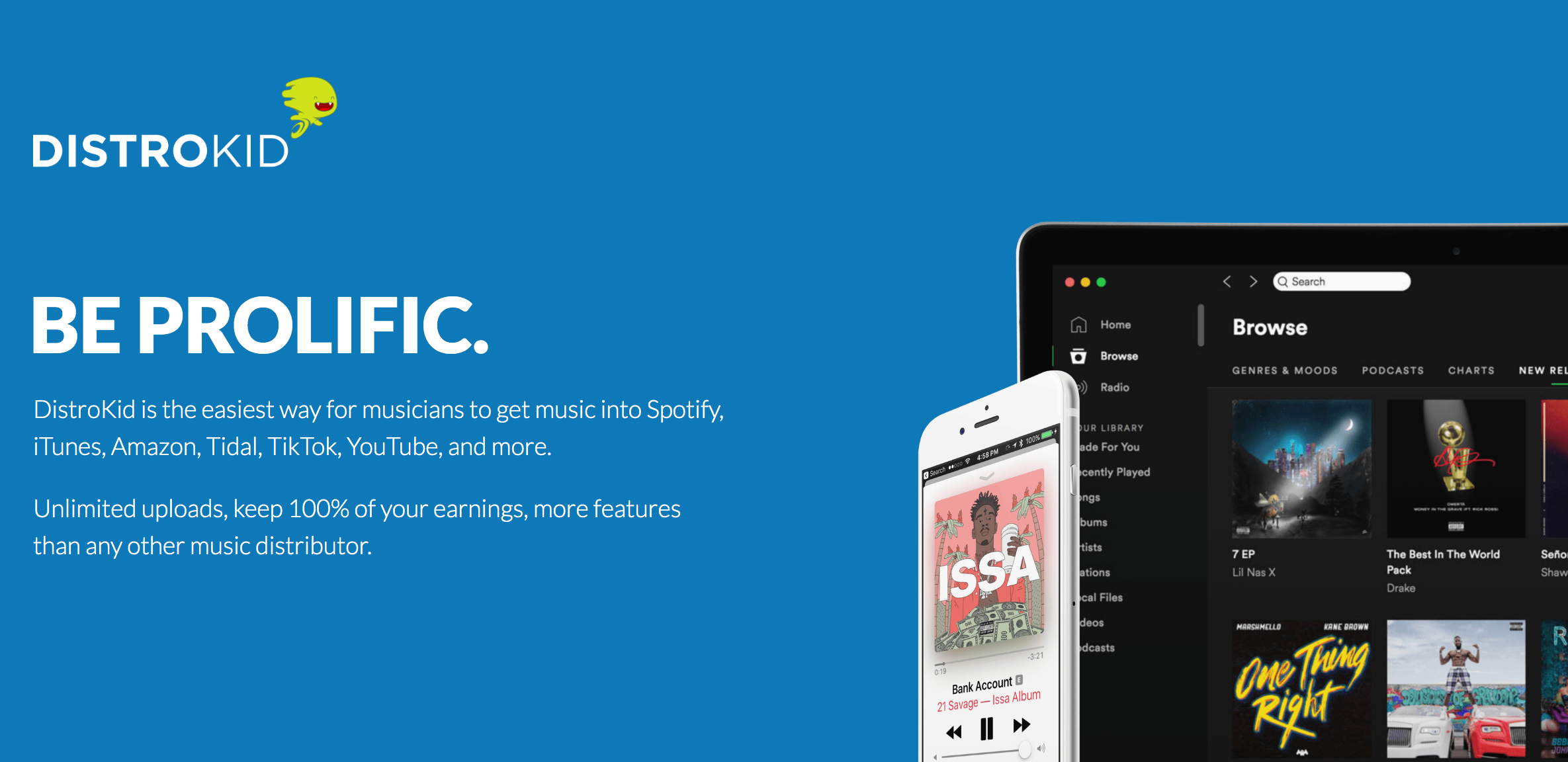 Three Simple Steps 
Sign up at www.distrokid.com.  
Upload your music. 
Wait. 
Distrokid's distribution has proven to be one of the fastest. After you sign up, fill out all of the necessary info, and upload your music, you will then be instructed to check back periodically. Each time you check back in, the list of where your music is appearing will be updated. After a few weeks, your music will be everywhere.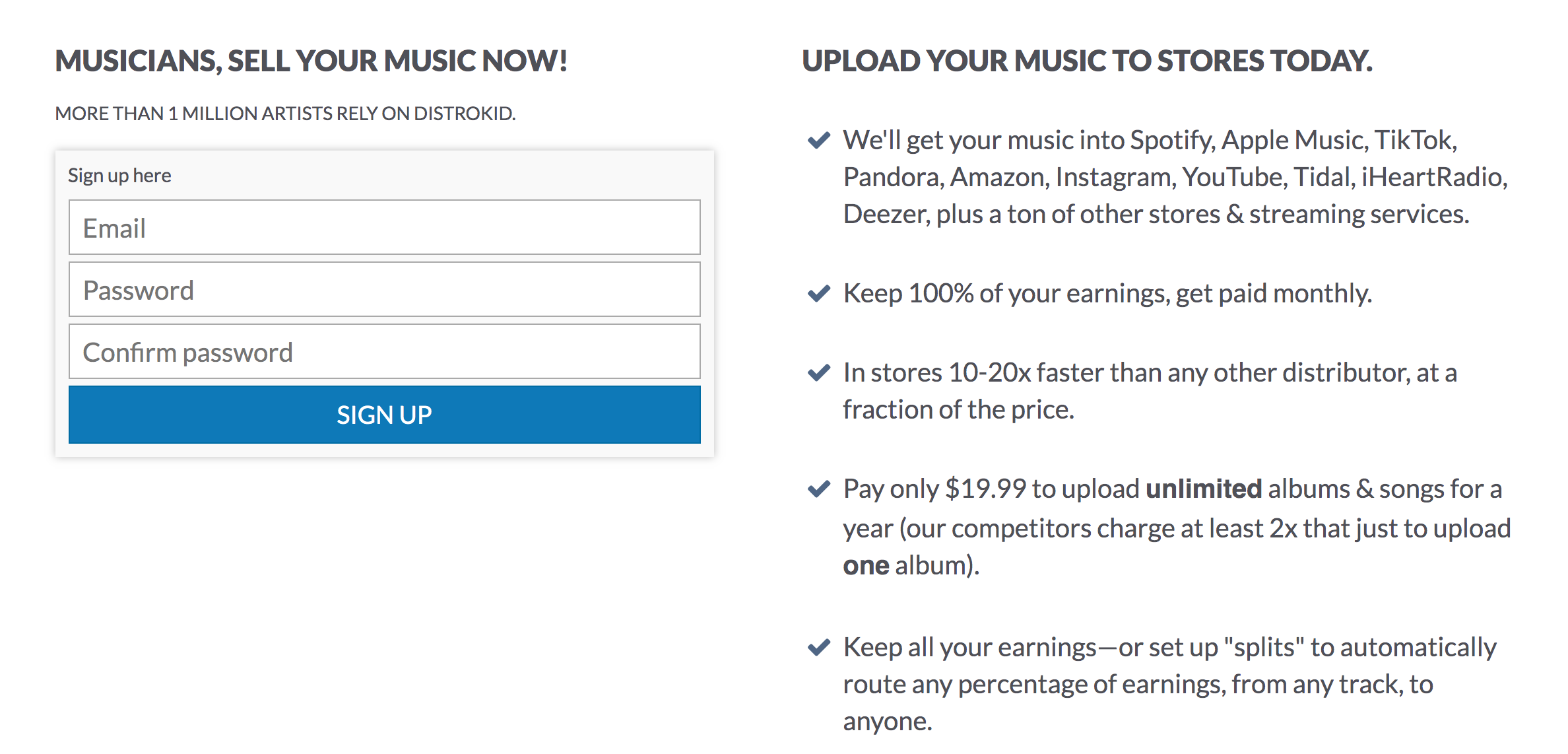 Riding the WAV 
When uploading your music, make sure that you are uploading a WAV file. Often our libraries on our phones and computers are a mixture of AAC, MP3, and WAV files. Each of these formats offers a different level of audio quality and a different file size. Typically the larger song files are WAV files, as this format offers the best audio. Make sure to select "WAV" when you're choosing which files to upload. If you do not have a WAV file of your song, then be sure to convert it. This is a fairly easy process that can be done on iTunes or with a free audio converter online.   
What about that tree? 
Yes, it's true. If a tree falls in the forest and no one is there to hear it, it does not make a sound. Once your music is out in the world, it's up to you to build your audience and promote, promote, promote. Even if you don't have aspirations of being a superstar artist, if you have written and recorded music that you are proud of, get it out there. For just $20 a year, you will always have access to your music anywhere you are to listen to, share with friends, or just as a time capsule.  
Who should release their music? 
You should! If you're reading this article, then you either have music you're interested in releasing or you know someone who does. If you have written and recorded music, get it out there in the world! 
SoundLife recently hosted our "Virtual Showcase II." For this event, our performers wrote original music or created interpretations of covers that they recorded remotely. These were then mixed, and music videos were created for each selection. The audio for each selection was sent separately to all students in WAV format in the hope that they would endeavor to release their art to the world.
"When you record or write down what you've created on an instrument, it will outlive you. It's like planting a tree."
~Jason Mraz