Congratulations to Antonio on being selected as our January Student of the Month!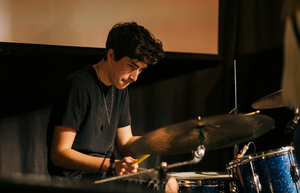 This month we celebrate the hard work, dedication, and creativity of Antonio Marroquin! Antonio is the drummer for the band TBD—which, to the surprise of many, actually stands for "The Band, Duh?" As a member of TBD, Antonio has participated in every SoundLife Showcase since 2016. Along with his TBD band mates, he has also performed at various charity events, parties, and live music venues. These experience have helped TBD develop into a seasoned band and Antonio into a leader in the group, both on and off stage. 
In 2020, after a worldwide pandemic sidelined performances and in-person rehearsal, TBD immediately seized the opportunity to write and record original music. Throughout this process, which can be tedious at times, Antonio was always patient and supportive of everyone's suggestions as the band collectively pushed for the best in one another. Often this meant re-recording drum and percussion takes at various tempos and with different feels. Sometimes this meant simply listening and waiting. Out of this process, TBD emerged with two mixed songs: "Junk" and "Alive or Dead"—and demos of other songs still in progress. They are well on their way!
As the time came for TBD to create music videos for their songs, Antonio endeavored to take on the role of both Director and Editor. He showcased incredible instincts while planning the videos, on set while directing, and with his cuts in the edit. On top of this, he also directed TBD bandmate and Featured Student Artist: Nick Palmer's killer music video for "Feel Something". Both of these videos are incredible works that demonstrate natural talent, exceptional work ethic, and a professional level of skill! 
Check out the video for "Feel Something" and the video for "Junk", both of which premiered in the SoundLife Virtual Showcase Volume II. TBD is also planning to release "Junk" separately in early 2021. 
Go, Antonio!