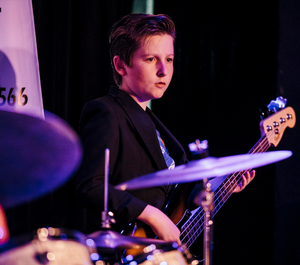 Congratulations to Jamie on being selected as our 
February Student of the Month!
Jamie has been taking bass lessons with our teacher Blake since 2018. He is also a member of the band Rock Mojis. Over the years, Jamie has performed at numerous concerts and events with his band. We have witnessed his impressive growth as a bassist, as a band member, and as a musician. 
Jamie's sense of humor and imagination are two of our favorite qualities. He'll always go out of his way to make his band members laugh, and his imagination helps challenge and inspire his bandmates. Jamie is also very tech savvy, and throughout this past year of learning to communicate and collaborate online, he's remained at the forefront, always helpful and patient. 
With musical tastes ranging from punk and hard rock to funk and electronic pop, Jamie is always turning us on to new sounds, while reminding us that the classics are classics for the right reasons. He's incredibly self-motivated, constantly seeking out new songs to try and learn on his own, with his instructor, or with his band.  
We're super grateful for Jamie's energy, spirit, and dedication. Congrats, Jamie!