About Us
Learn about Soundlife and what makes us unique!
An engaging and exciting way to teach life skills through music.
Teaching Creativity and Confidence through Music
SoundLife is Los Angeles' only fully immersive music program, providing both in-home lessons and exciting on-stage experiences. 
Every parent wants to help their child learn, grow with confidence, and succeed in life. Our vision is to provide each student with the ultimate support network for incredible personal growth; To bring students, families, and entire communities closer together through an immersive music education grounded in empowering real life experiences. 
We're committed to giving our students a premium musical education that teaches more than technical skills – we're teaching valuable skills for life. Our teachers are mentors – professional musicians who are passionate about what they do, and committed to sharing their experience with budding musicians. Together, we're dedicated to building an empowering musical community where our students create relationships with one another and develop real confidence in themselves.
SoundLife operates according to these key principles:
Fun
The key to real learning is wanting to participate, and having a blast while doing it.
Education
A musical and creative education is paramount in developing and nurturing important life skills. We teach tangible skills that empower our students.
Inspiration
Our instructors are real-world musical professionals and mentors to their students. They model our values through the actions they take and the experiences they share.
Community
Our focus on community-building ensures a strong support base for every student, and a fully engaging and rewarding experience.
Authentic Leadership
A student-led, teacher-guided environment builds trust and confidence.
Accountability
Each student has control over their own musical experience and destiny.
SoundLife Music Academy was created in 2013 by musicians and longtime friends Chris Vazquez and Mike Torres. Between the two of them, they've rocked stadium and arena stages, recorded with renowned  artists, and toured the world to perform. None of this would have been possible in their lives if they hadn't discovered music. They were inspired to build SoundLife as a way to share their experience—to educate, inspire, and unite the next generation of musicians. 
Chris was 11 years old when he went to his first Metallica concert. That one experience was so powerful that from that moment on, he was determined to play guitar and be a rock star. Music gave him a creative outlet and a supportive community at a time in life when he was struggling to fit in. No other feeling came close to performing, and the skills and confidence it instilled made him into the person he is today. 
Mike was 14 when he discovered the bass guitar after hearing Flea play with the Red Hot Chili Peppers. While he had learned other instruments in the past, the bass really stuck with him. He was hooked, which led him to study virtuosos like Victor Wooten and Jaco Pastorius. Music gave Mike a sense of belonging and purpose, and he became known as "the bass guy" in his small town of Ojai, California. 
Chris and Mike first crossed paths at Berklee College of Music. They shared the same crazy dream: to be respected pros on their instruments, rock every size venue, and tour the world. Fifteen-plus years of hard work later, they've made those dreams a reality.  
Over the years Chris and Mike supported each other through auditions, recording sessions, gigs, and one tour after the next. Chris has performed with artists like Air Supply, Lou Gramm (Foreigner), Terri Nunn (Berlin), Andre Cymone, and Leona Lewis. Mike has toured with Selena Gomez, Macy Gray, Ashley Tisdale, and Three Dog Night. Throughout all of this, they've not only remained close friends, but they've also built up a strong and supportive musical community of creative mentors and peers.  
Chris and Mike both knew that music could be life-changing, and that a great musical education is a fully engaging experience that inspires kids by going far beyond just learning to play an instrument. Other music schools offered some elements, but there wasn't a program that offered the fully immersive experience of private in-home lessons with professional working musicians, combined with the benefit of an empowering musical community and exciting performance opportunities.  
They created SoundLife Music Academy, and our community has been growing ever since.
Learn from professional musicians with years of industry, touring, and recording experience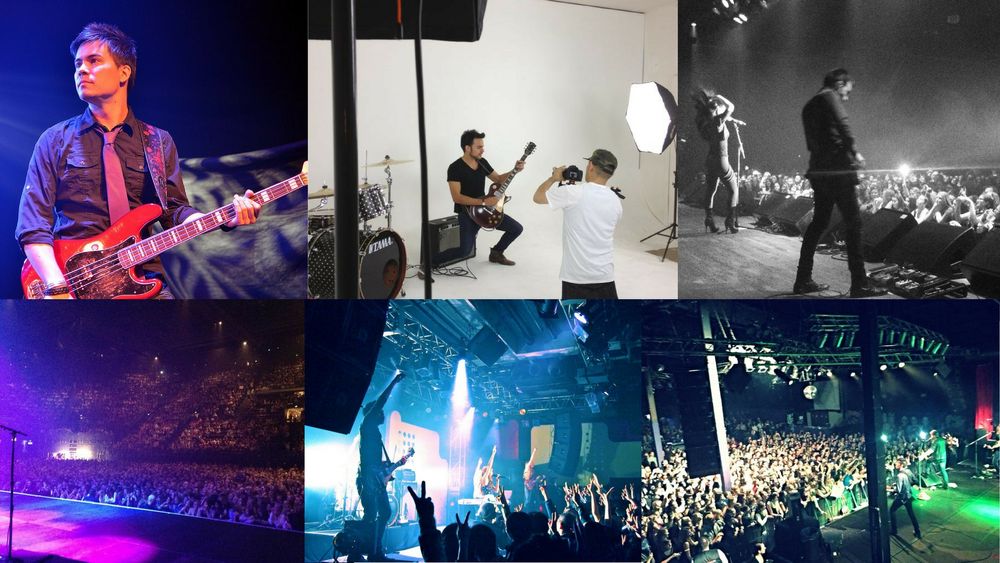 Schedule a Free Trial Lesson Today!
We love what we do, and we know you will too. Start your child's musical journey today with a Free Trial Lesson. 
Not a kid? Not a problem. Our teachers are professional musicians who tour and record at the highest level – whatever your age or experience level, who doesn't want a teacher and mentor like that?