Congratulations to Zeke on being selected as our October Student of the Month!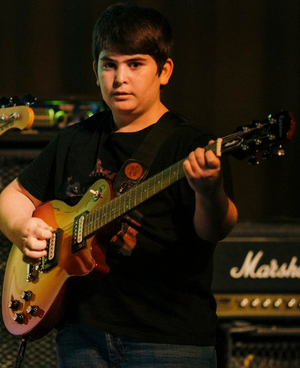 Zeke has been taking guitar lessons with Chris for nearly a year. During that time he participated in two of our concerts, one of which being our most recent Virtual Showcase. Zeke was already progressing steadily, but then quarantine came. Instead of falling back or loosing any of his momentum, Zeke put the pedal to the floor. 
At the beginning of Summer, Zeke requested to learn all of "Bohemian Rhapsody" on the guitar. He didn't want to just learn the few parts everybody knows; he wanted to learn every single guitar part and be able to play it with the recording. Well, we're thrilled to share that he conquered that climb. 
Shortly after finishing that masterpiece, Zeke took on another in "Hotel California." Again, he didn't just want to learn the solo; he wanted to learn everything, from the delicate picking in the intro all the way to the very last note. This week, he reached that final note, and he deserves a round of applause for his focus, determination, and ambition.  
Zeke also recently acquired a bass guitar, which he will be learning alongside the guitar. With his attitude and work ethic, Zeke is unstoppable.