Congratulations to James on being selected as our  
January Student of the Month!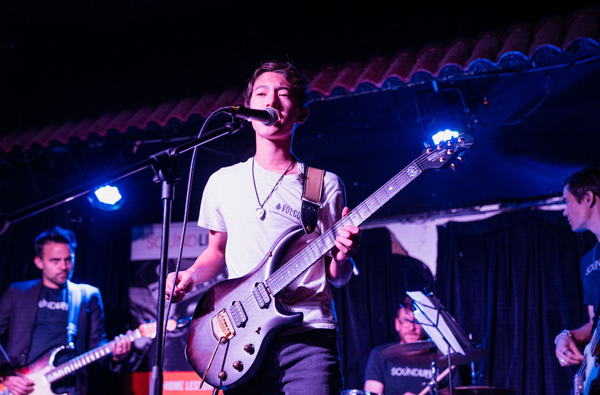 James began guitar lessons with Lorenzo and voice lessons with Andy in the summer of 2022. At the time, James was already a well-developed musician with experience. The only thing missing for James was an environment for him to create his own challenges alongside a mentor and reach for them. When James began lessons, his mother sent over videos of him playing and singing in a band format. It was immediately apparent that James already possessed a command of the guitar, the techniques required for more advanced guitar solos, and the ability to sing while playing. These skills take years to develop, but with them already in place, what limits are there?
With the help of his guitar instructor Lorenzo, James chose to learn the song "Sanitarium" by Metallica. This is a nearly seven-minute song with multiple solos, odd time signatures, and a long song structure. In most cases, students of his age only learn a few parts and struggle to play songs of this nature in their entirety. James is not most cases. He learned every part of the song—all of the solos and lyrics—and even adapted parts of the melody to fit his voice.
When the time came to submit songs for our December Showcase XIX, James was more than ready. He forced our All-Star House Band to raise the bar to support his hard work. On December 8, James came to the house band dress rehearsal with one 30-minute time slot to put the song together with our full band. He did it in less than ten minutes. After just one run-through, we knew this would be a fun performance for everyone to experience. James took the stage at El Cid two days later and nailed every section. At one point toward the song's end, he and our Program Director came together on stage to do the guitar harmony section of the song, and it was a truly special moment. 
One of the more unique aspects of our program is not just the power of choice but how far we can take it. If a student is inspired, we will do everything we can to turn that spark into fire. We're so proud of James's growth and dedication. This was, in fact, his first SoundLife Showcase, and we cannot wait to see what he does next!