Congratulations to Elias on being selected as our  
February Student of the Month!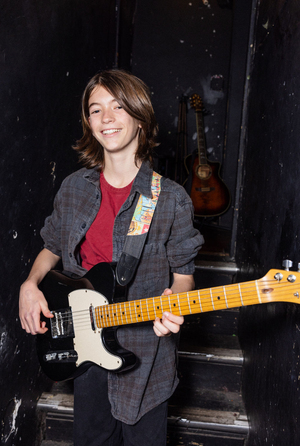 Watching Elias grow into the musician he is today—confident and skilled—has been an incredible journey. After working with his schoolmates in a rock band class, Elias began guitar lessons in June of 2022 with Lorenzo. The inspiration to learn and keep up with his classmates skyrocketed Elias's progress. Having the application to use the skills he was learning on a weekly basis, combined with a little healthy peer pressure, Elias transformed into a full-blown rock star at a rapid pace.
Lorenzo raves about Elias's focus and determination. He saw a bit of himself in Elias and felt a mentorship developing week after week. In November, Lorenzo went on tour with Thomas Headon, and Elias attended Lorenzo's Los Angeles show at the Troubadour. Seeing your teacher practice what they preach lets you think two things: "My teacher is awesome," and "If they can do it, I can do it."
During this time, Elias and his classmates formed an official band outside of school. Nate, Sophia, Eden, Carter, and Elias came together with their eyes on Showcase XIX. Our Co-Founder and Program Director Chris stepped in to coach their band while Lorenzo was away on tour. They only had four weeks of rehearsing once per week, but with everyone dialed in, focused, and excited, they grew stronger and stronger. Every Sunday they chipped away at their setlist, eventually settling on five songs to perform. When the time came to choose a band name, they all agreed on "Sunday," as that was the day they all came together. 
On December 10, 2022, Elias took the stage with Sunday and blew the roof off El Cid. They sounded polished and professional, while clearly having fun. Listen to their incredible set here. At the same event, Elias also joined our All-Star House Band, composed of instructors and seasoned touring musicians, to perform "Boys Don't Cry" by The Cure. Without any rehearsal, Elias performed flawlessly. You can hear his rendition of Boys Don't Cry by clicking here.
We are beyond proud of Elias's growth on his instrument, but it is his attitude that sets him apart. Being in a band is not always easy; it takes compromise, patience, and a whole lot of teamwork. These are areas where Elias truly excels. In every lesson and rehearsal, Elias comes prepared with a willingness to listen and an eagerness to learn. He is willing to step out of his comfort zone, such as when he was asked to sing background vocals, having never sung before. He lifts up all of his bandmates, and he learns everyone's song choices as if they were his own. 
Congratulations, Elias! We can't wait to hear what you and Sunday are doing for the next big show. Keep rocking. You inspire us, and we're thankful for all you bring to the SoundLife community.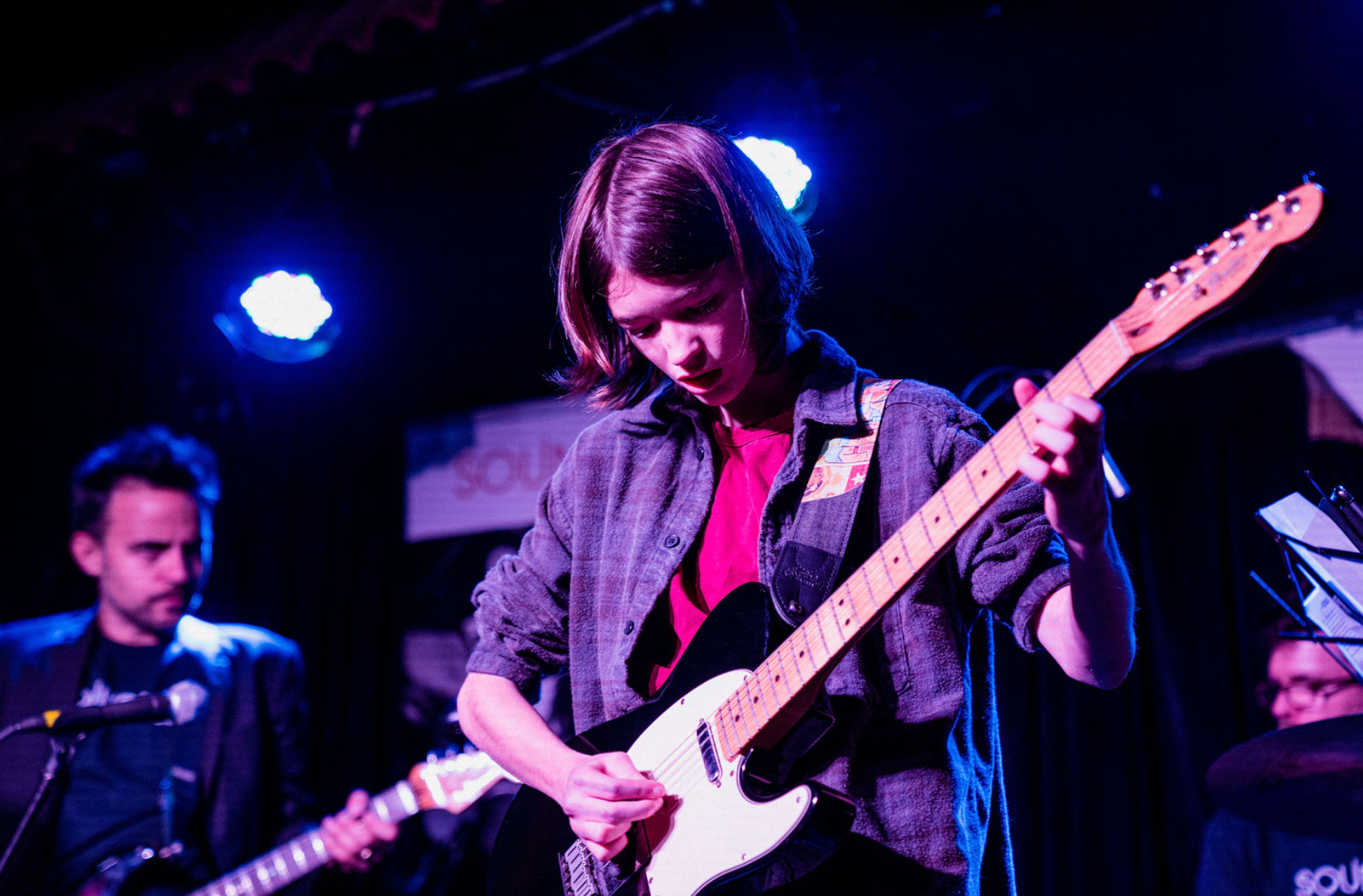 What do you like most about taking lessons/playing in a band/ etc? 
My favorite part about learning music is being able to express myself in a way that I love every step of the way and the fact that there is always a next step. In music there is no impassable wall that you will hit one day and say "I've learned everything there is to know." The sky's the limit and you can go infinitely far as long as you keep working for it. My favorite part of playing in a band is being able to take a group of people that could be from different places or have any number of differences and still being able to come together and create something that represents every person individually. 
What is your ultimate goal with music? 
My ultimate goal with music is just to keep following my passion. Everybody wants to be a rockstar playing on a stage  and I'm no different. However, all of that seems so far ahead in the future. What got me to where I am is my love for learning music and I just want to grab hold of that passion and follow it where it takes me. 
Who's your favorite artist/singer/player (and why)? 
My favorite guitar player is Jimi Hendrix. Hendrix is one of those guitar players that needs no introduction, anytime you hear one of his songs you know who made it. What I really admire about him is how he forced a space for himself in the world of music by creating something so unique to his own that no one else could take that spot away from him. Even trying to learn some of his songs decades after they have been released you might never play it as he did whether it's because of the fact that he played a right handed guitar upside down or just because of how innovative every note he played was.