"Stars don't shine because they want to be seen. They shine because they are stars." –Gaelle
When we endeavored to bring our in-home students together for the very first SoundLife Showcase, it was with the same heart and passion as number Twenty. I remember the fire and the certainty that what we were attempting to do needed to happen. I can pinpoint the moment, the road I was driving on, and the time of day that I pulled my car over to the side and sat in contemplation with the concept for bringing in-home students together in performance. Little did I know it would take years of ideation and iteration to get here, to realize that initial goal in its true form. 
As many know, we started in a backyard with under a dozen performers—no groups and no bands—but simple as it was, the impact was there from the start. Seeing young performers step to the mic for the very first time, conquering fears and confidently sharing their skills, it was evident from day one. Now, nine years later, that fire continues to burn, stronger than ever. 
On Jun 3, 2023, at El Cid in Silver Lake, over forty performers shared their hard work in front of a packed audience. From solo performances to bands, All-Star House Band performances to recorded works, over four hours of music were showcased in total. With each Showcase, we continue to implement new ideas that reflect the work that performers are engaged in week after week in their lessons, and for this concert, we decided to include recorded works for the first time. Why? Because for the first time in SoundLife's history, we have multiple students, bands, and alumni with music either already released on streaming platforms or on the verge of being released. For some of our students, this music thing is very real, and there is nothing we love more than supporting and celebrating their artistry with the SoundLife family in a high-fidelity environment. 
One thing we've learned from previous Showcases is that while some performers are willing to go first, no one really wants to. With that in mind, we decided to have our All-Star House Band kick off the afternoon with a performance of "Signed, Sealed, Delivered" by the legendary Stevie Wonder. This proved to be a hit with both the audience and performers, and it ensured no performers would have been the first to take the stage.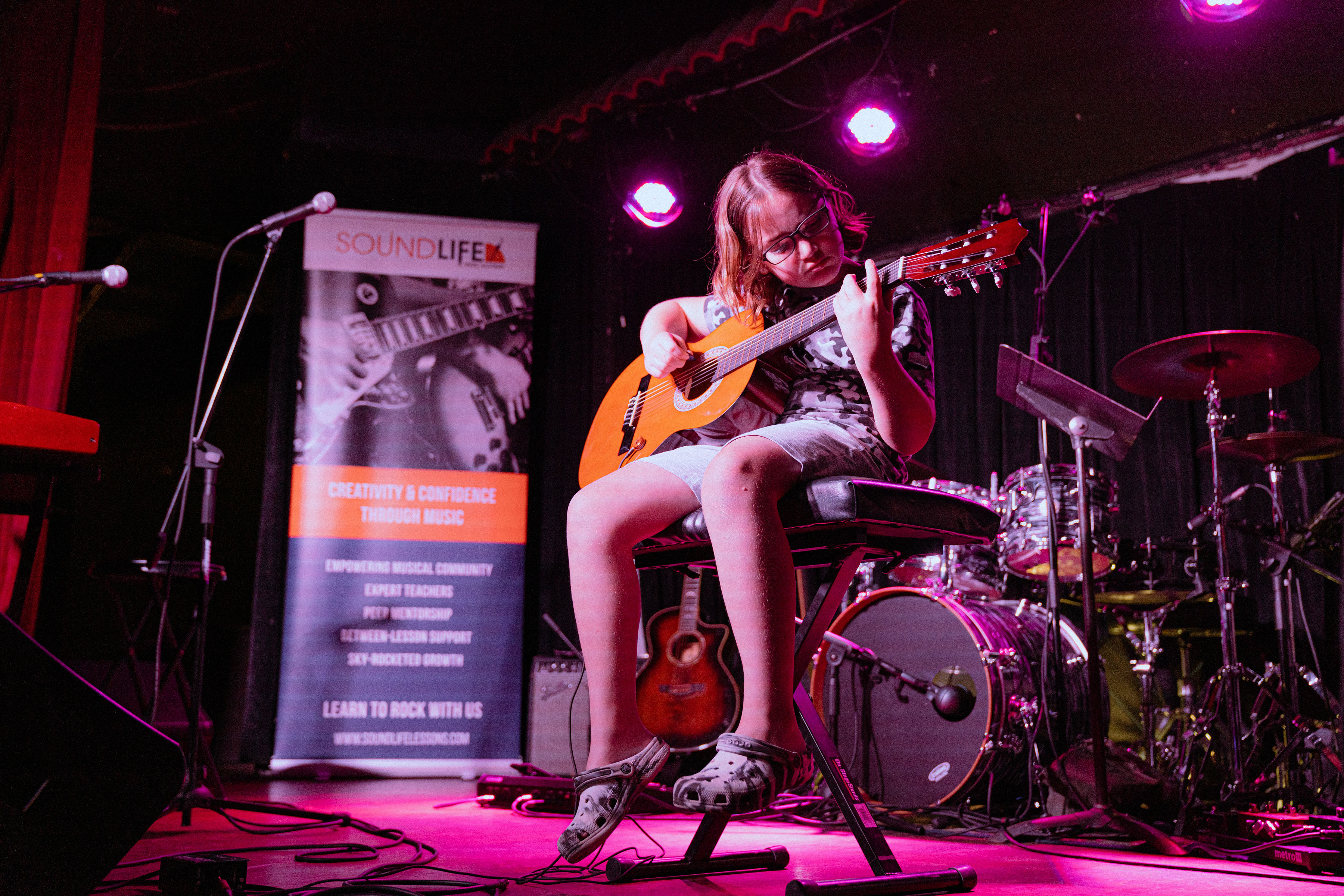 Following the full band kick-off, Stella Cohl (piano) took the stage for a little Mozart. She performed a beautiful rendition of "Rondo Alla Turca" with grace and confidence. Stella is a longtime member of the SoundLife family, and she approached the stage with a smile, both comfortable and at ease. Stella was followed by Harrison (guitar), who took the Showcase stage for only the second time. For his first performance, Harrison put a mic on his acoustic guitar while he played "Eye of the Tiger." This time around, Harrison came armed with a pickup for his guitar so we could hear him loud and clear for an amazing performance of "Day Tripper" by The Beatles.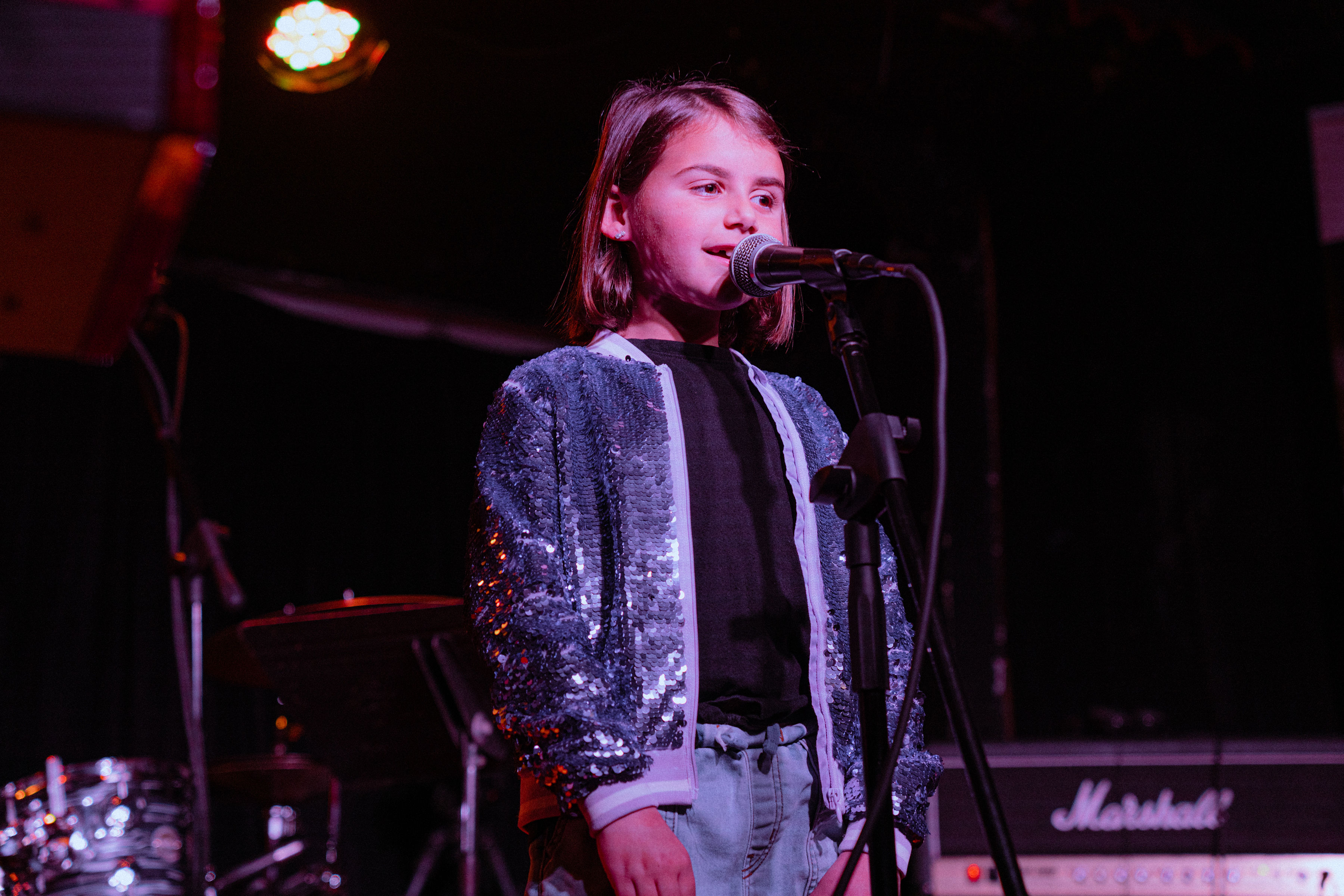 Zoe (vocals) took the stage next for a jaw-dropping performance of "Roar" by Katie Perry. She had the audience in the palm of her hand as she belted out those choruses. Violet (drums) stepped to the stage after Zoe for her second time, and she performed a passionate rendition of "Ex's and Oh's" by Elle King, showing immense growth from her previous performance. She was followed by her sister Emelia (vocals), who took the Showcase stage for the very first time. Emelia performed "Flowers" by Miley Cyrus and proved to be quite the performer, adding in choreography and endless attitude.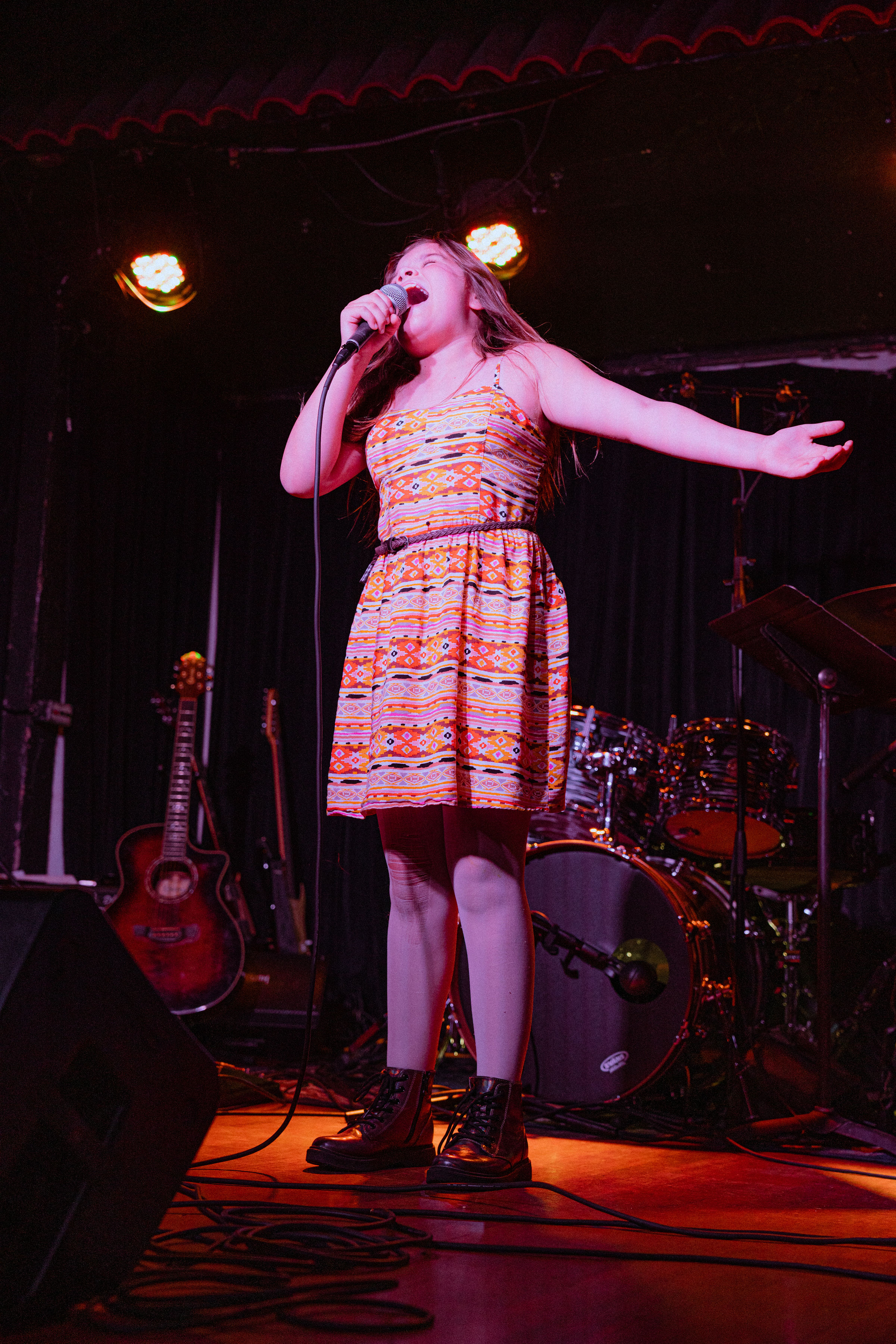 From one pair of sisters to the next, Ava (piano) and Rosie (piano) followed. Ava played through an entire instrumental arrangement of the classic Bill Withers anthem "Lean On Me," which was followed by Rosie's performance of "500-Year-Old Melody." One of the most exciting parts of each Showcase is watching students perform a piece clearly chosen for them by their instructor and then having them come up to us and share their enthusiasm for what they want to do next. This is part of the process—helping young performers find their identity in their instrument. 
Finishing off the first part of our showcase was Lenna (piano), who performed "Fur Elise" by Beethoven in its entirety. This was a piece she worked on for many months, diligently picking away at it part by part, determined to perform it at the concert. She was amazing.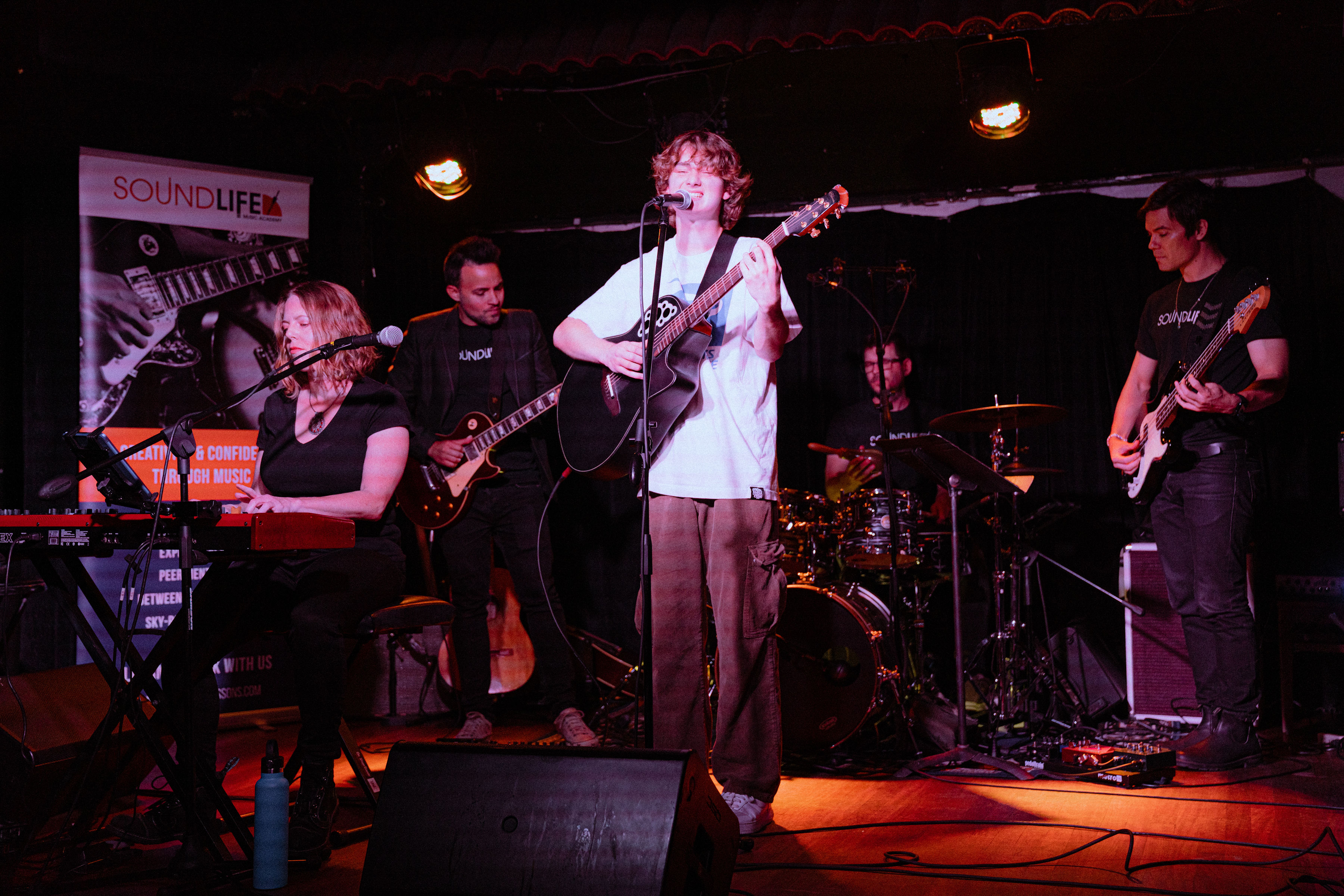 As we shifted from solo performers to our All-Star House Band, the next segment was kicked off by one last solo performance from Felix (guitar/vocals), who also happened to be doing a song with the house band. Felix left the audience speechless with his instrumental performance of an arrangement of The Beatles' classics "Day Tripper" and "Lady Madonna" by the legendary guitarist Tommy Emmanuel. This was immediately followed by Felix's vocal debut as he stepped to the mic with guitar in hand for a full-band performance of "For No One," also by the Beatles. Again, he was fantastic, demonstrating immeasurable courage in the face of fear.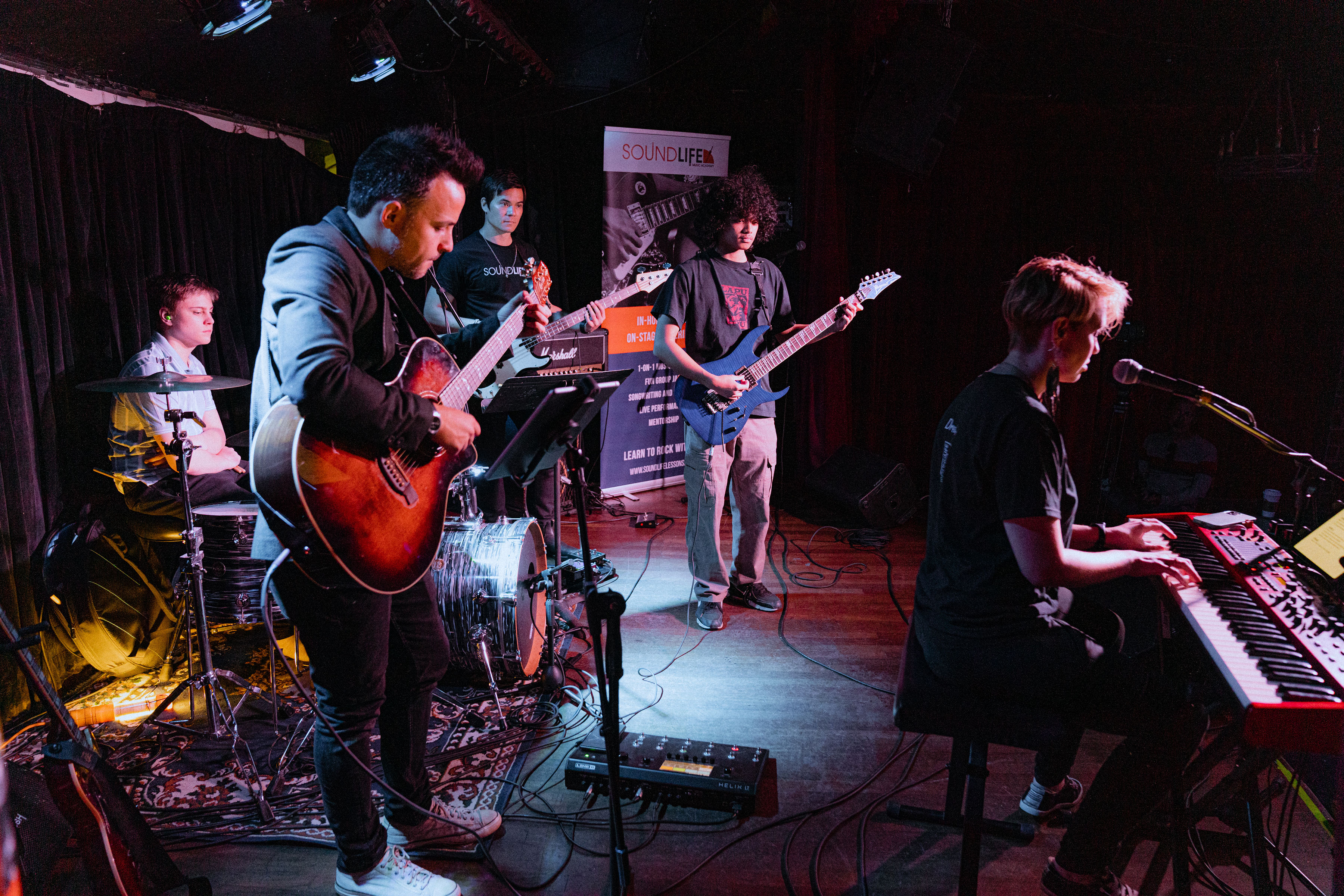 Next up, Kamayo (guitar) took the stage for his second Showcase performance. This time around, he upped the bar by becoming the first student to perform "Stairway to Heaven'' in its entirety. From top to bottom, Kamayo nailed every part, every solo, and every riff. What better way to follow a classic than with more classics? Ozzy (piano) stepped in with the house band on keys for a two-song set of "Amber" by 311 and "Beat It" by Michael Jackson. For both songs, Ozzy had his own program synth patches to match the record. His performance brought the crowd to their feet.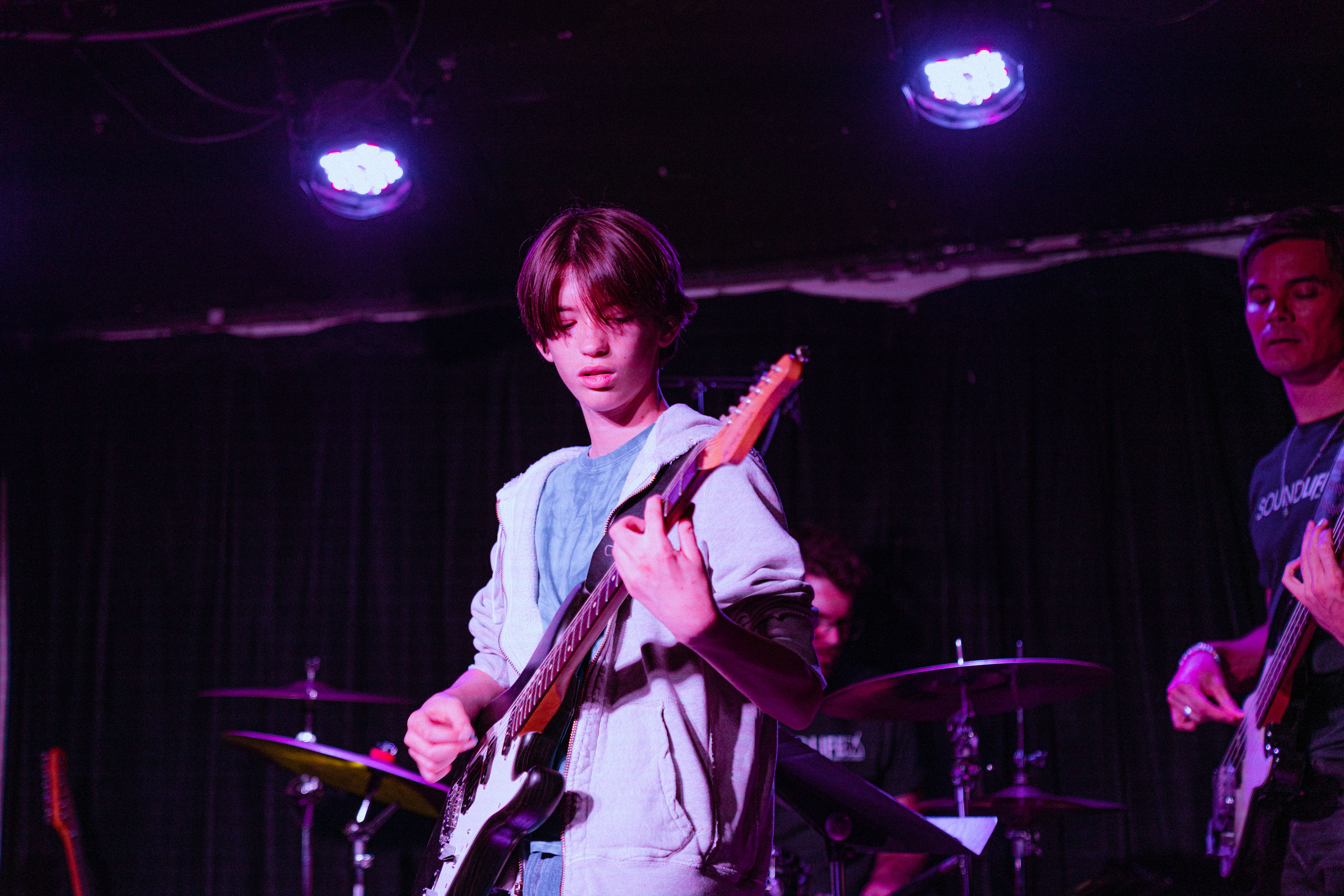 Nicholas Hall (drums) took the stage next for his very first Showcase performance. This was a huge success as Nicholas grooved his way through "Buddy Holly" by Weezer with the house band. The smile on his face, followed by the fist bump at the end, were our favorite parts. Up next was Elias (guitar), channeling the energy and spirit of the great Jimi Hendrix with a spot-on performance of "Purple Haze." This song is so iconic, and we're confident the guitar gods were smiling down.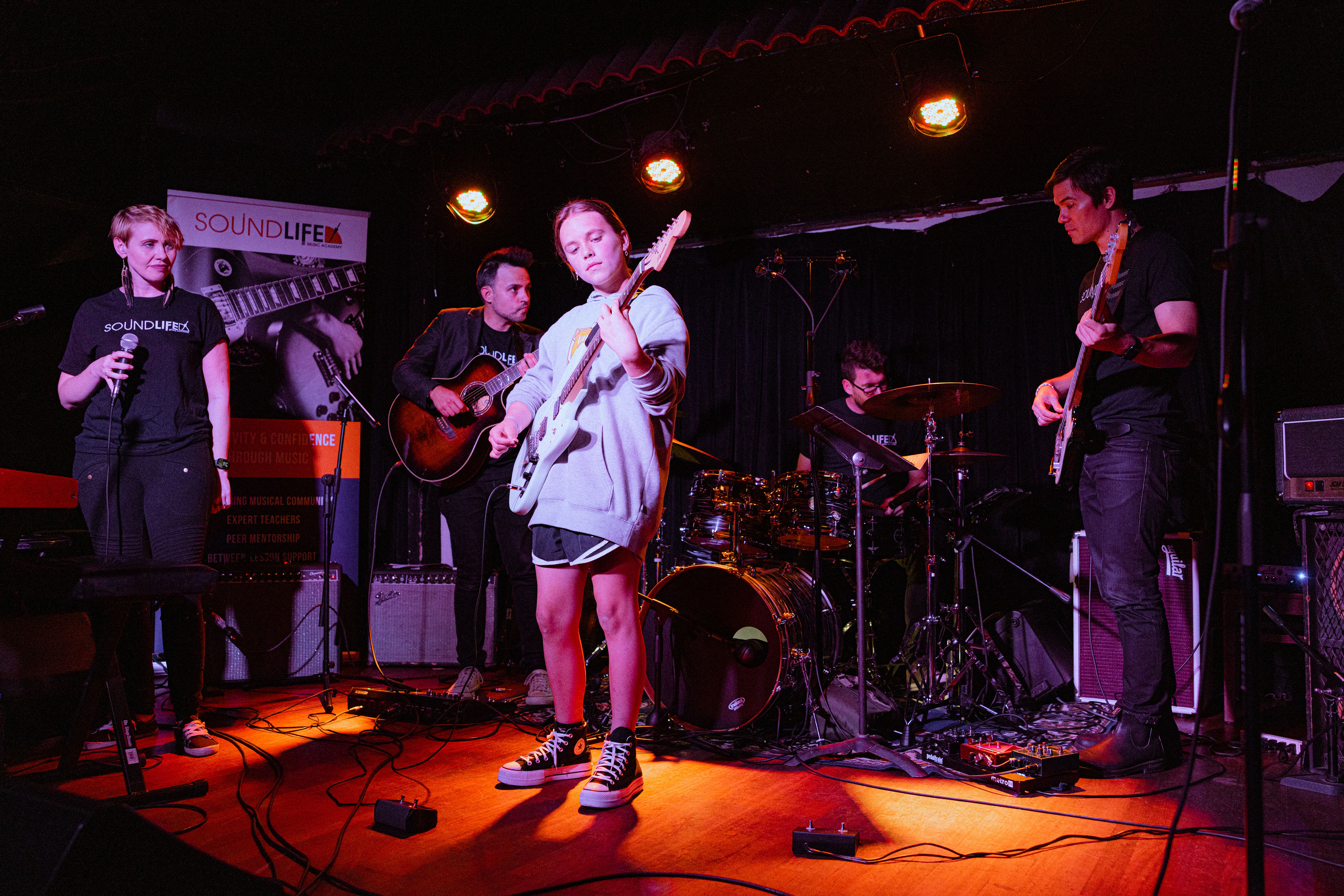 How do you follow Hendrix? With more Weezer, that's how! Pepper (guitar) took the stage for a two-song set, including "Where's My Mind" by The Pixies and "Say It Ain't So" by Weezer. She nailed all of the lead guitar parts and demonstrated tremendous growth between concerts. Pepper was followed by SoundLife veteran and legend of the El Cid stage, Guy (drums/guitar), who took center stage. First, behind the drum kit, Guy became the first student to bring a double kick drum pedal to perform Metallica's newest single, "Lux Aeterna." The audience went into a frenzy as soon as the song began and stayed on their feet throughout, only to have the energy kicked up another notch when Guy switched over from drums to guitar. On the guitar, Guy kicked into "Johnny B. Goode" by Chuck Berry, doing all of the guitar solos and even trading solos with our co-founder and Program Director, Chris.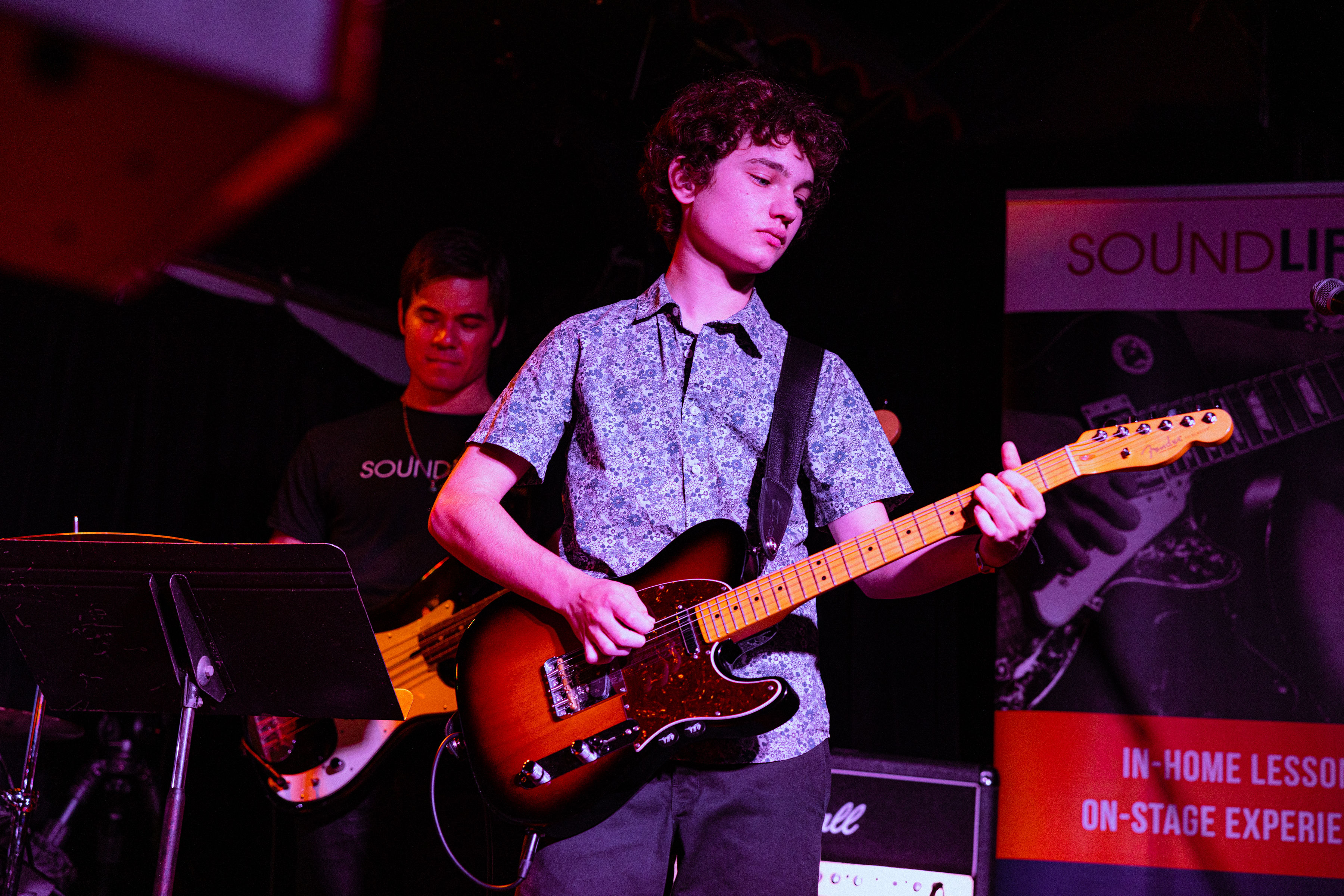 The energy in the room, already at an all-time high, continued to build as Nate (guitar) took the stage to pay homage to the legend that is Jimmy Page with his rendition of "Heartbreaker" by Led Zeppelin. This song is no easy feat, as it includes an open guitar breakdown that is historic in the guitar world. After months of hard work, Nate nailed it! 
We finished off our All-Star House Band segment with a dual performance of "Enter Sandman" by Metallica featuring longtime SoundLifer Julian (guitar/vocals) and first-time performer Olivia (drums). Both performers did an incredible job tackling this iconic piece of music history. Julian then stepped up to the mic for the very first time to sing an original song called "Mirror, Mirror." This marked Julian's last Showcase performance as he moves on to college in the fall. We are so grateful to have had him in our SoundLife family for over a decade.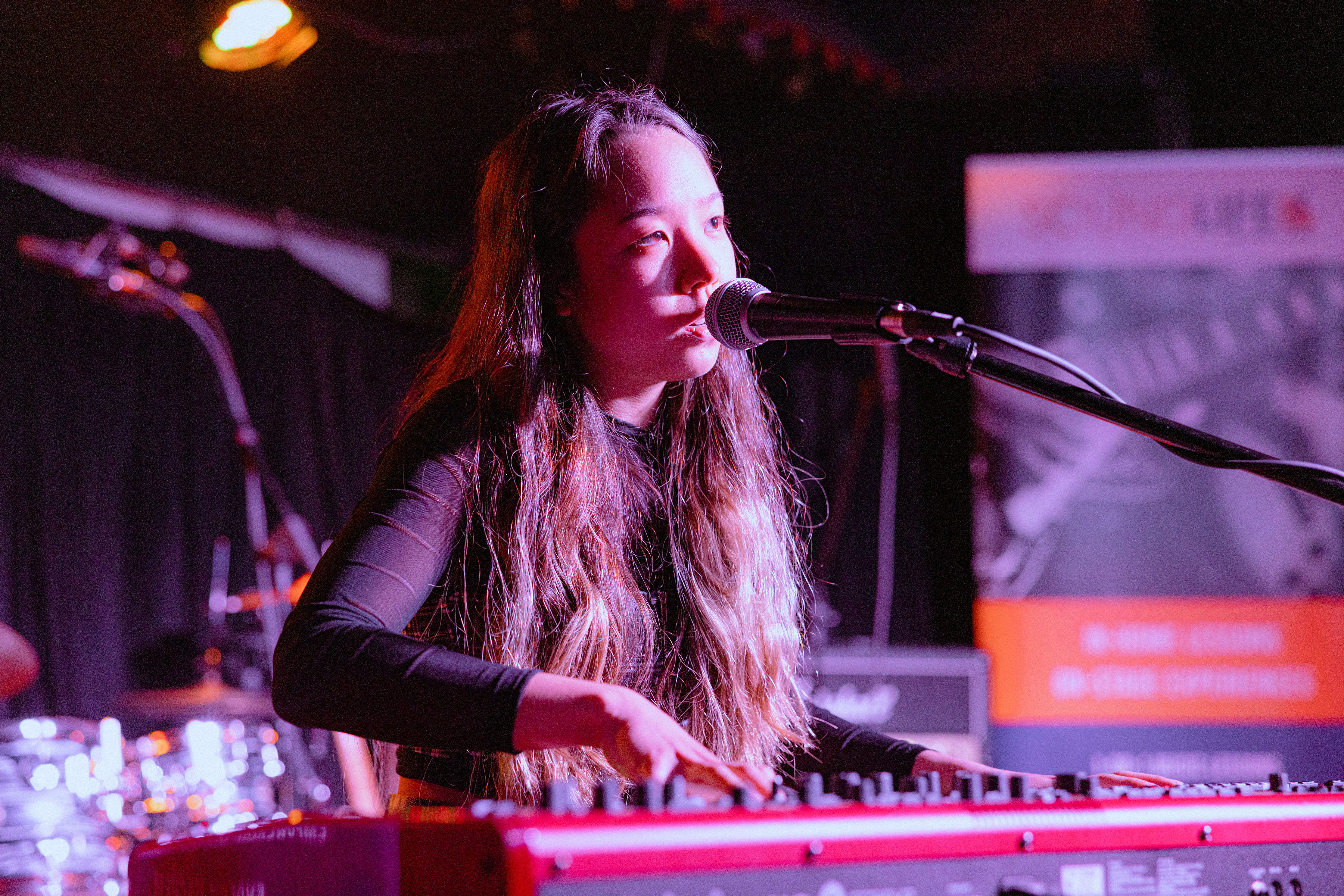 While transitioning out of our house band, we kicked off our pre-recorded works with "Tumbling Down"— written, recorded, and performed by Naomi (piano/vocals) at home on GarageBand. This was followed by Jacob Dobkin, a.k.a Stryde, debuting an as-yet-untitled new beat and rap. This was Stryde's third time taking the stage, and with each one, he gets more comfortable on the mic and moving around the stage. The production on his beats also showcases notable improvements. Jacob was followed by Sarah (piano/vocals), who performed a heartbreaking original composition called "Temptation." The most impressive part of her performance was her level of comfort when she told the story behind her song.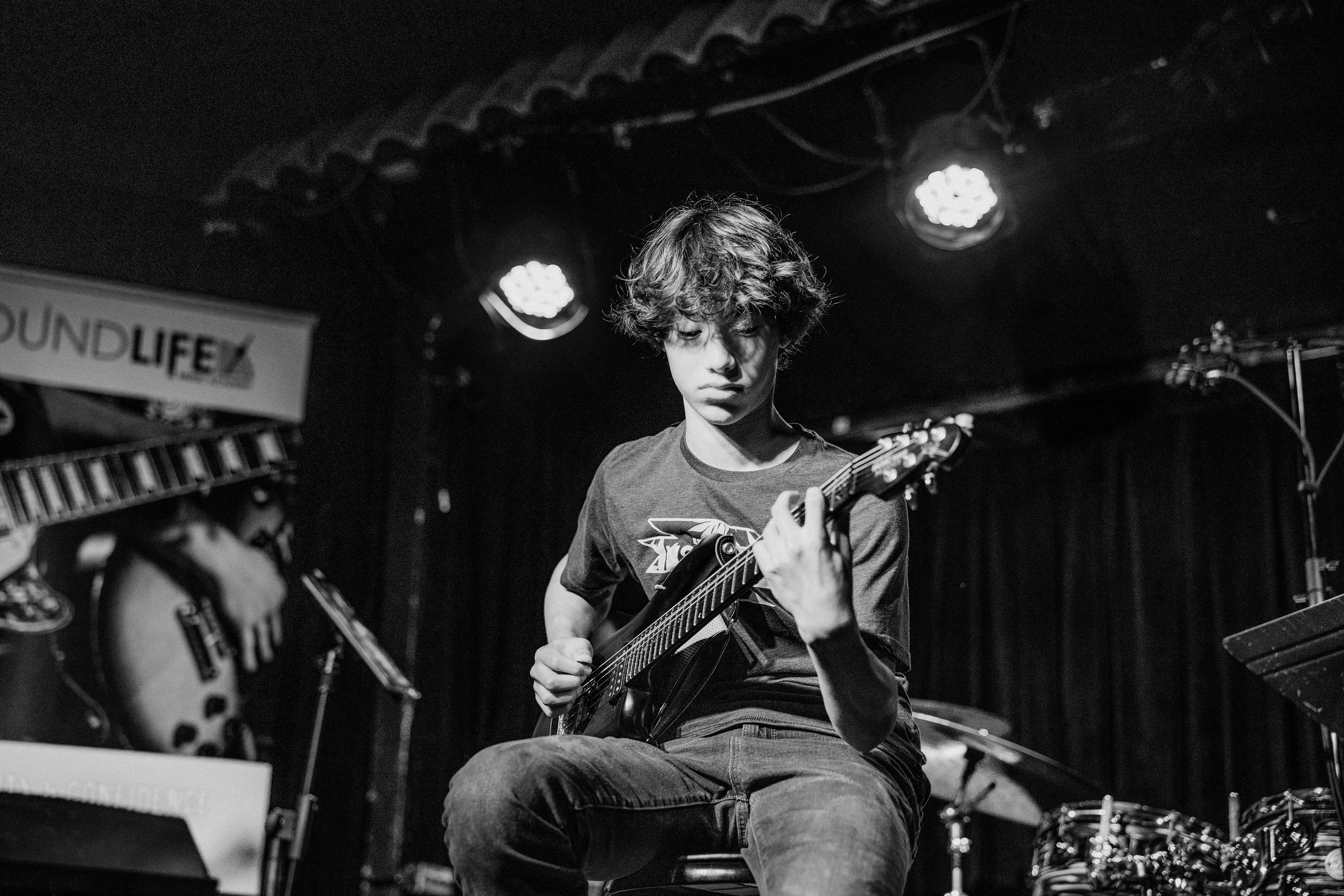 SoundLife legends and siblings Cormac (piano) and Laurel (piano/vocals) followed. This marks their tenth Showcase appearance. Cormac breezed through "Fly's Adventure," showcasing continued improvement in his technique on the piano. After this song, his sister stepped up for a moving rendition of "Take Me to Church" by Hozier. This dark, brooding mid-tempo masterpiece was given new life and meaning through Laurel's voice. Rounding out this segment of the show was James (guitar), an advanced student who previously took on classic 80s Metallica. This time around, James showcased all of his hard work in learning a song called "G.O.A.T" by Polyphia. For those who are not familiar, this is an instrumental guitar band known for incredibly difficult songs. James, of course, left the audience breathless.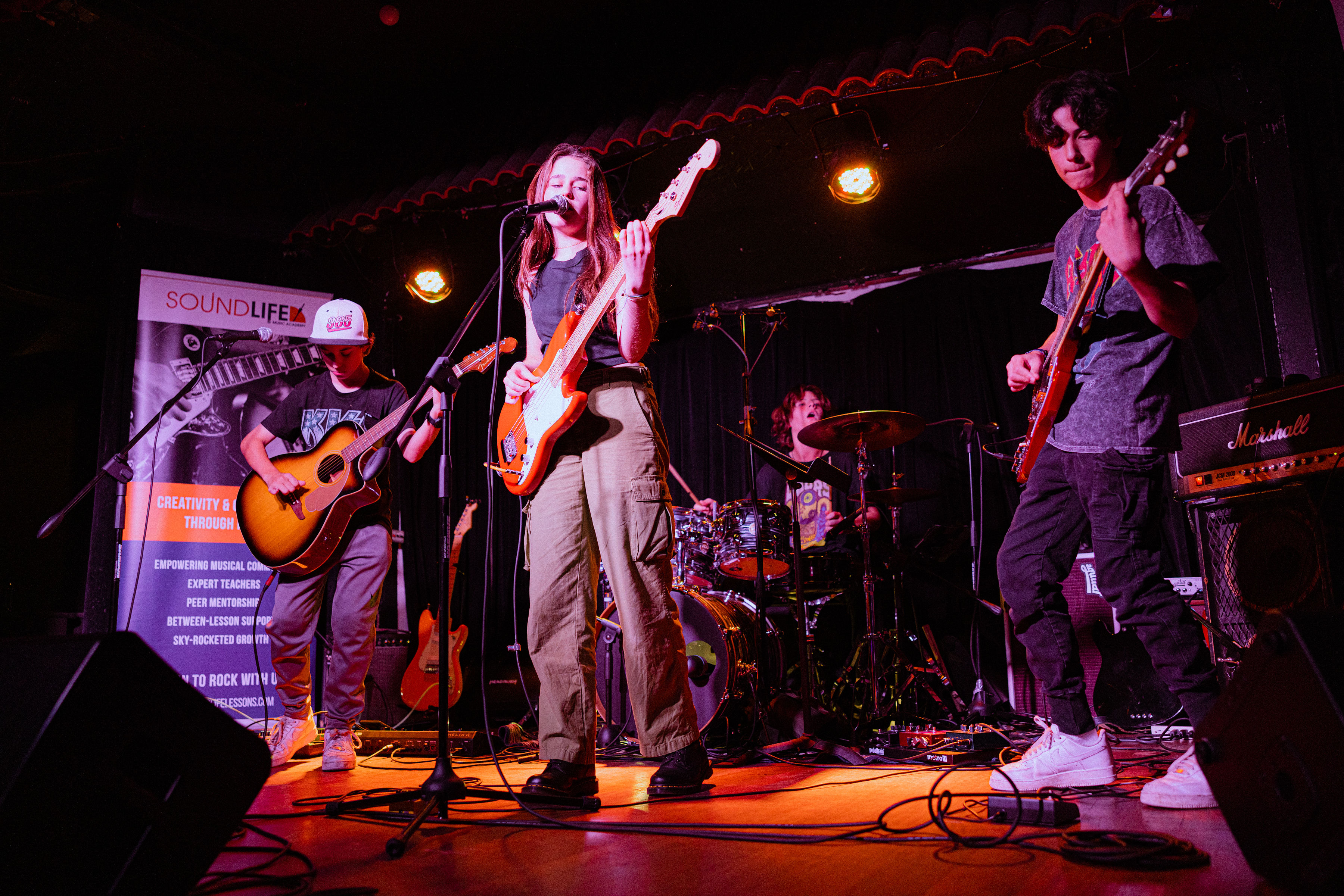 Transitioning to the final segment of the show, it was time for the bands to take the stage. First up was GRB, a relatively new band taking the stage for only the second time. GRB features Zeke (guitar/vocals), Nathan (guitar/vocals), and Jimmy (bass). On drums, their band coach Sam took turns with Zeke's father, Tony. The band blazed through an incredible 20-minute set. Highlights were "Paranoid" by Black Sabbath and "While My Guitar Gently Weeps" by The Beatles.
Upon finishing, we moved to our pre-recorded work, a new single from Natalie (guitar/vocals) called "Panorama." This radio-ready track was written by Natalie and produced by our very own Enrique Lara. It clearly moved the audience as they applauded when the track faded to introduce the next band. Once settled with all their equipment, Feedback took the stage for a blistering power-packed set. This incredible group consists of veterans of the Showcase stage. Featuring Laurel (bass /vocals), Cormac (guitar/vocals), Dylan (lead guitar), and Guy (drums/vocals), they are a force to be reckoned with. Their set displayed so much fire, energy, and confidence, it was amazing to see them reach this level they have worked so hard for.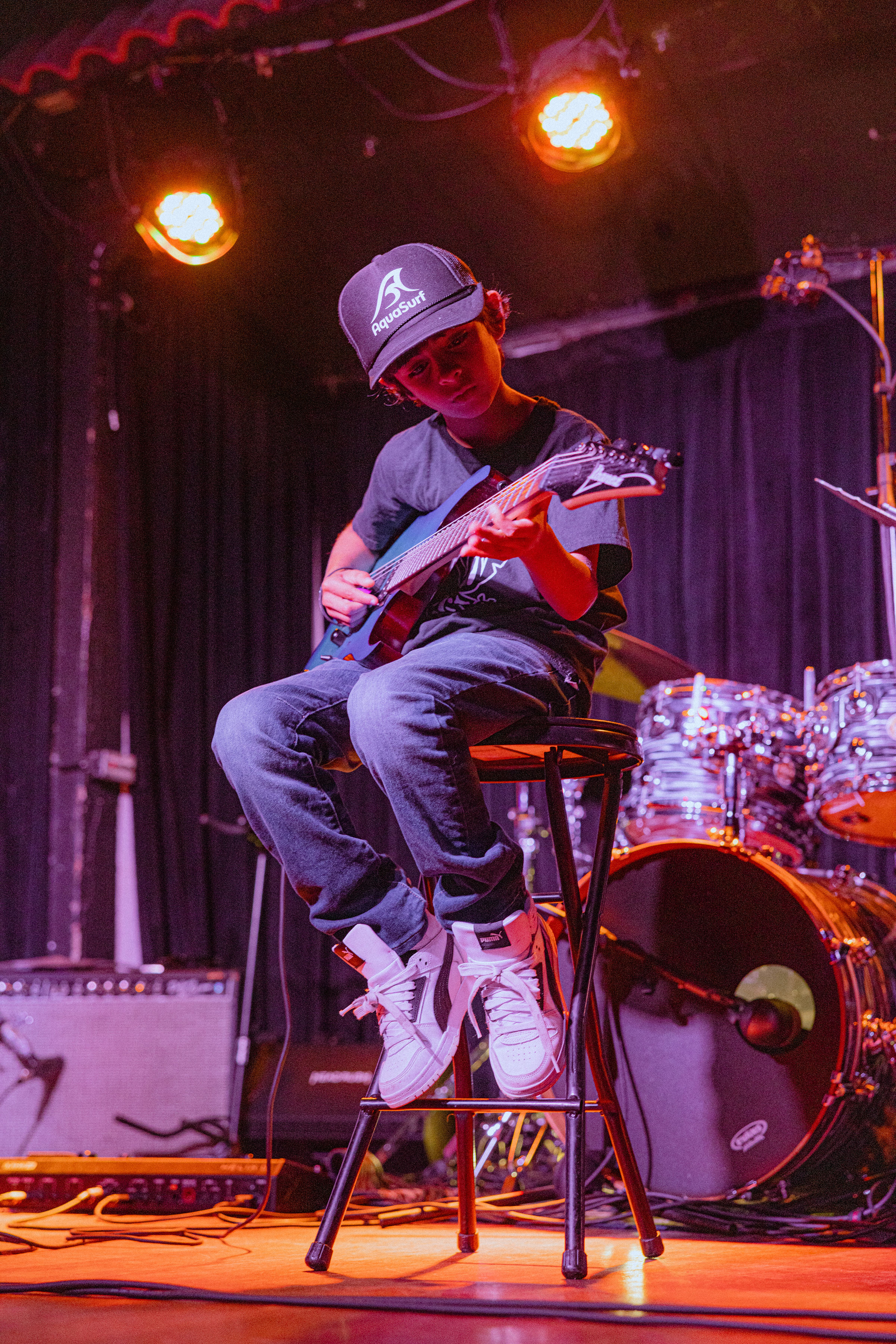 Next, we squeezed in two solo performances and one more pre-recorded piece. First up was Ario (guitar), a first-time performer who took the stage in style for an amazing rendition of "Rumble" by Link Wray. This was followed by Matthew (guitar), an adult student and father of Feedback guitarist, Dylan. Matthew has been learning to sing, write, and play, recently going to open mics for the first time in his life. He did a fantastic two-song set of his originals. While setting the stage for our final band, we showcased the final pre-recorded work of the afternoon, a track off the new EP from The Orpheus Project called "Odysseus." This EP was written by the band with the help of their coaches and recorded by Sam at his studio in North Hollywood. This project took six months to complete and turned out better than we ever could have imagined.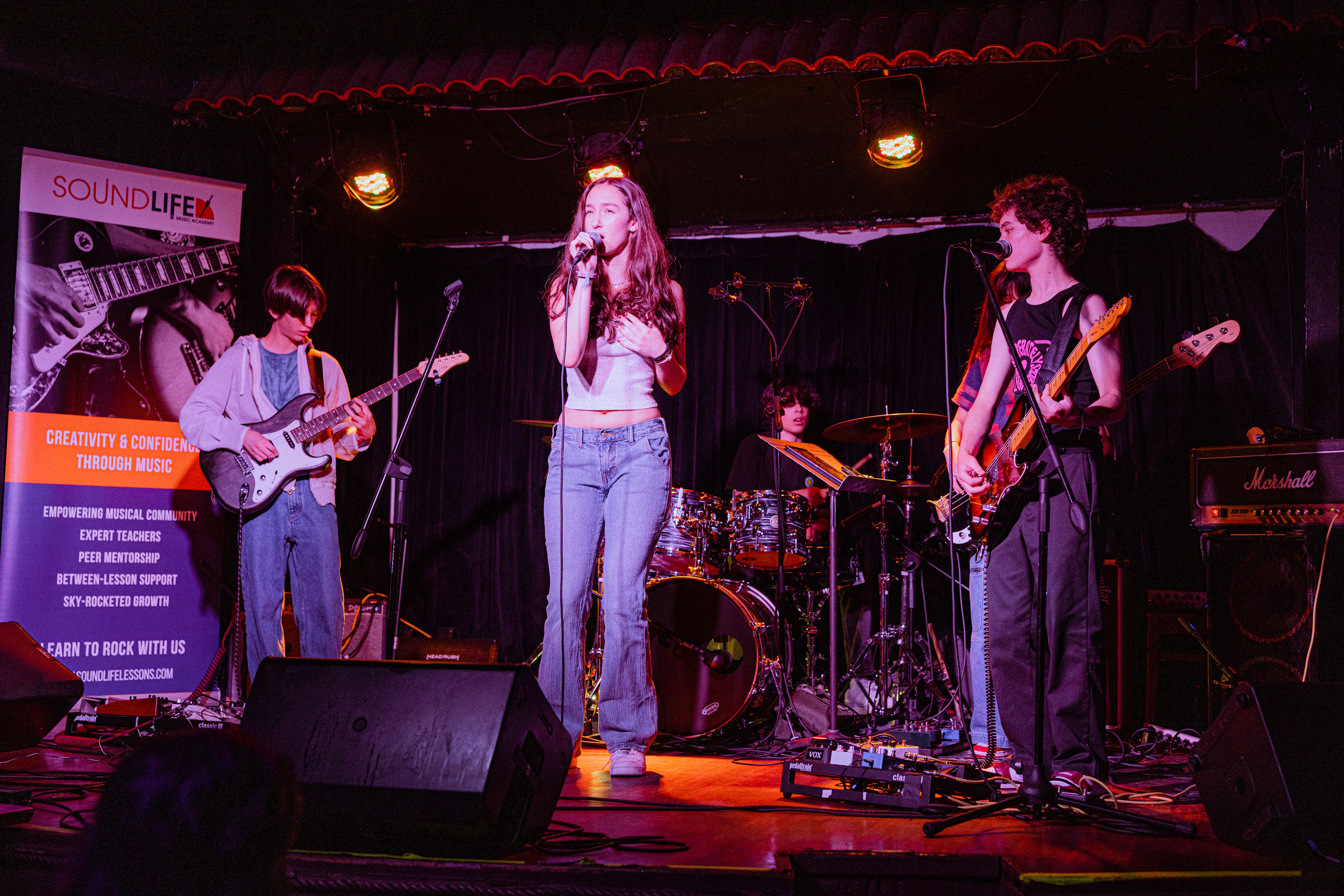 Closing out the show, the headliner, back for their second Showcase performance…Sunday! Featuring Eden (vocals), Sophia (bass), Nathan (guitar/vocals), Elias (guitar), and Carter (drums), Sunday is a dedicated band of extremely talented young stars. They kicked off the set with a medley of songs perfectly arranged with transitions, tempo changes, and hits that were on the same level as major touring acts. Their set did a wonderful job balancing everyone's interests and leaning on each individual's strengths. For their final song, the band chose "Crazy On You" by Heart, which, if you know the song, is not an easy feat. Yet Eden belted out those notes with all her heart and brought the crowd to a ferocious roar. 
Thank you to all of the performers, parents, families, friends, fans, and staff for making Showcase XX unforgettable. 
SoundLife Team 
Chris Vazquez – MC/Music Director
Kristen Vazquez – Greeter
Michael Torres – FOH Presence
Dogan Eyeler – Stage Assistant
Hugo Vera – Audio Engineer
 James McCutchen – Videography
 Lexus Gallegos – Photography
All-Star House Band
Alex Nester – Vocals/Keys 
Christa Haxthausen – Vocals
Justin Resnick – Vocals
Chris Vazquez – Guitar
Michael Torres – Bass
Enrique Lara – Drums
Dogen Eyeler – Drums

Instructors

Anna Mezentseva – Voice/Piano/Songwriting
Lorenzo Taddei – Guitar/Bass/Band Coaching
Eric Potapenko – Guitar/Bass/Production/Songwriting
Christa Haxthausen – Voice/Piano 
Andy Hill – Bass/Guitar/Piano/Voice
Mark Berghard – Guitar/Voice/Songwriting/Piano/Band Coaching
Sam Rough – Drums/Production/Songwriting/Guitar/Band Coaching
Ray Warth – Guitar/Bass/Voice/Songwriting/Band Coaching 
Blake Estrada – Bass/Guitar/Band Coaching
Emily Persich – Piano/Voice
Gabe Schwartz – Drums/Production
Caleb Gaha – Drums
Rosh Roslin – Guitar/Production
---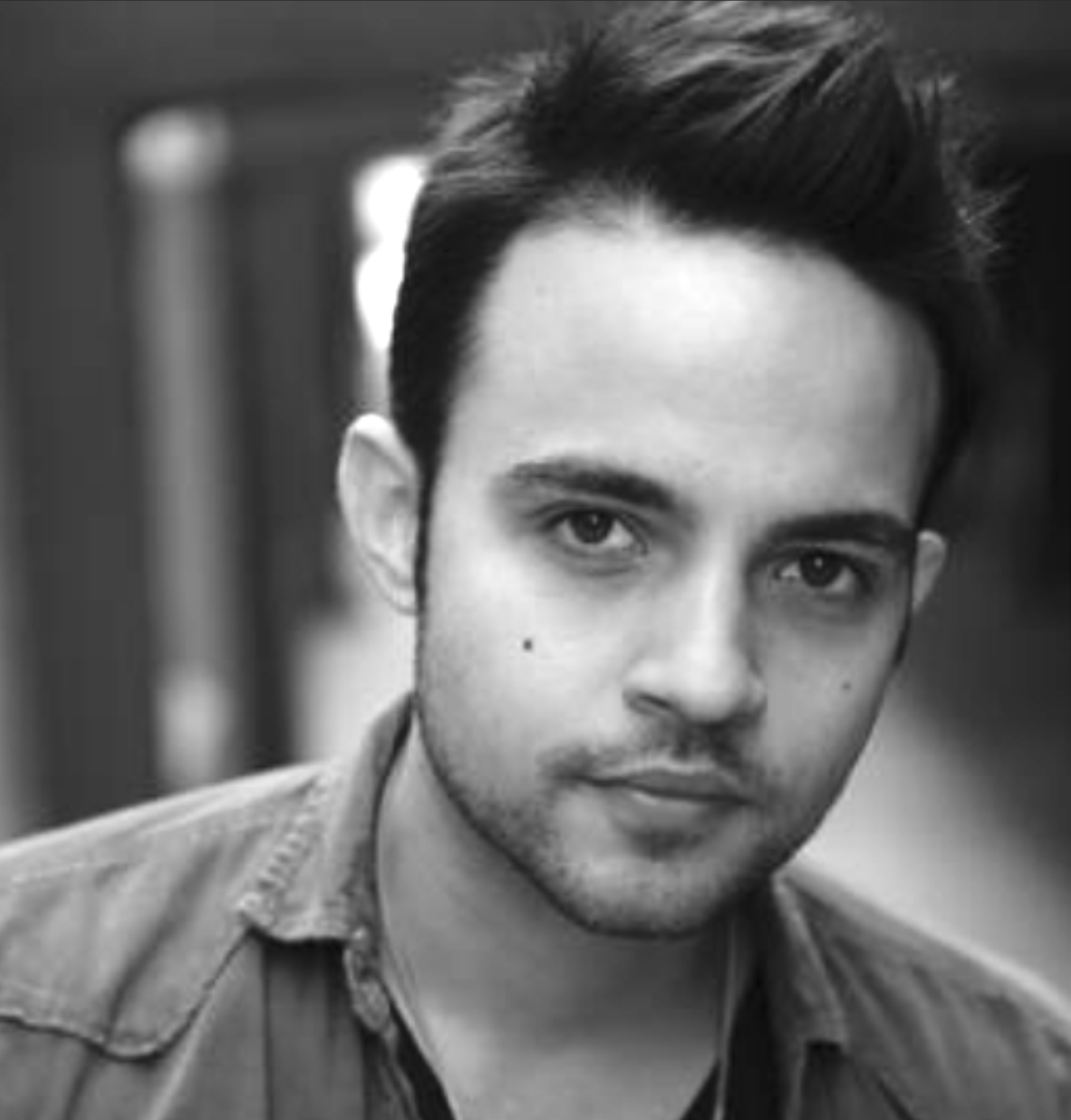 Hey there! I'm Chris Vazquez, Program Director and Co-Founder of SoundLife. I've committed my life to sharing the joy of music through performance and education. As the curator and lead contributor to this blog, I take great care in sharing inspiring, helpful, and eye-opening stories. It is my hope that each article helps both music students and parents of music students all over the world. As a veteran professional musician with over 15 years of touring experience and 20 years of teaching experience, I can say without a doubt that dreams do come true, anything is possible, and music education is a life-altering gift.