Congratulations to Julian on being selected as our July Student of the Month!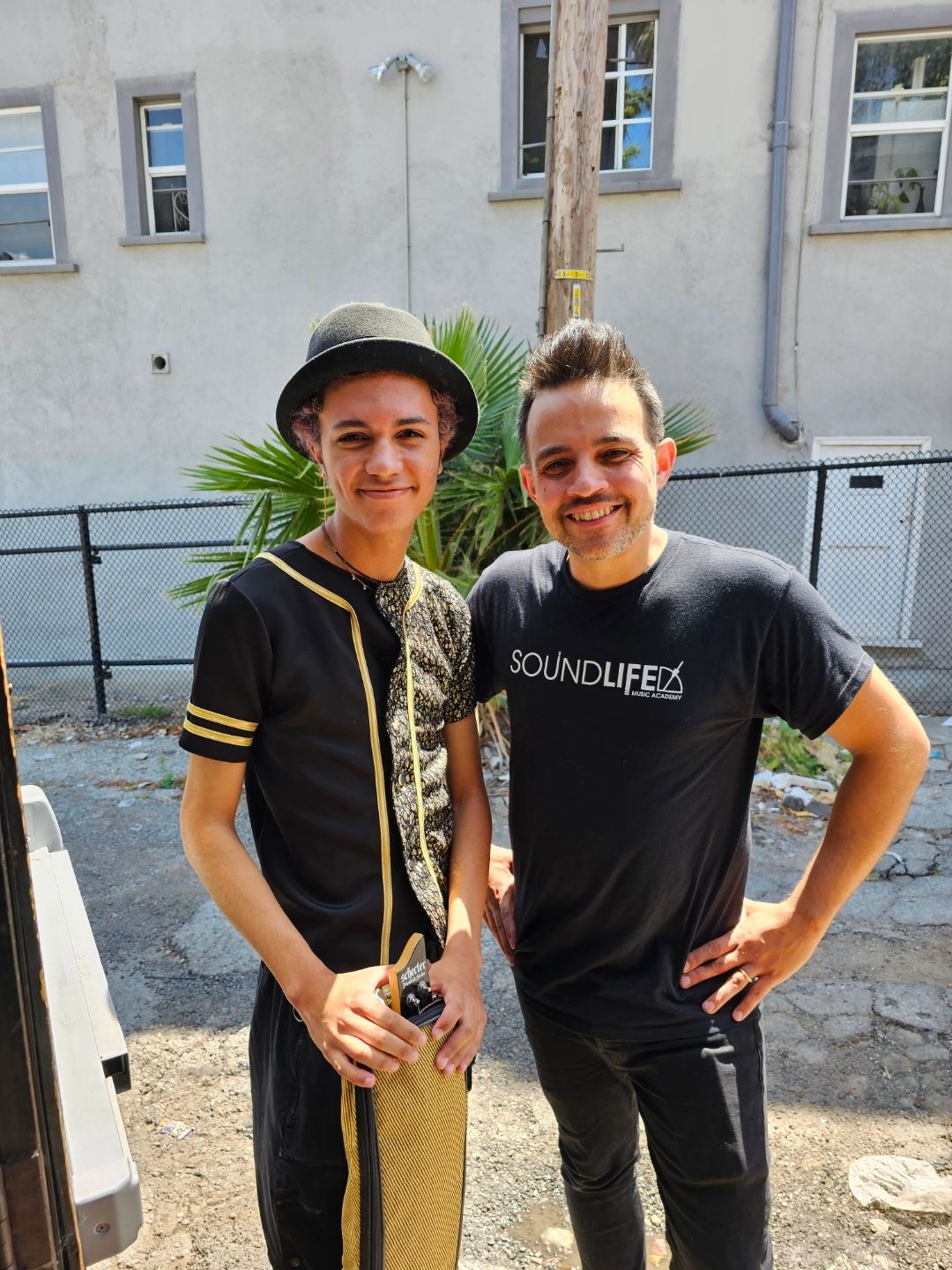 Julian began guitar lessons with our co-founder Chris over a decade ago when SoundLife was in its infancy. At the time, Chris's wife Kristen was working for a YouTube show that was seeking out candidates to receive a care package that would include a full beauty makeover using makeup products provided by their sponsor. The winner was Julian's mother, Colleen, and included with her care package came—you guessed it—a music lesson for each of her boys. The lessons took place in a rented space and were filmed for the episode of the show centered around Colleen. Julian was just eight or nine years old.  
At the time, the family was grieving the loss of Julian's father, Orlando Sims, who passed away on February 21, 2014, after a decade-long battle with cancer. Orlando was the bassist for the band Chalk Farm and a well-respected musician in the music community. Music was in the DNA of the entire family. After that first lesson, some time passed, and Chris received a new student referral from his mentor Aaron McLain, music director for the band Air Supply and a close friend of Julian's father. Without knowing it, Colleen and Chris were connected once again, this time through SoundLife. Both Julian and his brother started lessons, sticking with it for years.
For a long time, Julian was shy and reserved, which was expected considering the circumstances. However, as time passed, Julian began to express himself more and more. Chris's main goal was to give Julian as many outlets as possible for him to express himself. This took the form of guitar, writing, singing, and producing at different times. To say Julian just played guitar over the last eight to nine years would be inaccurate. For one of his early Showcase performances, Julian shared an instrumental original song created in Garage Band. For another, he performed along to anime music, and then for another, he played and sang with a band. Each time, Julian opened up a little bit more. Within the last three years, he really began to express himself with his fashion and interests, becoming much more self-reliant, mature, and vocal about his goals. 
At the time of writing this, Julian is 18, a high school graduate, and off to the next chapter in life. For his final Showcase performance, Julian took the ultimate step. He performed both with a band and his own original, all by himself. This was purely his own doing. Julian took the initiative to declare what he wanted, then did the work. Leading up to the show, he shared his lyrics and chords, eventually singing the parts and then finally putting it all together. While we cannot begin to imagine how tough it must have been to lose a parent at such a young age, we believe his father would be proud of the young man Julian has become and that music is part of him. We know how proud his mother is. 
Julian is a tenacious fighter with a beautiful spirit and a wide-open future. We are grateful to have had the opportunity to get to know Julian and his family and thankful that he let us be part of his journey.