Congratulations to Jimmy on being selected as our 
April Student of the Month!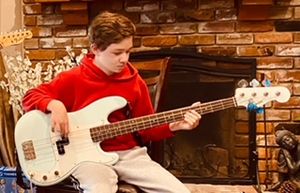 April Student of the Month, Jimmy, studies electric bass and currently attends Science Academy STEM Magnet. When asked about Jimmy's progress since beginning lessons in January, his instructor Eric quickly replied with three defining character traits: "diligent, focused, and hard-working." These are character traits we strive to develop and strengthen within all students, and they are a recipe for success.
Since beginning lessons, Jimmy has been learning songs by the Beatles, Toto, and Muse—to name a few. The role of the bass in these songs is present and active, showcasing the full range, purpose, and uniqueness of the instrument. These aren't bands where the bass just follows the guitar. In these bands, the bass often has difficult passages and subtle nuances requiring advanced awareness and technique. Each week Jimmy shows noticeable improvement. 
One highlight is the song "Come Together" by The Beatles. The iconic bass slide was a challenge for Jimmy, but he progressively worked away at it and is now nailing it every time. A large part of playing bass is working with the way a song feels and grooves and a firm understanding of time as it pertains to music. Jimmy works very well within all of these areas. 
In lessons, Jimmy and his instructor Eric jam together on Blues shuffles, a fantastic feat for a rock star of his young age. He listens and responds to constructive feedback positively. Though Jimmy has only been taking lessons with SoundLife for just a few short months, he demonstrates an eagerness to learn and grow.  
Congratulations, Jimmy! We can't wait to see where music takes you next!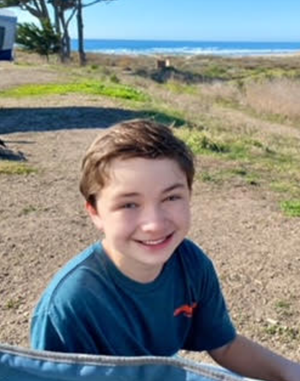 Q&A: Get to Know Jimmy! 
What do you like most about music education? 
What I like most about taking lessons is learning new songs and improving my bass skills. I feel a sense of accomplishment when I succeed on parts that were difficult at first. I am having fun taking lessons, and I am learning a lot from my teacher Eric. 
What is your ultimate goal with music? 
My ultimate goal in music is to be able to jam with friends and family. My Dad sings and plays guitar, and I'm looking forward to playing music with him around the campfire on camping trips.
Who is your favorite artist/singer/player? 
My favorite artist is Blacklite District. They collaborated with Rainimator to make Minecraft music videos, and they have a lot of really cool rock songs. Some of my favorite songs are Goodbye, Living in a Nightmare, Cold As Ice, The Struggle, and Clear Skies.