Congratulations to Guy on being selected as our March Student of the Month!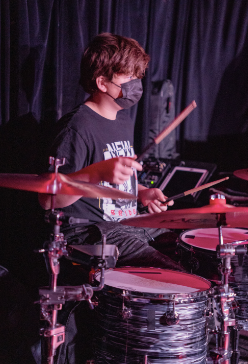 On February 5, 2022, Guy stepped back onto the Showcase stage for the first time since December of 2019. Two years is a long time in the life of any musician, but more so in the eyes of a rock star on the cusp of entering high school. On that day in February, a different player showed up, one ready to make a statement. The last time Guy took the stage for a SoundLife Showcase, it was on the drums behind a band called The Rock Mojis. This band was nowhere to be found, nor was that drummer. In their place was something completely new, far more mature, polished, and confident.  
Guy currently plays in two bands while taking private drum lessons with our instructor Enrique Lara and learning to play the bass with his father Boaz, who is a musical encyclopedia. It's no wonder Guy is like a sponge, soaking up everything around him, developing his skills, and diversifying his musical tastes. In the two years between in-person Showcases, his band The Rock Mojis changed their name to Feedback. During the pandemic, Feedback wrote and recorded originals and covers, creating music videos for each. To accomplish this, Guy had to lay down the foundation for everyone else to record their parts. This process elevated his ability to play with tracks and memorize song forms. Guy also became the bass player in a newly formed band called Sweatervest. Sweatervest was born from a previous band called Pillow Fight, who also created various music videos. All of these videos document tremendous growth and a continued increase in confidence.  
In September of 2021, Feedback and Sweatervest resumed in-person rehearsals. From that point on, Guy showcased himself as a leader and a rock of reliability both behind the kit and on the bass. Each week he would come prepared, having clearly practiced his parts, transitions, and set notes from week to week. In rehearsal, Guy paid attention to critical feedback. He was eager to improve and always supportive of his peers. Between both bands, Guy has amassed a personal setlist of almost 15 songs. 
At the show, the musician that took the stage for Feedback and Sweatervest played like a seasoned pro. With Feedback, Guy laid down a beautiful pocket, refrained from unnecessary flash, and made sure his bandmates felt confident in all they needed to do. Sweatervest, having a completely different sound, showcased Guy's drum pocket in a melodic fashion on the bass. He stood front of stage, laying down thumbing bass lines that moved the entire audience. As teams, both bands took their audiences on a sonic journey that can only happen when the drivers are in control. 
Congratulations to Guy on all of his hard work and, of course, his patience throughout the pandemic. We often think of how hard this time was on students, but drummers definitely had a special challenge not being able to play along with anyone. Guy made sure that time was productive, and the results are undeniable.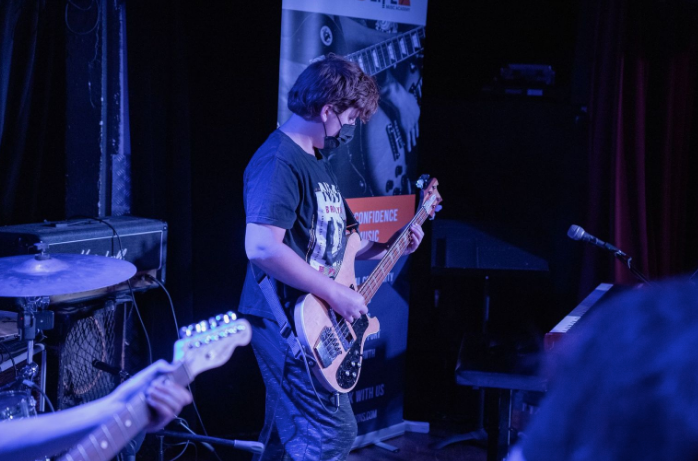 Q&A: Get to Know Guy!
What do you like most about taking lessons/playing in a band?
My favorite part of taking lessons is that it really does help me improve. My lessons are like my guide. It takes me through the steps to becoming great. Being in a band also helps me improve. I get to hear feedback from my band ;) and how I can improve. And the best part is, it's just overall fun to play with people, rather than playing along to a recording.
What is your ultimate goal with music?
My goal with music is to take it with me even when I am an adult. I want to turn it into a career for me and to become a musician.
Who's your favorite artist/singer/player (and why)?
I don't really have a favorite artist but I do love rock. Mainly 70s and 80s rock. My main inspiration is my dad because he is the one that encouraged me to start learning music and pushed me to be greater. Music isn't good just because of the sound, its good because of the feeling it gives you.