Congratulations to Kourosh on being selected as our February Student of the Month!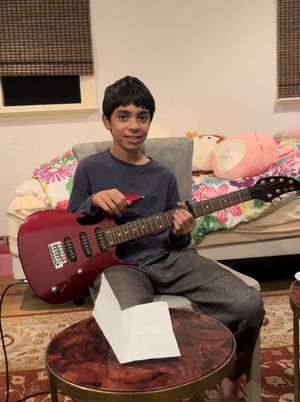 Kourosh started taking Guitar lessons at the age of six outside SoundLife with our former instructor Cuni. Now, at age 12, Kourosh has been playing the guitar for six years and has developed a diverse skill set to go along with his vast repertoire of music. Kourosh learned how to read and interpret tabs, chord charts, scale diagrams, and more. He knows his music theory, from arpeggios to appropriate chord scales, and he has the ear and the focus for perfecting solo transcriptions. Kourosh tackled monster guitar pieces such as "Nothing Else Matters" by Metallica and the "Headcuttin' Duel" from the movie Crossroads with Steve Vai and Ralph Macchio. 
In 2021, after his longtime teacher moved out of state, Kourosh began taking lessons with SoundLife. In his first lesson, he shared his goal of learning the entirety of "Hotel California" by the Eagles. He already knew the intro, but endeavored to learn all of the solos, chords, and nuances throughout the song. For those who know, this is not a small goal, but more of a long-term commitment. Kourosh rose to that challenge, and we are happy to report that as of this month, he finished the song and is ready to perform it. 
In November of 2021, Kourosh joined his first band along with students Riley (vocals), Devon (bass), and Rudy (drums). They are coached by our instructor Enrique. As with every band, each member gets to suggest band names and they vote on the final selection. In December, Kourosh's band name received the most votes, and his band took on the name Undefined Rock. They will make their concert debut, performing two songs at our upcoming Student Showcase on Saturday, February 5. One of those two songs might just be "Hotel California."  
Congratulations, Kourosh, on all of your hard work, determination, and focus. Setting and achieving musical goals is what SoundLife is about. Thank you for being a great example and courageously sharing your hard work by taking the concert stage.