Congratulations to Isaac on being selected as our   
January Student of the Month! 
Isaac began studying electric bass and acoustic guitar with SoundLife co-founder Chris in the Fall of 2013, eventually settling on the bass the following year. Seeing as SoundLife officially formed in May of 2014, Isaac predates the school. He has participated in every single SoundLife Showcase that has ever happened. Altogether, that's 15 performances, with just two more to go. Isaac has performed solo, with tracks, with bands, and with our staff. Every single time Isaac finishes a performance, he aims forward to the next one, raising his own personal bar and constantly tackling new styles of music, techniques, and physically demanding parts. 
The running joke in Isaac's lessons is "What are you listening to?" This is an inside joke because over the 8+ years that Isaac has been playing the bass, he has never once suggested a song or band. Yes, he is the only student to keep such a record. Now, that doesn't mean he is not practicing, playing, or growing on his instrument. He has always done everything asked of him, but it is funny because his musical tastes have been curated by his instructors and peers. Isaac will say, "I want to learn something technical" or "I want to learn how to improvise." Through this process of elimination, we have determined that Isaac loves Rock n' Roll, Funk, and Soul music with special attention to technically demanding songs that he has to work his way up to. 
Isaac was accepted to Duke University in North Carolina. Now at first glance, you might think, "Oh that's nice for Isaac," but Duke has just a 7.7% acceptance rate, and he wanted to follow in his father's footsteps and go to that school since he was very young. The skills that make Isaac successful when he performs help guide him in all that he does. Isaac knows how to set goals and vigorously work toward them. He declared that this was what he wanted and went after it. This kind of fearless dreaming combined with hard work and focus is what we hope to instill in others and strive for ourselves. Isaac exemplifies it. 
When the summer comes and Isaac prepares to leave for school, we will be both sad and overjoyed as we always are when students transition to the next chapter of their lives. However, not every student has been with us from the very beginning. Isaac's support through our growth as a school, his passion and adventure mindset, and his work ethic will be traits that energize our program forever. Congratulations, Isaac!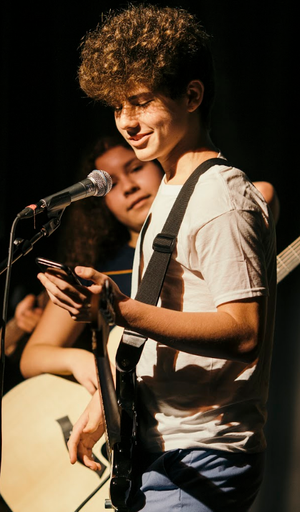 Q&A: Get to Know Isaac!
What do you like most about taking lessons/playing in a band/ performing? 
There are several things that I like about lessons/playing in a band/performing. What I love about taking lessons is that they are always super helpful, I learn a lot, and I get to have Chris as a teacher. Chris is an amazing teacher who I feel very lucky to have had over the last few years. It's very cool to see how he started SoundLife from the ground up, and it's even cooler to be a part of it. Something that I love about performing in SoundLife is being able to play alongside other people through the bands. It's very awesome to see everyone come together after practicing the pieces on their own and create something really special. It's great to see how SoundLife has transitioned to include all these many talented bands they have — on top of the already amazing individual performances. From the first band performance ever at SoundLife where we played Green Day all the way to Stevie Wonder at this one, I've just loved all of it. The Winter and Summer Showcases are really special occasions, and it's just truly been an awesome experience to be a part of it over the years. 
What role do you think music will play in your life? 
I'm not exactly sure yet, but I feel like music will always play some sort of role in my life. Music will definitely be in my life just by continuing to listen to music on the radio or on my headphones. It'll continue being in my life by seeing concerts/bands perform. Perhaps whatever career I go into will have aspects of music tied into it. Or maybe I'll join some jam sessions in the future. Either way, I'm sure music will be in my life somehow. Even if I don't always realize it, music already does have a pretty big role in my life. And I think this will continue to be the case as I keep getting older. 
What aspect of the college experience are you most excited about? 
The aspect of the college experience that I'm most excited about at Duke next year is probably the school pride. Everyone who I've talked to at Duke loves Duke and loves the school. (I promise I didn't only talk to the admission officers who are obligated to praise the school). Another thing about the school pride is that everyone's always wearing the school merch, and everyone is super fanatic when it comes to the sports. There's just a large sense of camaraderie among peers that I'm really looking forward to. I am especially excited to go to all the basketball games in Cameron next year. Another thing that I'm super excited about is that the Duke music department is actually located on the freshman campus. So I would definitely love to utilize that convenience a lot next year.