Congratulations to Jonah on being selected as our  
October Student of the Month!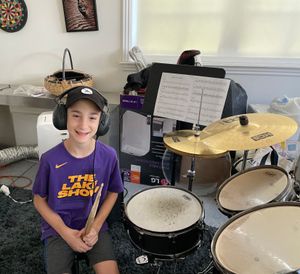 Jonah joined the SoundLife family in June of 2021, but his journey on the drums began three years ago. By the time he met his instructor, Enrique, Jonah already had a strong skill set and passion for playing. In quick order, Jonah joined a new band with other students in his neighborhood. Come to find out, Jonah had actually played on the same baseball team with one of his fellow bandmates years prior, and a picture of that team hangs on the wall in their rehearsal space. It was meant to be. After weeks of rehearsal, the band took on the name Sweatervest. 
Jonah's instructor Enrique has had nothing but positive feedback from their lessons. He says, "In the short time I have been teaching Jonah, I have noticed his passion and drive for making music, as well as his great attention to detail and fine-tuned ear. I realized I can convey new study materials and concepts to him very quickly, so I have given him reading and endurance exercises that I believe will add to his already quite-developed drumming vocabulary. Apart from his drumming, he has also shown to be quite attuned to the production and writing side of music, which I am excited to explore with him further." 
Switching instructors after three years can be very difficult for any student. Playing music with strangers can be terrifying. Change can be a challenge, but Jonah faced these challenges with tremendous courage. He has taken the wonderful foundation he laid and continues to build on it, while also making new friends in the process. We're thrilled to celebrate Jonah's hard work and progress, and we're on the edge of our seats with excitement for the debut of Sweatervest.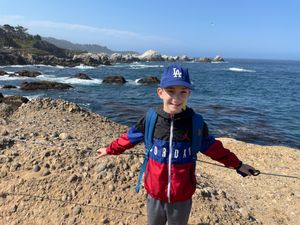 Q&A: Get to Know Jonah! 
What do you like most about taking lessons, playing in a band, etc?    
I like taking lessons with Enrique because he has helped me improve reading sheet music and my drumming skills. He is also really nice and makes the lessons really enjoyable. I like playing in a band because it's fun to play music with friends, and I enjoy working together with my bandmates to improve our music. I am looking forward to performing with my band sometime soon.    
What is your ultimate goal with music?    
To be the best drummer that I can be.    
Who's your favorite artist/singer/player (and why)?    
This is a hard question. I do not have one favorite, but I love Drake, Lil Nas X, Queen, ACDC, and the White Stripes. I like these artists because their songs are catchy, and I enjoy playing the drums to their music.
---