Congratulations to Ozzy on being selected as our   
October Student of the Month!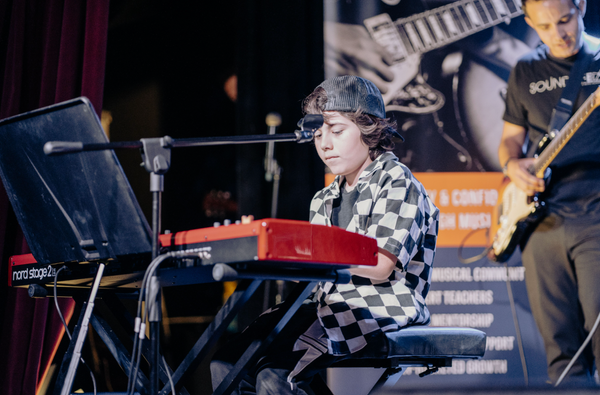 Ozzy started piano lessons with our instructor Enrique in January of 2022. He was hungry to learn, and Enrique quickly noticed his incredible ear and sensibility for detail in music. Ozzy has a natural musical intuition. He stays focused, and just like the picture above, is a natural on stage. 
In preparation for his first SoundLife Showcase, Ozzy took on the great challenge of learning "Let It Be" by The Beatles. This classic piano song is a must-learn for any new student, but it always helps when a student knows the band and the song and feels connected to it. Music can be challenging, and gratification can take time, but Ozzy was willing to put in the work. When played correctly, "Let It Be" is a two-handed piano piece, perfect for teaching independence between the hands, song form, and timing.
Learning the song was just the first step. Ozzy took it to the next level by performing "Let It Be" with our All-Star House Band live on stage, in front of a packed house. He didn't flinch. These are the moments when students really solidify all of their work during lessons. In the middle of the performance, Ozzy became slightly off in the form, but he quickly caught right back on and nailed all of the key moments in the song. Through these experiences, musicians learn a heightened sense of musical awareness. At the end of the performance, the crowd erupted. His performance was a true joy to be part of. 
In Enrique's words, "Ozzy's passion and ability to connect with his peers through music shone through and made for a beautiful rendition of a classic Beatles song. I'm looking forward to guiding him through his next endeavor, be it making music with his piano or production."
Thank you, Ozzy, for sharing your passion and hard work with our community. We look forward to seeing what you do next!
Q&A: Get to Know Ozzy!  
What do you like most about taking lessons/playing in a band/ etc? 
Ozzy: I like having the concerts and showing my friends what I've learned. 
What is your ultimate goal with music? 
Ozzy: playing Rush E on the piano 
Who's your favorite artist/singer/player (and why)? 
Ozzy: Ozzy Osbourne, because I was named after him. And because I love his radio station called "Ozzy's boneyard".