Welcome to Episode 2 of our series Then & Now: Student Stories. Today we're talking with SoundLife student Lucy Savant. As a vocalist, guitarist, and member of student band TBD, Lucy has been an incredible presence in the SoundLife family for over eight years. She began taking guitar lessons with our Program Director, Chris, at the age of 8. Then, with the support and encouragement of her family, she found her way to the stage at our Showcases, first with other students and eventually with her own band. Now at 16 years old, Lucy is a skilled musician with an energetic stage presence and a great sense of humor and fun that she brings to every lesson, rehearsal, and show.
Lucy's musical growth over this long period of time is inspiring. From playing cover songs with the recordings to writing and singing original songs with TBD, Lucy went from being the youngest on our stage to being a role model and inspiration for younger students. Throughout that time, she followed various muses, including her early love of musicals (such as Hamilton), her exploration of Queen, and her love of Christmas music. Lucy is most productive when focused on a project. Whether it be a song, a small part, a guitar solo, or harmony, her strength is in her preparation and focus for a performance.
On stage, Lucy went from being somewhat reserved and shy to being a full-blown rock star. With her band TBD, she has performed at all of our SoundLife Showcases since 2016, along with shows at Lucky Strike in Hollywood and Rain in Toluca Lake. TBD has also performed for a number of community and charity events throughout Los Angeles. These experiences have helped Lucy develop a command of both her instrument and her voice. In today's conversation, Lucy talks one-on-one with her teacher Chris about her journey in music—the present and the future. Watch below or read the transcript. 
---
Chris: Alright, we're here with Lucy Savant. Lucy, I'm gonna let you introduce yourself, but I'll do a little intro myself. We met quite a long time ago. It seems like we were just talking a minute ago and determined the year was 2013. You were taking private lessons at Marlborough School Summer Program with me, and that turned into so much more, from private lessons to bands and things, I'm sure we'll talk about it. Why don't you introduce yourself and tell us a little bit about you?   
Lucy: Okay, yeah, so I'm Lucy Savant. Like Chris said, I've been taking lessons from him since 2013. I was eight. I'm now 16, and I play guitar, and I sing both in a band. 
C: That's pretty darn cool. So when you started taking music lessons, and I'm pretty sure I know what you're gonna say, but what was the most challenging part of learning to play the guitar?  
L: Right when we started, I was asked to learn "Blackbird" by The Beatles, and that's the song that made me wanna quit guitar. I couldn't get it down, but now I can play it like the back of my hand. I think that was the hardest thing right in the beginning.  
C: I had the same thing happen, but not with "Blackbird." When I started playing guitar, it was the F chord. I could not get that little finger to bar over the first two strings, and I told my dad, "I'm gonna quit." And he was like, "That's fine. Just get that F chord down and show it to me, and whenever you've got it, we'll cancel the lessons and you can quit." And I was like, "That seems like a fair deal." Well, here we are 30 years later.  
So you obviously did master "Blackbird." What kept you going with lessons, even though you were so frustrated with that?  
L: I think my mom. She would always tell me that if I stopped playing, I would regret it and that my siblings all regret stopped playing instruments. I was just blackmailed into it, but I appreciate the blackmail. It worked.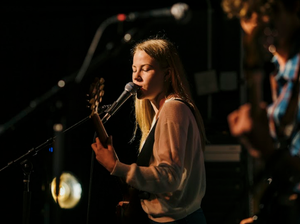 C: So, where do you think the point was where it went from being kind of frustrating to rewarding and fun?   
L: Once I started to learn chords and I knew that I could put them together to learn songs, I think that was the turning point, and I finally knew there was an end to all my struggles.  
C: How long do you think that took?   
L: Not too long. The beginning was definitely tough, but I think it's cool that I get to keep learning new things all the time, that I can still have that struggle and still end up figuring it out.  
C: I love that part of it. So you started with just lessons and then started doing performances with SoundLife after. Pretty quickly into taking lessons, you started getting on stage. In the beginning, you were getting on stage either by yourself or with some other students that you were just kind of jumping in with and then playing. This is before you had your own band. Talk a little bit about those experiences. 
L: Yeah, it was super cool to be able to finally be on stage and perform the stuff that I had been working on, but my favorite part about it was being up there with other musicians, even if it wasn't my own band, because I just liked it. It was just super fun. I liked being up there and working off of each other, and it makes the whole experience of being on stage just so much better.  
C: Now, did you have nerves? Were you scared at all of performing, or was that never a thing?   
L: Probably, yes. Definitely some nerves, but it kinda all goes away once you're up there. I think I still do get nervous just before I go on. I feel like I just have some stress about messing up or, I don't know, forgetting something, but once you're up there, it's all just having fun playing with other people.  
C: I love that, and that's definitely the philosophy. You can get nervous and put all the work in, but the cool thing about playing live is once it's done, it's done; you let it go, and whatever happened happened. To this day, I still get super nervous. It's not nervous, like I don't know how it's gonna go; it's more like there's the roller coaster feeling as you're climbing up the hill. I love that feeling.  
L: Yeah, it's super fun.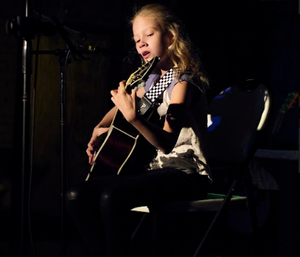 C: Let's move on. You got on stage, realized you liked playing with other people, and then came your own band. How did this band come about? Talk a little bit about the band and what that has meant to you.  
L: Yeah, so there are four of us in a band called TBD. We have been playing together for, I think, four years now. Three of us went to school together. We kinda scraped it together. We all played at school, we all knew we played instruments, and we had known each other for a while. We all kinda live in the same neighborhood. So at one family party, we started playing in our drummer's living room, just messing around, and then that just kinda became a permanent thing. We thought, let's just start a band. And one of my friends from outside of school that I had also known all my life, I asked him to join, and that was just super fun being able to see a band come from nothing to just pulling it together and learning a bunch of covers, even writing our own originals. It was just a super fun experience.  
C: That's awesome. So now you and Chase and Antonio went to school together, but you knew Nick from way before. How did you know Nick?  
L: Yeah, Nicky and I went way back. I think I've known Nicky since I was like three or four. His older brother and my older brother played baseball together as kids, so we just kinda grew up on the baseball field together, and we'd spend every single weekend together at tournaments, so he's definitely one of my closest, closest friends.  
C: And he just happened to play keyboards and sing and be the perfect addition to the band?   
L: He happens to be so talented. He's incredible. I was gifted.  
C: So now, you've got this band, where in the beginning, you were the only person singing. If you remember correctly, Nick didn't even want to sing at the beginning, and Chase absolutely refused. So you were the sole singer, but over time TBD became a band where everybody takes turns singing and sings three-part harmonies. Talk about that transition.  
L: Chris and I had to force the other boys into singing because they just weren't into it in the beginning. We made a rule that if you chose a song, you had to end up singing it, so all of the songs that you wanted to play in the band, you had to sing it. I think that was the first time that Chase got to a mic, the first time that Nicky got to a mic, and it ended up working out. And eventually, they decided, "You know what, we can do this, it's not that bad." And they're both very talented vocalists, so I don't know what was holding them back.  
C: You've done so many performances now, that you can see the growth. Chase was very nervous at first and then got more confident and stronger. You got stronger. Everybody did, and then I remember you brought in "Don't Stop Me Now" by Queen. I think that's when we really took harmonies to another level because they were so complicated.  
L: We worked out three-part harmonies for that song, and that took forever. Those were the hardest harmonies that all of us collectively had done together. Before every show, before we would play that song, we'd sit on the side and just run those harmonies, and our drummer, Antonio, who doesn't sing, would just have to sit through it all. 
C: Yeah, but that's great. That's building the band camaraderie. That's so important. What I remember from that is that after that song, all the other harmonies that people were nervous about or not sure of were so easy. We started putting them on everything without thinking twice about it, and it never went back. From that point on, everybody sang on most songs. The band plays tons of covers and then moves into starting to write original music, and this happens around the time of the pandemic. How did that come together where everybody's kinda contributing in some way to these songs.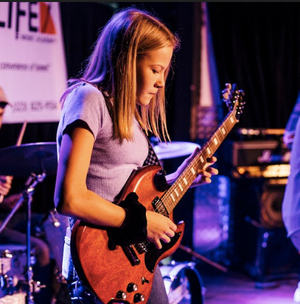 L: Yeah, so right in the beginning of the pandemic... actually, before it started, Nick was writing his own originals that he would bring into the band and say, "Let's play this song that I wrote." And I think that was "Ready To Go." It was our very first original that Nick had written, but we would add some things to it to make it a TBD original. And then as the pandemic hit, we continued to write originals and took that time away to really work on our songwriting, how we recorded. All of us were recording our own parts individually through our laptops into Logic, just sitting in our bedrooms. And I think that was super cool, 'cause that was... at least for me, that was the first time that I'd ever worked like that. And it was really cool to be able to see a song come from nothing to something all the way, just from us.  
C: During that period of time, you ended up being very, very productive, and you ended up with three or four original songs that were recorded, I think four music videos, a lot of things that you'll have forever. Now, let's go into the present. You are going into your junior year of high school. 
L: I am. 
C: The band is changing a little bit. Nick graduated from high school and is in college now, and Austin's coming to the band, and the band is going to probably take on a new name and maybe a new direction. And in terms of seniority, the three of you who are still in the band are gonna carry this torch on. How do you feel about that?   
L: I'm excited. I'm obviously bummed that Nicky's in college now. That was pretty sad. Brexit happened, but he doesn't need to know that I was sad about that. And then getting Austin into the band—Chase's little brother—that's a whole new dynamic. Austin and Chase together, they're just goofballs, and all of us feeding off of each other is just so much fun. It's such a fun dynamic, and I can't wait to keep working with all three of them and seeing the new direction that this new band takes. I think we're gonna get a new name because TBD was in the past now, so...  
C: I like the idea that TBD will be its own thing, and this will be a new thing. So now for you, you're in your junior year, then you're gonna have one more year of high school, and I'm sure in your mind, you're already thinking of colleges and thinking of what you want to do next. What role do you think music is going to play in the next chapter of your life?   
L: I think it's always something that I'll have with me. I think playing with friends will obviously just be number one in my mind. I don't think it'll become a career of mine, but I think having music in my back pocket will always be a good thing, and I don't think I'll put it down or anything.  
C: So you think you'll always have that skill, just to play. 
L: Yes, I do.  
C: I love that. You play guitar, you sing, you play some piano, your mom obviously has a background in music and huge background in performance, and you've translated this into some musical theater and acting and things like that. How do you think all of this artistic exposure, these experiences, have shaped you as a person?   
L: I don't know, I feel like it's been really good to keep me well-rounded, I guess. I feel like everyone should learn an instrument at some point in their life. It's something that not only has kept me busy, but has always just been good to have. It's always been good for parties or whenever people come over, play with friends, just something that's been very fun to have in my whole life. 
C: And in the dynamic of our SoundLife community and the shows that you've played for school, like The Palooza and things like that, TBD at one point were the younger kids, and there were older kids, and then TBD became the older kids, and now you are the oldest kids.  
L: That make sense. That's something to think about. 
C: What is that like? Was it inspiring when you were younger than, let's say The Trips or some of the other older students were playing, was that inspiring, intimidating, did you like being a part of that?   
L: Yeah, I was just about to mention The Trips. They were the oldest at the time when we were just starting as TBD. They were the first three people who I played on stage with at all at SoundLife. And just being able to watch them play and thinking, "Oh man. I wanna sound like they do one day." Or like, "Oh, we're gonna be the oldest one day." That's just super good. It was super cool to just idolize them when we were just starting, and it's crazy to think how now we're the oldest. So hopefully, we can serve as some sort of something for the younger ones to look up to. [chuckle] 
C: You guys already are. You already are and have been for quite some time. So now, the role of having someone like a Band Coach like myself or some of our other team members, has that helped the band, do you think that keeps the band productive?  
L: Yes, I think you know that rehearsals without you don't really go very well. Normally, on the days that you aren't there, we end up playing spike ball. But I feel like having you around has really helped us stay super productive. You always keep us on track. You know just what we need to be doing, and having you there is just stable. Band Master Chris, BMC.  
C: I love that name, and whenever you guys all graduate, I am gonna miss that deeply. I think Antonio gave me a little statue years ago that says BMC from one of his trips to Mexico with his family, and that is right here on my desk, and I just love that. [laughter]  
Alright, well, thank you for taking this time, Lucy. I can't wait to hear what TBD does next. It's definitely going to be on a stage. We are back at our Zebulon in December. We are going to have live music again, and I don't know what that's gonna look like 'cause you guys have to pick all new songs.  
L: Great. Wow, oh my gosh. That's great.  
C: And you're going to be the headliner, so this should be quite interesting. Is there anything you want to add or share, any insight that might help a younger student or someone just starting?  
L: Just keep going. Even when you think this is the end of the world, I promise it's not. It always gets better.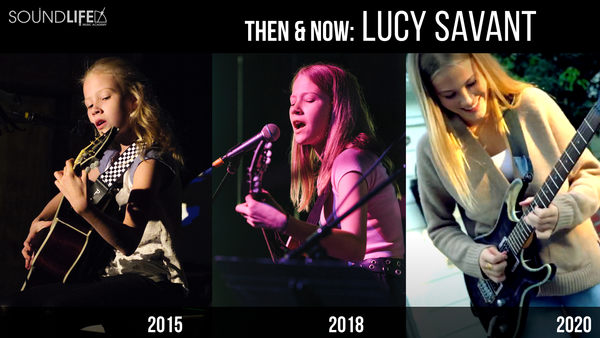 ---
Hey there! I'm Chris Vazquez, Program Director and Co-Founder of SoundLife. I've committed my life to sharing the joy of music through performance and education. As the curator of and lead contributor to this blog, I take great care to share inspiring, helpful, and eye-opening stories. It is my hope that each article helps both music students and parents of music students all over the world. As a veteran professional musician with over 15 years of touring experience and 20 years of teaching experience, I can say without doubt that dreams do come true, anything is possible, and music education is a life-altering gift.