- A SoundLife Interview Series - 
A Fun and Inspiring Series About the Places Music Can Take You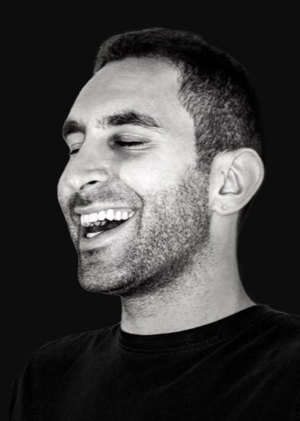 We're back with another Chat with Pros interview! Today we're talking with Dave Lewis, who is a composer for visual media. This means that he's created scores for films, trailers, commercials, video games—you name it. He has worked with networks such as Netflix, Fox, and PBS, as well as some well-known brands like Cadillac, Dropbox, and Vogue. Dave has put a lot of work into honing his musical craft, holding both a Bachelor's Degree from Berklee College of Music and a Master's in Film Scoring from USC's Thornton School Of Music.
Dave started his musical journey on the piano before finding his way to drums when he was 7 years old. He and I met at Berklee College Of Music in 2003 and have remained close friends ever since. Dave is a masterful musician. His understanding of advanced harmonic and rhythmic concepts and technology make him a force to be reckoned with, both behind the drums and behind the computer. 
In 2011, Dave released his first solo Jazz Fusion album featuring all original composition. This album featured Jazz legends, such Oskar Cartaya, Jay Oliver, Bob Franceschini, and George Brooks. It seems like almost everybody plays on Dave's album—you can even hear your's truly on track 8, "Everything Happens for a Reason." Between graduating from Berklee and entering USC's Film Scoring Program, Dave was a full-time session drummer playing and recording all over the city of Los Angeles. His journey into composition, and eventually composing for visual media, is an inspiring one full of priceless insight.
Above all, Dave is an incredible communicator and teacher, and we're thrilled to share the following conversation with you all.
Chris: Dave, give us a brief history of how you went from just learning how to play an instrument to now, where you are deep into the film scoring world. 
Dave: Oh, boy. Well, it's been a lifelong journey. First of all, thank you so much for having me! Music has been something that I live and breathe every day, for my entire life. I grew up with music. My Father plays tabla, which is an Indian classical drum. It's a hand drum. I grew up immersed in Indian music and culture. Eventually I started to learn the piano around 2nd or 3rd grade. I got hooked into music through playing the recorder in 3rd grade. Do you remember playing the recorder? 
C: I do. I'm surprised you got hooked by the recorder. 
D: So much fun. I loved the recorder. I had so much fun that I actually requested my elementary school teacher give me piano lessons. So she became my private lesson teacher for a long time. From that point on, I did it all. I played in recitals. I went through Alfred's books. I was always engaged by her enthusiasm for music and by the fact that I was really enjoying the songs I was playing.  
I made my segue into drumming at Interlocken, a camp for the arts in Michigan. This is the summer between 6th and 7th grade. Long story short, I went there as a piano player and came back as a drummer. I played drums all through high school. I was in a couple rock and punk bands. I learned how to play jazz. After high school, I ended up going to Berklee College of Music and really enjoyed my time there. 
That's where I met you and a bunch of incredible friends and musicians that I'm still very close with today. Then, for a long time after that, I was a touring, gigging session musician in and around Los Angeles. I was also a music teacher for a long time. That was my life for a long time, as a player.  
In 2015, I made the transition into producing music and getting into film scoring. It started from taking one gig, having no real clue what I was doing. A friend of mine asked me to co-score a short film with her, and I just said, "Yes. Why not? Let's do it!" And I just fell in love with the whole process. I loved the ability to tell a story through music and to create emotional support behind what people are seeing on the screen. I just fell in love with the whole process and continued to do that as a novice until I really decided to commit seriously and go to school again. I graduated from USC's Film Scoring Program at the Thornton School of Music with my Master Degree. I've been doing it professionally ever since.  
C: When you were at Berklee, what was your major? 
D: Oh wow. I think I had like five different majors. I started out as a Performance major. Then I decided I could focus on performing, but that I should study something else. That seemed like the smart thing to do. So I did Contemporary Writing & Production and had no idea what I was doing. I quit that and went to Songwriting. Didn't like that. Went to Business. Didn't like that. I ended up doing the Professional Music major, which is kind of a "build your own major" program. All together it was a combination of Business, Production, and Performance.  
I really loved Berklee. It was such an amazing experience meeting all of these incredible musicians and being able to connect with them and still work with them today. 
C: Let's talk a bit about the film scoring world. We all know that when we watch a movie, there's music going on, but tell us about this process. How does this all come together, how many people are involved in the process, and what role does music really play? 
D: That's a very loaded question. There certainly can be a lot of people involved. Or, it can be just one person. It depends on what level you are at as a composer. It depends on the budget of the film and the budget you are allotted. It depends on how much time you have. There's so many different factors. 
As composers, we are creating the musical score to accompany a film. That is the general understanding of what a film composer does. Typically the way it starts is that I will sit down with the director, and we will have what's called a "spotting session." A spotting session is when the composer and the director watch the film together and decide what scenes are going to have music. You also decide what type of music is best. That's another big question. Sometimes you could have a full orchestra. In this case, you might have a 100-piece orchestra on a scoring stage.  
In this case, you have to come up with your concepts, or what we call "themes." This is any sort of "cue" or short little bit of music that represents a character, supports an emotion, or supports an action. They can really support anything. Roughly half the amount of time in film has music. So if you have a two-hour film, you're likely to need an hour of music. This can vary of course. These "cues" could be anywhere from a minute to a few minutes of music and serve to enhance what people are seeing on screen. 
All of this music is different from what's referred to as diegetic music or source music, where the actor on screen is also hearing the music. For example someone's in a parade and there is a marching band playing. The actor and the audience would hear this together. Or there's a bar and a band playing live at the bar. That would also be considered source music.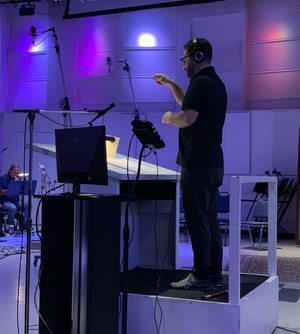 C: This brings up a good question. Is that music someone else's responsibility? 
D: You're correct. It is. There are all sorts of different types of music required for a film and different approaches. One type of music that many people will be familiar with is "thematic music." This is when characters have specific music associated with them. Ultimately you want to be able to differentiate how you calibrate composing and creating these musical identities. 
C: When you say thematic, I think of Star Wars and Darth Vader's theme verses Luke Skywalker's theme. 
D: Absolutely. That's a great example. John Williams is the master at creating themes for characters. Also, think of The Dark Knight, the Batman movie. Each character has their own theme. These could be very simple. Think of Jaws, another John Williams theme that's literally just two notes played in repetition. Once you hear that little half step moving back and forth, you know the shark is coming. Even when the shark is not on screen, still thirty seconds away from showing its face, you know it's coming. That's the power of music.  
C: What role does orchestration play in all of this? 
D: After the spotting session with the director, the next step would be a creative workshop. I'll come up with ideas and collaborate with the director back and forth. Some composers prefer to hide away in their studio, but I like to share ideas in real time.  
Once we get a good idea for a theme, I'll develop that theme, and that theme can be used across a film in a variety of ways. It can, for example, be orchestrated. The easiest way to think about this is to imagine a "chord." Imagine a C Major chord on a piano, and ask the question, "How do I take this chord and expand it for an entire orchestra?" The strings, the brass, the woodwinds, the choir, etc. It's the concept of adapting a certain musical progression to fit for an entire orchestra. There are people who solely do this. That's their job. They are orchestrators. A composer can write a theme and pass it off to an orchestrator and just say, "Make it sound like a big orchestra." Other times, usually in my case, a composer can do this themself. I like to be in control of what instruments play what notes. Orchestration is not limited to orchestras. You can orchestrate for any size ensemble and any type of instrumentation.  
What if the film is not using an orchestra? What if it's all synths? You would still need orchestration. This is also a lot of fun. You get to mess with all the knobs and buttons to create these fantastic sounds. You can create an entire score that way. Trent Reznor is a great example of this. Trent Reznor and Atticus Ross. They did the score for Social Network. They recently did Disney/Pixar's Soul, among many others. They're surprisingly versatile. They can really do it (all).  
After the creative workshop stage, I need to answer the question, "What am I going to do musically? How am I going to tell this story with different instruments?" Do I want an orchestra? Do I want synths? Do I want it to be avant-garde? Do I want the whole thing to be just drums? It could be anything, and this is an exciting aspect of film scoring. Once you decide this, then you can bring your team together.  
In a team, you have your composer, your orchestrator, and you have your music editor. The music editor is the person who places the music into the film and works closely with the director. It's one step the composer does not necessarily have to deal with. There is also often a composer's assistant who does much of the less "fun" work. It could be working MIDI and calibrating certain sounds.  
A lot of times when I'm working on a score, I don't have the budget to hire a full orchestra, as that can cost hundreds of thousands of dollars. In this case, a composer has Sound Libraries. These are computer-generated instruments. Inside every DAW, like Pro Tools, Cubase, Logic, etc...there are Sound Libraries. This where you will find strings, brass, drums, choirs, synths, etc. Nowadays these are "real" instruments, but they of course are not generated live. The composer will use a MIDI keyboard to compose using these Sound Libraries. A good composer can express themselves fully through this process. The technology is so good now that composers can create a convincing orchestral sound with these onboard tools. That's typically how most composers are doing their work these days. 
C: That's fantastic. There are many young musicians now who know how to use a DAW very well. They have many of these tools and are aware of how to record using them. How does this person get into film scoring? What is something they could do now, on their own, to get started? 
D: That's a great question. The best way to learn is by just doing it. They should find a video on YouTube, download it, and extract the audio. Then start with a blank slate and score it themself. They could find trailers or scenes from movies and start right away. They import directly into their DAW, it will ask them about extracting audio, and then they can begin scoring. This is fine for educational purposes. It's a fantastic exercise.  
When I was at USC, I was able to rescore scenes from James Bond Skyfall, Prometheus, Moana, and Milk. For the latter, I was able to record with a 54-piece orchestra at Warner Bros. Studios. It was incredible.  
Another idea is to collaborate with friends. If a student has friends that are into making movies at school or own their own, they should reach out and offer to create something together.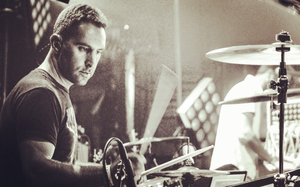 C: Let's talk about the skills associated with learning an instrument and how they translate to the world of film scoring. Here, we're talking about learning to read music, notate music, record music, edit music, understanding MIDI, and so much more. The skill set is vast. Probably more so than a lot of other avenues that a musician could go down. What is something that students are probably learning now that they can work on to help develop these skills? 
D: That's another great question. On a side note, when I was a kid, I never really understood why I had to learn math in grade school. No one really told me you could become an architect, a scientist, or an astronaut. These great careers utilize this information. Had I known what I could use that information for, it would have helped keep me engaged and motivated. That's the importance of music to me. You can do so much with it. Yes, it's fun, it lifts you up, it heals, but there's also a technical aspect that is very important to understand. It is its own language, and being able to speak that language opens a lot of doors, depending on what career someone wants to get into.  
As a film composer, especially when you're first starting out, you have to be everything. You are the composer, the editor, and the orchestrator. You have to prepare your own scores. To be all of these things, you have to know how to do each job, what the limitations are for each instrument, and how to communicate everything. Ear training becomes incredibly important. You need to be able to recognize intervals, rhythms, and chord progressions. With the right training, you can take a melody that's in your head and then write it down, hand it to someone, and they can play that for you. You then need technical skills to orchestrate that melody, and more technical skills to record and edit these ideals. All of these "technical" skills are part of a musician's tool belt. The more skills you have, the quicker you can solve problems, and the more in demand you will be.  
In the film scoring world, there are really two types of composers. There are the ones that have a vast musical knowledge, an understanding of harmony and notation. And then there are the composers who just throw ideas at the wall and see what sticks. Neither of these approaches are inherently wrong, but I can't tell you how much more fun it is to be able to drum up an idea and have the technical understanding to make that a reality—as opposed to going through 50 iterations of trying before they work.  
C: I agree with you wholeheartedly. We are musical problem solvers, and the more tools we have on our utility belt, the more problems we can solve.  
D: Yes! Problem-solving. That's it.  
C: What are a couple things you are working on right now that you're excited about? 
D: I was working on a show in the second half of last year for Netflix that I am incredibly excited about. It's an animated show that's just awesome, but right now, at this moment I'm not allowed to say anything more about it. I'm also a music producer, so I have records coming out with an artist out of Oakland and an artist out of Chicago. And now, I'm working on a show for PBS called Iron Maidens, which is an all-girl high school robotics team in competition in New York. I'm also keeping myself busy.  
C: Thank you so much for joining us and taking the time to share this with us, Dave. 
D: Thank you for having me. It's my pleasure. 
--- 
Dave Lewis is an active freelance composer for visual media. He is also a music producer and educator.  
Connect with Dave in all your favorite places! 
---
Interview by Chris Vazquez, Founding Partner of SoundLife Music Academy and a professional session musician in Los Angeles, CA. 
At SoundLife Music Academy, we make it our mission to continuously bring valuable, exciting, and helpful information to our students. One of the most valuable things a developing performer can learn is that working in music is so much more than just one single path. This interview is part of our ongoing interview series with professional musicians from all avenues of the music industry, where they share stories of their own personal paths to successful and rewarding careers in music.