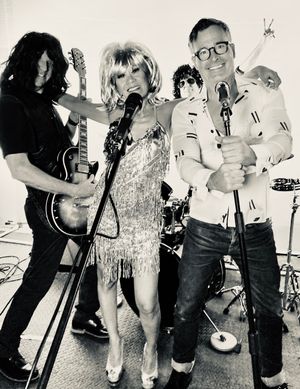 Today I'm excited to share a wonderful conversation with two members of our adult band Never Too Late: Matthew Jonas and Tony Greene. Both Matthew and Tony are parents of students who have been participating in private lessons, band coaching, and our Showcases for some time now. At a certain point, they both decide to start learning alongside their children and realize their own dreams in the process. 
Then, in early 2020, the stars aligned, and both Matthew and Tony found themselves in their own band playing the songs they loved. They called this band Never Too Late, which perfectly summed up their mission to create a supportive safe space for anyone their age who had never had the opportunity to be in a band before to do so. Never Too Late consists of Matthew Jonas on guitar, his wife Katie Chin on vocals, Steve Patscheck also on vocals, and Tony Greene on drums. I have had the pleasure of being their band coach and bassist.  
Since first starting SoundLife, it has been a large part of our mission to build a community for students to flourish in. Part of this means keeping parents involved and inspired right alongside their children. The articles we write and interviews we do are meant for both students and parents so that they can share in the entire experience together. Never Too Late represents a deeper level of what is possible when learning an instrument becomes something a family shares together.
---
How did you first hear about SoundLife? 
Matthew: I was looking for a guitar teacher for my son and piano teacher for my daughter, and SoundLife just came up in a random internet search. I said, "This looks good."  
Tony: I heard through Matthew. His son Dylan was taking lessons through SoundLife, and my son Zeke really wanted to take guitar lessons. I asked Matthew. He said, "SoundLife's great. Chris is great." The rest is history. 
How long has your family been with SoundLife? 
M: That's a good question. I was thinking about that recently. I think it's been four years. Dylan and Becca were either 8 or 9 years old when they started. 
T:  Zeke's been doing guitar for about a year and half now, almost two years.  
Once your children started taking lessons, what made you want to form "Never Too Late?" 
M: For me, it was at one of the SoundLife Showcases in Hollywood, watching my son get up on stage and play a Tom Petty song, while I'm sitting in the audience. I thought to myself, "How come he's living my dream?" Why is he doing what I've wanted to do for the last 40 years? That was the thought that went through my head. I thought, "This is dumb. I should be doing that." So then I called you, and I said, "Chris, I've had this unrequited love affair with the guitar far too long, and I wanna learn to play." So that was the germ of it, just me wanting to do something I've wanted to do since I was 12 years old. 
And at this point, were you thinking about playing in a band? 
M: No. I never thought about being in a band. I grew up in a family of music appreciators. No one in my family really played music or could carry a tune. My parents did put me in lessons, but there wasn't really a model or example to follow. There was no structured support. I kinda grew up with this belief that I just wasn't a musician, but I loved music and I spent my life going to concerts.  
When I first started taking guitar lessons with SoundLife, I had a few friends who I considered real musicians who would be like, "Hey, Matthew, come on over and jam," and I'm like, "I can't...I'm really not very good." That went on for a while until I finally said to myself, "What's my problem? I should do this." Then Tony came into the picture. He and I knew one another through our kids' Cub Scouts troop. He said that he had been playing drums for about a year and suggested we get a band together. I suggested getting a band coach, and then the rest just fell into place. That's the first time I really felt excited about playing music with other people. This is the high school band I always wanted. I get to play like a 14-year-old, and it's okay. 
T: My whole life I always wanted to play and just never did. I always just had other priorities. My [younger] brother started playing guitar, and he was in bands, and I used to follow them and help them out when they would perform at different venues around LA. I always enjoyed the band vibe, and I kinda always wished I was in one. Then a couple of years ago, somebody just happened to say to me, "I'm getting rid of a drum kit because my kid doesn't play it anymore", and I said, "Well, I'll take it." I set up in the garage and just started to play along to the music that I love—classic rock from the 70s. I did that probably for six months until Matthew and I had our conversation about feeling the need to play with other people. What's been inspiring is watching my son Zeke play, and him getting to watch me play. And then, us having the chance to play together. It's a great father / son experience.  
What has it been like learning alongside your kid? 
T:  I do get a little jealous of Zeke having somebody sitting there teaching him every week for 45 minutes or an hour. Watching him grow has been so amazing, and I think watching him improve so much motivated me to want to do that too. It's really fun to watch both of us getting better at our specific instruments so that we can play together. Luckily I think Zeke picked up on the music I love, and now he's really into bands like Queen, The Eagles, and Tom Petty. So every time he comes and tells me what he's working on, I get excited to go learn it on the drums.  
M: Dylan will try to teach me things that he's learning. He's working on a solo right now with a slide, and he keeps wanting to show me and teach me the solo so I can learn it. We also just jam together on the blues, which is great. Then whenever I record something for Never Too Late, he always listens and he's my biggest critic. So it's great to share that together. 
Never Too Late had one official rehearsal before COVID-19 forced a stay-at-home order. After that, all rehearsals were online, but the band persisted. How has social distancing affected the band?  
M: It created some space at least for me to play more, to practice more. So in that sense, it really was kind of a perfect opportunity. We just had the taste of this. We played together one time. It was so much fun, and then it was like, "Oh, we can't do it." Fortunately we were so excited at the same moment that we suddenly had more free time to learn songs and practice our instruments.  
T: I thought, "Well, we can't go perform. And we're so old that we'll forget anything we don't document." So we started making videos much in the same way our kids were for the first Virtual Showcase. With your help, we learned to play with the recordings and then sync our parts up so we could hear and see ourselves all together. Each song that we would work on in rehearsal, we endeavored to record. I haven't been working because of COVID. So I've had a lot of free time, and so I spent quite a lot of it sitting behind the drum kit. The videos came about, I think, because really, at least for me, I was trying to work on my video skills and for my own profession. It gave me an opportunity to grow musically as well as professionally, and just have a blast doing it. 
M: It's been really inspiring for everybody else who's involved because each video is so fun. We can't wait to not even just see ourselves or hear ourselves, but Tony comes up with these fun elements for every video. It's just been awesome. It's been a bit of a gift for sure to have those. 
What is the goal with Never Too Late?
M: The idea I had, and this is what I pitched to Tony, is to play a full set for my 60th birthday. I figure that's the perfect time to have all the people who care about me in one place where I can subject them to whatever 75 minutes or two hours worth of music. We'll make it like a Grateful Dead show and just lock the doors, make them listen to everything and clap really loudly. 
I do want to say that the only requirement to be in the band is you have to be of a certain age, and you've gotta be someone who's never been in a band and never had this experience. Everybody's just super encouraging and supportive because we've never done this before, we're all having this experience for the first learning as we go. 
How has SoundLife helped you and your children realize goals? 
T: I have found SoundLife to be ideal for myself and my son because I like that it's project-oriented, and we're building toward either a Showcase for Zeke—or in our case, just trying to figure out how to play together. Separate from that, we're trying to figure out how to play our own instruments. Without our band coach, we would be lost trying to figure out how to do these things, but having a coach brings us together and helps us maintain momentum. We all have different ways of learning things or performing things, but our coach finds that happy medium between all of that and keeps us going and gives us notes, and we get better and better. For me, it's vital to have somebody who knows what they're doing, helping those who do not. 
M: Well, first of all, I'd say that the only other experience I had with music education was my oldest daughter. She took some piano lessons years ago. It was like, you take her to the school and drop her off, and then she does this sort of awkward performance. I saw her do what I did, which is start and then kinda lose interest. What works with SoundLife, and what I loved from the start, is that the kids were working on the music they loved and they wanted to play. So it was fun music for them, and then when you put them up on stage and they played in front of people, barely being able to play, but enough to stand up there, that priceless inspiration. I remember Dylan doing Tom Petty with a professional vocalist, and it was amazing. And then there's a great picture taken at one of the shows of him with your red Les Paul, and he looks like a total rocker, and he uses that picture, that's his phone picture, it's a crazy great picture. You put him in that place where it felt real and he felt like a real musician. And so I think so that's been really great. That was inspiring and encouraging.
What you also did, which I love, is you had him up there playing with kids much older than him. So he was looking at Babe, an 18-year-old, going, "I wanna play 'Master of Puppets.'" So now he's aspirational, seeing, hearing music that he's interested in and saying, "When do I get to play that well? Maybe not yet, but someday." So it's been really great. The other thing that I can say is my wife and I have both been very vocal about how we feel about SoundLife. We've encouraged a lot of our friends to get their kids involved, who we knew were into music. So our kids got a band with all their friends, but what's also the biggest, I think, testament, is that two of the guys, two of the Dads of those families are both accomplished musicians. One was in a touring band all over the world, and they love the program because they see the value in it, even though they could probably sit down and teach their own kids to play music because they're skilled. They see the value of not just what you bring and your teachers, but also the program and that support, that community mentality. So it's awesome. We're really grateful. You changed my family's life by bringing music into it, so that legacy of..."We're not music people" is gone.  
---     
Interview by Chris Vazquez, Founding Partner of SoundLife Music Academy and a professional session musician in Los Angeles, CA.     
At SoundLife Music Academy, we make it our mission to continuously bring valuable, exciting, and helpful information to our community. This interview is part of our ongoing interview series with Student Artists, where they share stories of their personal journeys in music. These interviews aim to give emerging artists a platform to share their story and inspire others.