Congratulations to Cole on being selected as our 
March Student of the Month!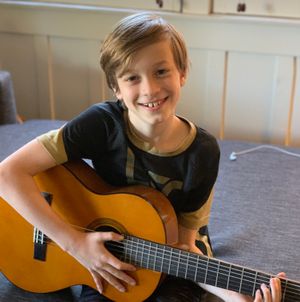 Cole has been taking guitar lessons with Chris since summer of 2020. From the very beginning, he has displayed a natural, nearly photographic memory. Even though he was a beginner, Cole's visual memory allowed him to quickly recall chord shapes, note names and locations, strumming patterns, and guitar riffs. With each lesson, he showed an increasing command over the material from the previous lesson, which enabled him to quickly build up his musical skillset. This allowed Chris to help him build a deep song list that currently stands at over 13 songs—and counting! Part of each week's lesson involves reviewing these songs, and Cole never misses a beat. 
Recently, he began learning the song "Boulevard of Broken Dreams" by Green Day. Starting first with the chords, Cole quickly mastered the chord progressions for every section of the song. Before long he had all of the sections playable in time with the recording. Now Cole has mastered the end section of the song, which introduced power chords to his skillset for the first time. He's also got the guitar solo, which is the first guitar solo he's learned.  
Aside from learning songs, Cole also learned to read written notation—a great and very useful skill. While many students struggle with the patience involved in learning to read music, Cole has excelled. He completed Chris's own instructional book within six months and is now doing weekly sight reading as part of his lesson. 
We're so excited to celebrate Cole's accomplishments and to see him continue to grow with the guitar!