It's no secret. SoundLife Showcases are an event not to be missed. When the stage lights come on, students are nowhere to be found. In their places are artists, songwriters, bands, and rising stars. 
As a musician and a founder of the school, the butterflies start swelling in my stomach the night before. I typically walk through what I want to say, go over all our checklists, pack everything up, and then begin the long process of sending positive energy to every performer. This inevitably brings me back to my own childhood and the musical opportunities and experiences that shaped me. I hope we'll always create some special moments that will push performers into the next phase of their growth while also creating unforgettable memories and bringing performers, families, and friends closer. 
On June 4, 2022, our creative community gathered for our 17th SoundLife Showcase at the historic El Cid in Silver Lake. Behind the scenes, our staff arrived at 9:00 am to set the stage, soundcheck, and prepare for a full day of music. 
Rising Stars 
The Showcase began with our "Rising Stars." These are experienced solo performers, first-time performers, and younger bands. Our first star was Cormac, who performed a beautiful classical piece called "Vivace." Going first is never easy, but Cormac is a seasoned performer—both solo and with his band. He walked to the side of the stage, poised and ready. His piece perfectly set the tone for the first part of the afternoon, relaxing the less-experienced performers who were scheduled to follow him. Cormac would take the stage again in the latter parts of our show with his two bands, Sweatervest and Feedback.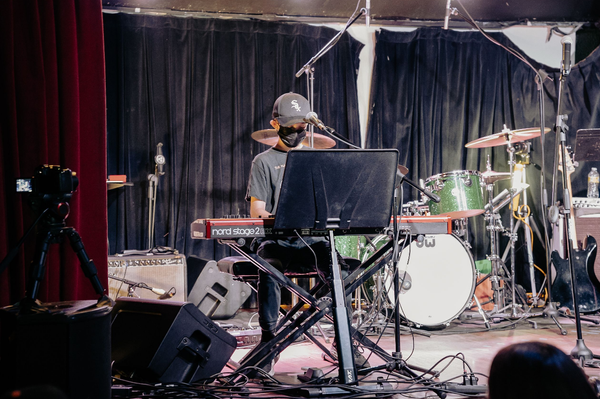 Riley's second in-person Showcase was exactly what we also hoped for. It clearly displayed his growth as both a performer and an instrumentalist. Riley sang and played the song "7 Years" by Lukas Graham. Since Riley was 11 at the time of this performance, it was beautiful to hear him sing the line "Once I was 11 years old."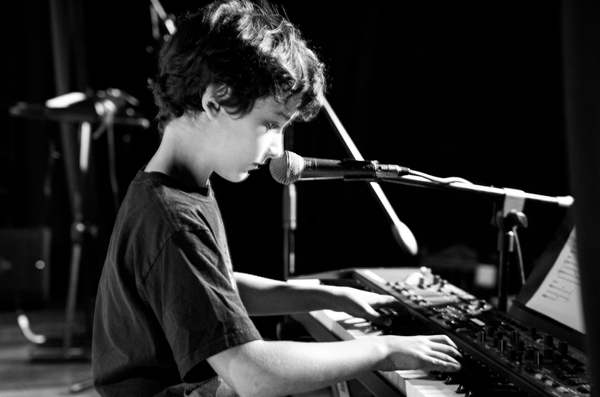 Following Riley was Lenna in her second appearance on our Showcase stage, and she stood side stage with a smile. Lenna played through "Lover" by Taylor Swift, showcasing a more comprehensive understanding of song form, chordal playing, and timing.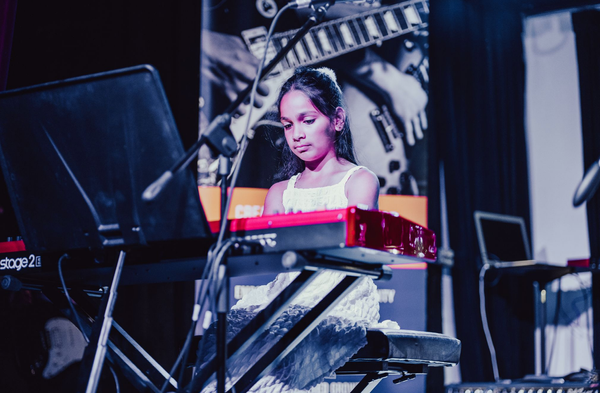 Our first guitarist of the afternoon was Evan in his second Showcase performance. Evan played through a song called "Black Sky" by Arrows to Athens from Pokemon. This song demonstrated the use of power chords, which Evan was determined to master. At his young age, he's ahead of the game. Impressed by his focus and determination, the crowd erupted when he hit the final note.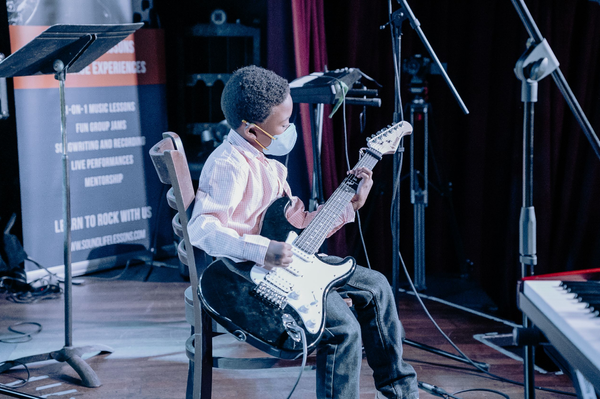 Evan was followed by his sister, Mikayla. She decided to sing and play "We Don't Talk About Bruno" from Encanto. Mikayla's hard work was fully displayed as she sang and rapped all the parts while holding down the chords over an instrumental backing track.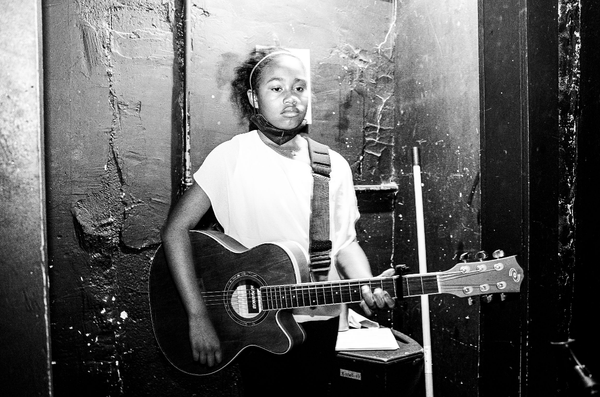 Up next was Stella in her debut Showcase performance. Stella played through a perfect rendition of "Dance of the Sugar Plum Fairy" by Tchaikovsky. This classic holiday favorite was the perfect vehicle to showcase the independence between her two hands, her dexterity, and her focus. Being her first performance, we are excited to see how she builds on this experience.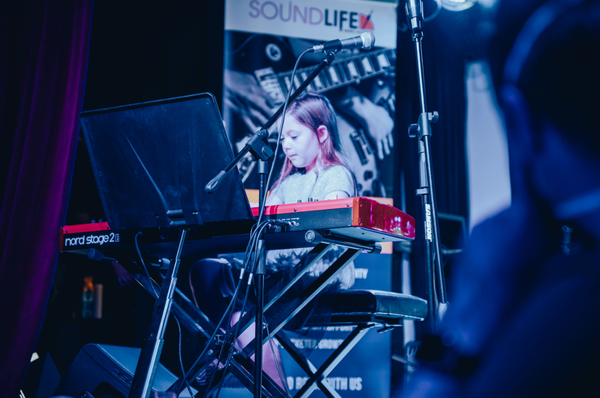 Closing out the Rising Stars portion of our show was Laurel with a stunning performance in French. Yes, Laurel sang in French, and it was one of the most moving parts of the afternoon. Laurel is another veteran of the SoundLife stage. With each performance, she challenges herself in new ways, but tackling another language was a game-changer. Laurel performed "Je te laisserai des mots" by Patrick Watson, and the room was silent. Her voice, accompanied by her piano, suspended time and took the audience on a journey to the cafes of Paris.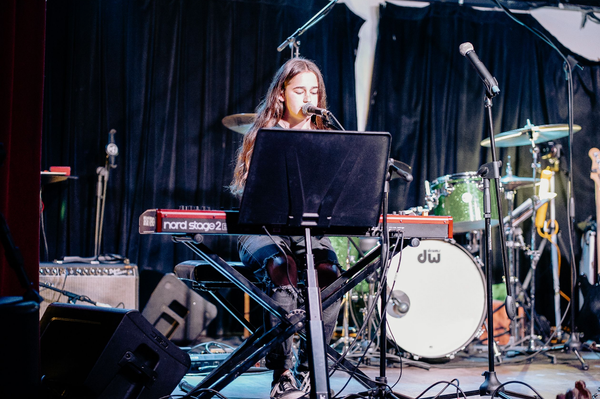 All-Star House Band
After a brief turnover on stage, our house band featuring premier session musicians and SoundLife staff took the stage to supplement student bands and play behind our songwriters and artists. For this Showcase, our house band featured Alex Nester (American Idol, Urban Renewal Project), Michael Torres (Macy Grey, Selena Gomez), Zak St. John (White Buffalo, Corey Taylor), and myself (Air Supply, Leona Lewis).
The first band was Undefined Rock. Featuring Riley again on vocals and key, Kourosh on guitar, and Devon on bass, this power trio kicked off with "Hotel California" by The Eagles. Kourosh nailed all of the intricate guitar solo, including the epic finale. For their closer, Undefined Rock treated the audience to "Gold on the Ceiling" by The Black Keys.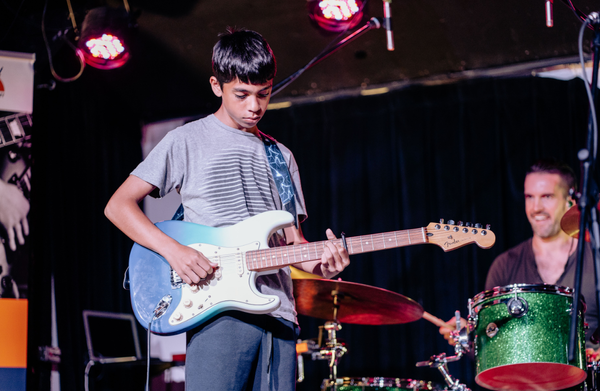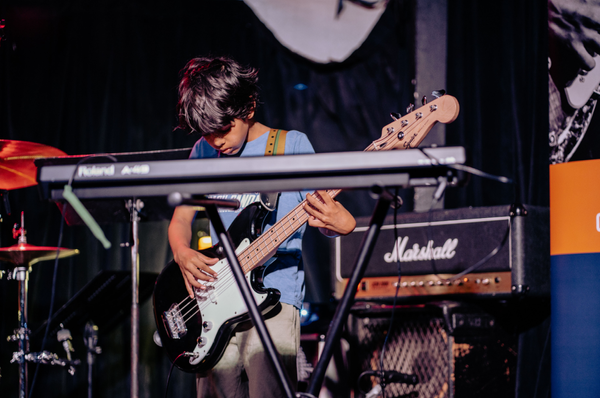 Stepping up for his debut performance was Ozzy, and with a name like that, he was born to rock. Ozzy sat intensely focused on the task at hand, tackling the iconic "Let It Be" by the Beatles. From beginning to end, Ozzy locked in with the band, allowing Alex to deliver this beautiful melody to Ozzy's adoring fans.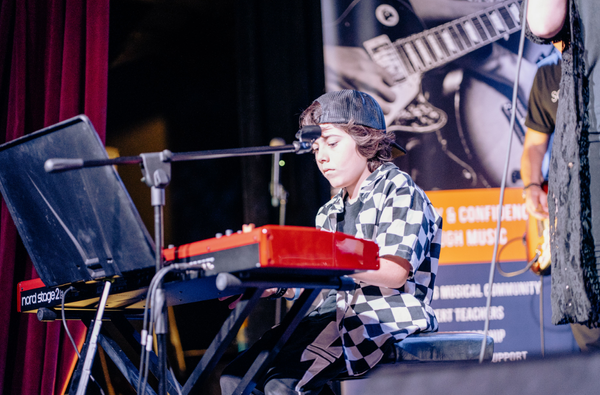 In a SoundLife first, Jacob took the stage to perform an original rap entitled "Back & Forth." Jacob's spitfire lyrics were delivered with authority over an incredible instrumental beat he produced with his teacher Eric's help. This also marked Jacob's first SoundLife performance. Now that the seeds are planted, we're chomping at the bit to see what he does next.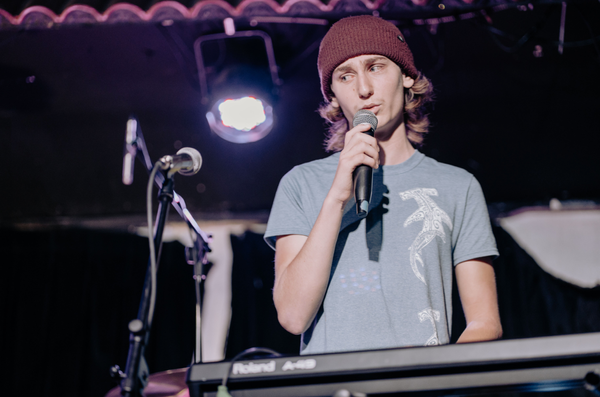 In their final performance as a duo, Brother delivered another showstopper. Ralston penned two originals entitled "Over My Head" and "Feeling." As frontman/guitarist Aidan heads off to college, we look forward to seeing how Ralston continues to develop as a bandleader and writer. We also wish Aidan all the best and are so grateful for the memories he gave us.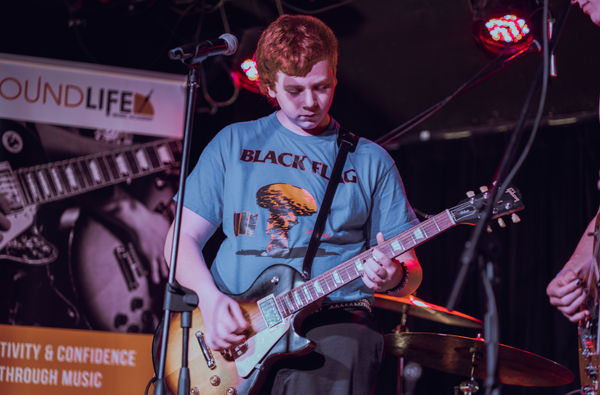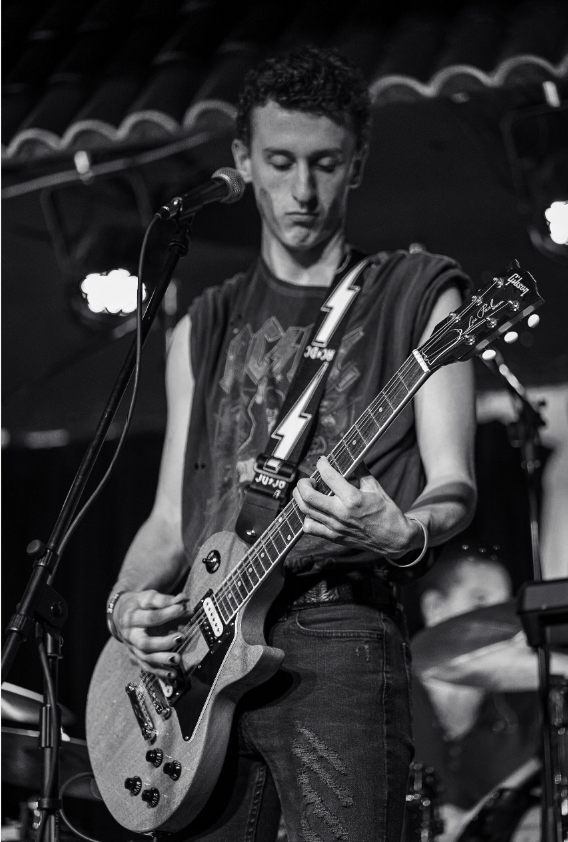 For the first time since the pandemic, Julian returned to the stage with a scorching performance of "Hayloft II" by Mother Mother. This dark and cynical song is a rocker, showcasing Julian's outside-of-the-box creative voice and giving the band a platform to headbang for nearly three straight minutes.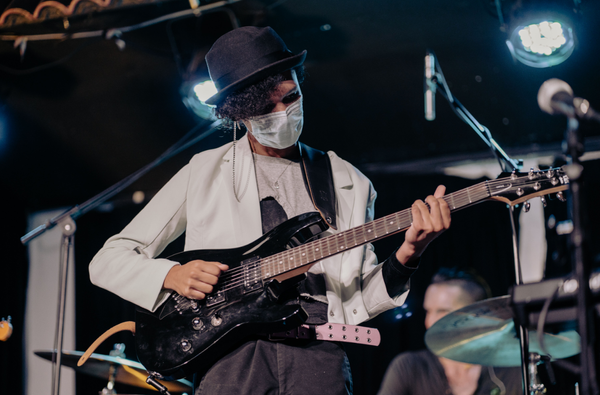 Nate the Great made his SoundLife debut with the one song no one is allowed to play in a music store. Can you guess? Yes, the immortal "Stairway to Heaven." Nate played through a condensed four-and-a-half-minute version with the full band, featuring the entire guitar solo. Nate's performance moved the audience as they sat entranced, waiting to hear their favorite parts of the rock n' roll classic.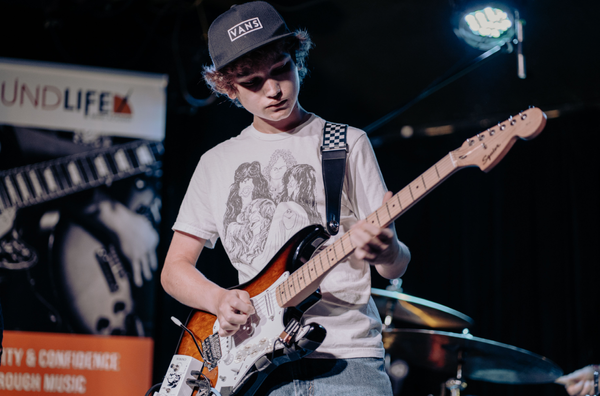 Following Nate was Sarah in her debut performance. Sarah treated the audience to one of her original songs, "Play with Fire." This marked the debut of her original music with a full band. "Play with Fire" is a wonderful song and the perfect vehicle for Sarah's voice. We are all looking forward to seeing how her writing continues to develop.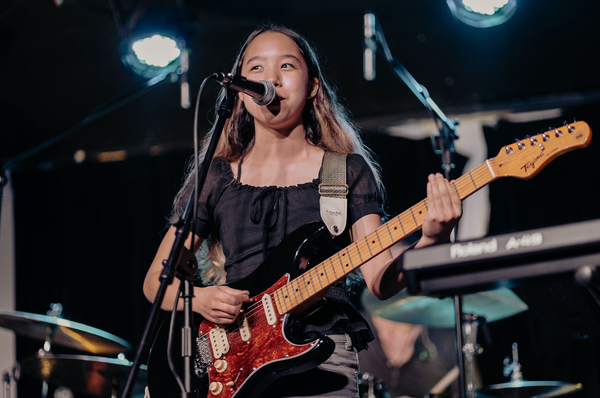 Next, Amy took the stage with first-time performers and close friends Gavin and Felix for a blistering rendition of "Johnny B. Goode" by Chuck Berry. Their arrangement featured trading guitar solos and a nod to Eric Clapton with a brief excerpt of "Hideaway."
After bringing the house down with Chuck Berry, Amy stayed on stage with the house band for "18" by 5 Seconds of Summer. For those who don't know, this is a heavy rock song—uptempo and challenging. But Amy was unfazed; she knocked it out of the park.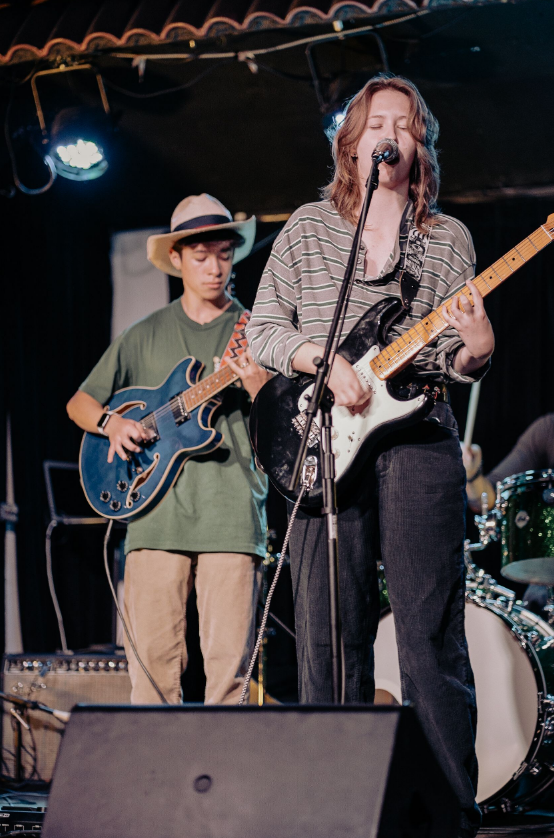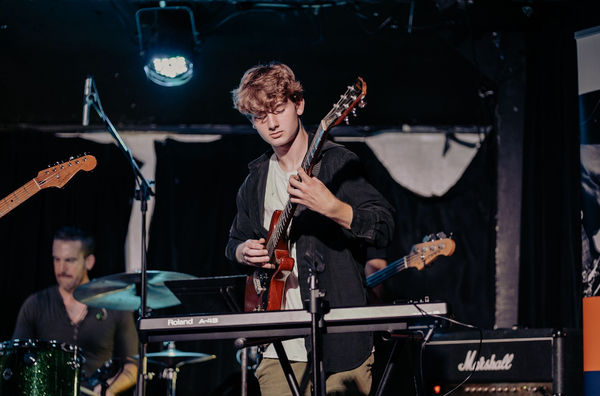 Lily then took the stage in her debut Showcase performance. Though this was her first SoundLife performance, Lily came in with years of performance experience, which was evident from the count-off of her first song, "Tears Dry On Their Own" by Amy Winehouse. Lily had the crowd in the palm of her hand, clapping along and watching her every move. For her second song, Lily treated the audience to an original titled "Done & Over." This beautiful song showcased her mature songwriting and command of melodic phrasing. The sky is the limit for Lily.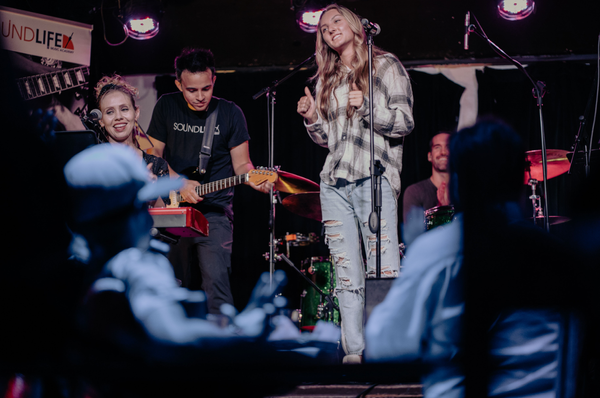 A SoundLife Showcase is never complete without the Bernstein family, who has participated in all 17 Showcases. Over those years, Natalie has grown to become her own artist, and 2022 is her year. In May, Natalie released her first single on all streaming platforms titled "Adrenaline." If you haven't heard it, check out Natalie Bernstein on Spotify now. In conjunction with this release, Natalie performed her single with the full band and tracks, giving the audience the whole experience. She followed this with an acoustic performance of a brand new original, "Exhausted."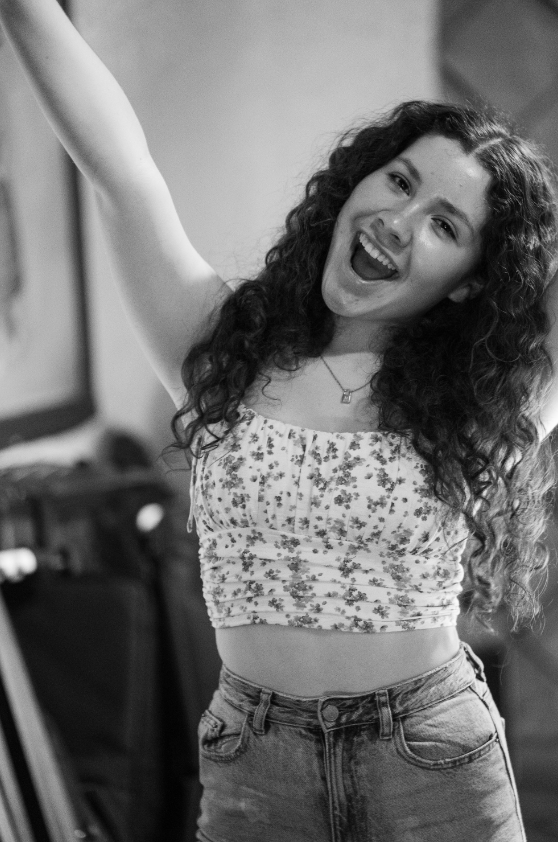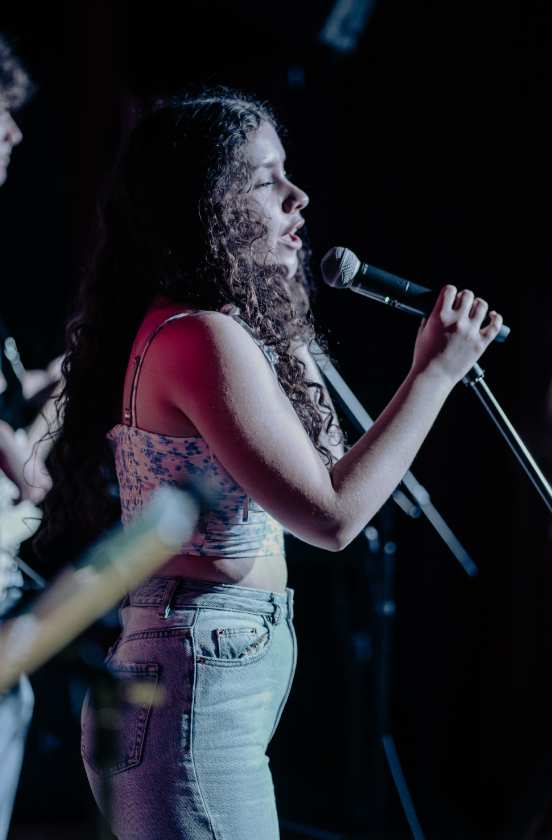 In the finale of the All-Star House Band segment of our show, Isaac took the stage for his final SoundLife performance. Isaac will be heading off to Duke University in the Fall. Having been a part of SoundLife since the age of 10, his presence will be greatly missed. Isaac started with "I Feel Good" by James Brown, demonstrating his funky bass lines and excitement for the future. For his final piece, Isaac's sister Natalie returned to the stage with him to sing "Do I Wanna Know" by the Arctic Monkeys. This happened to be the very first song Isaac ever performed at our first Showcase way back in 2014, bringing his time with SoundLife full circle.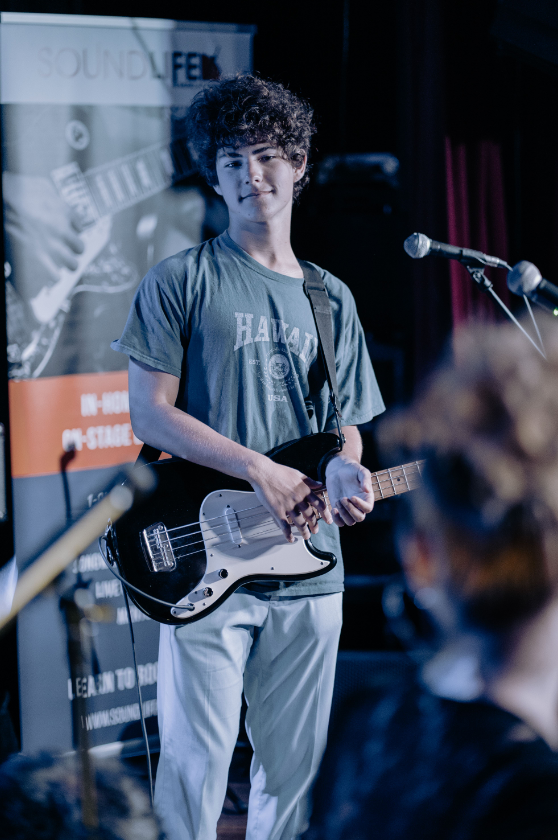 Advanced Bands
First up in the Advanced Bands portion of our Showcase was Sweatervest, a group comprised of Laurel on keys and vocals, Cormac on guitar and background vocals, Guy on bass, Nate on guitar, and Jonah on drums. Their synth-pop and rock blend was a refreshing change of pace. Sweatervest played through fifteen minutes of known and unknown gems representing every member's interests.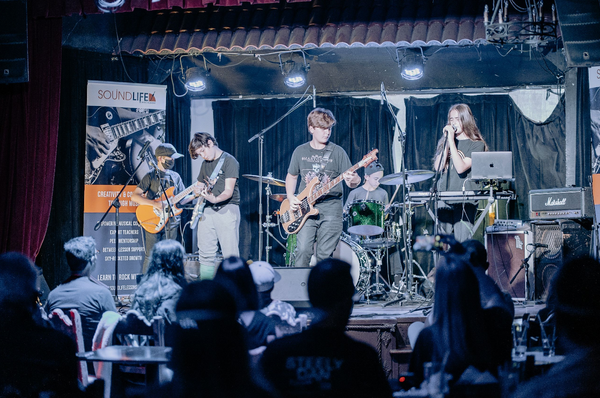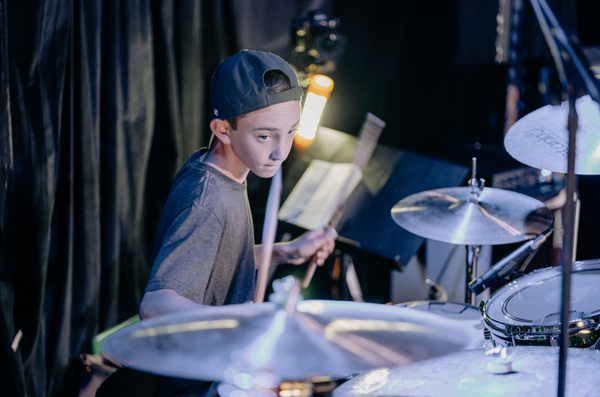 Following Sweatervest, Aidan returned to the stage for his final SoundLife performance. Aidan started with "Fix You" by Coldplay. His moving performance moved the crowd who saw this young man grow right before their eyes. Afterward, Aidan brought his bandmate, Ralston, on stage for a tribute to the late great Taylor Hawkins with a rousing performance of "My Hero" by The Foo Fighters.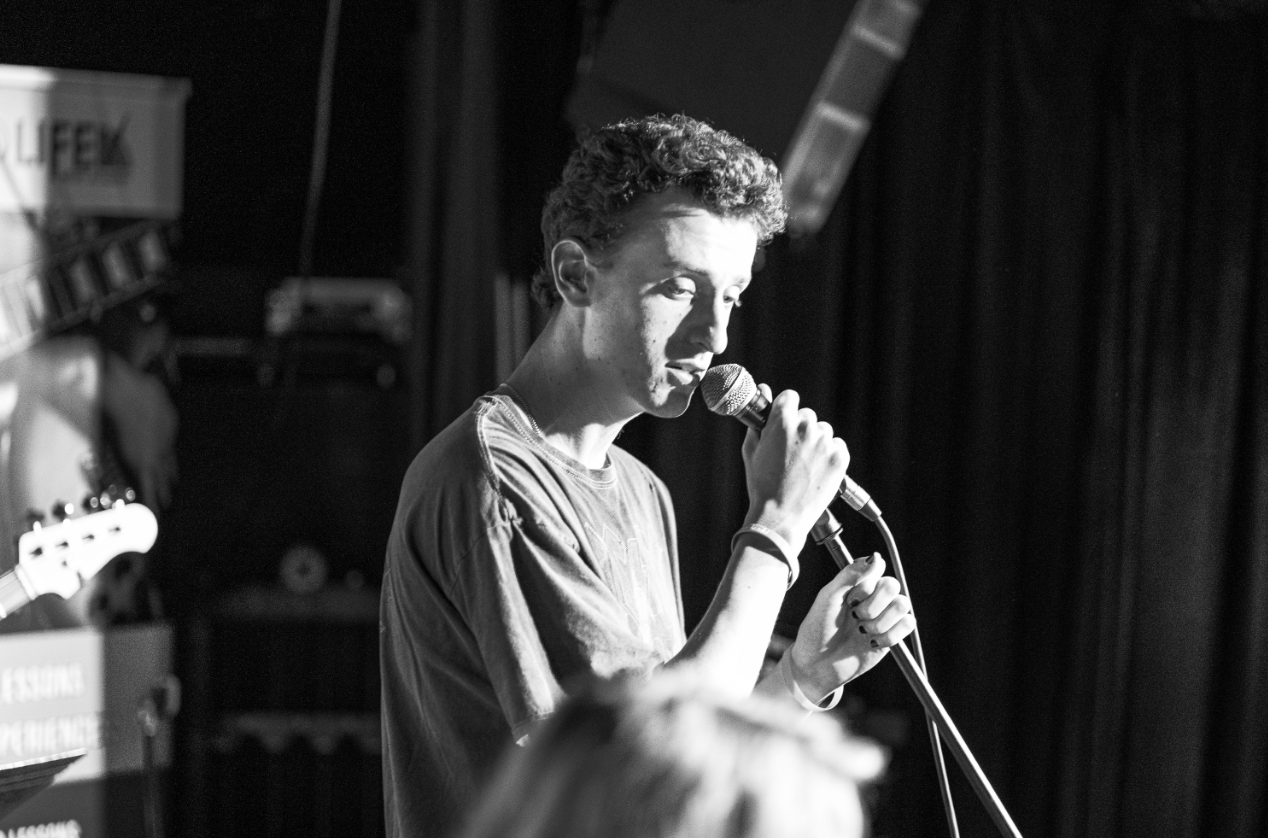 Formally the Rock Mojis and now veterans of the stage, Feedback treated the audience to a 25-minute set of pure rock. Featuring Laurel on vocals and bass, Cormac on guitar and background vocals, Becca on keys and background vocals, Dylan on guitar, and Guy on drums, these young stars came in after a month of regular performances. Kicking off with "Stone Cold Crazy" by Queen and closing with "No Sleep Til' Brooklynn" by The Beastie Boys, Feedback looked like a season touring machine.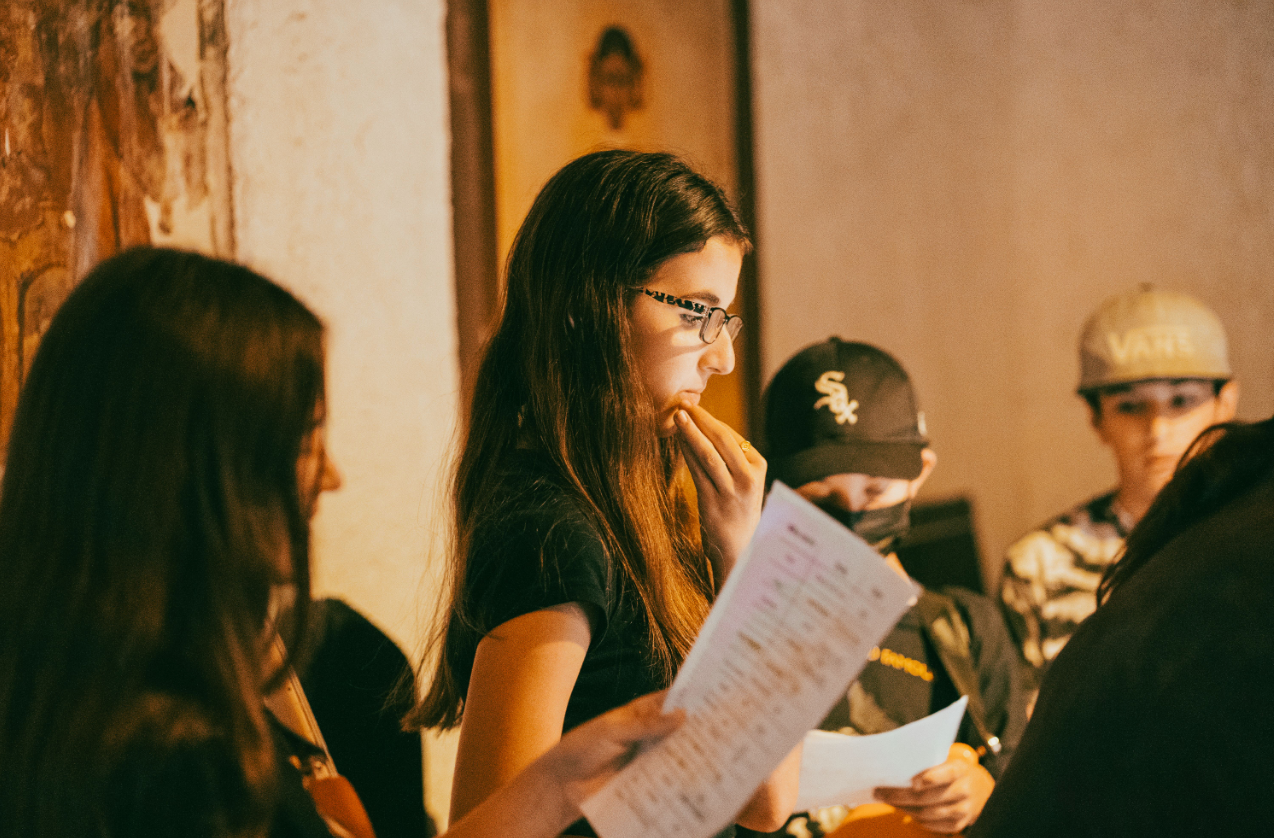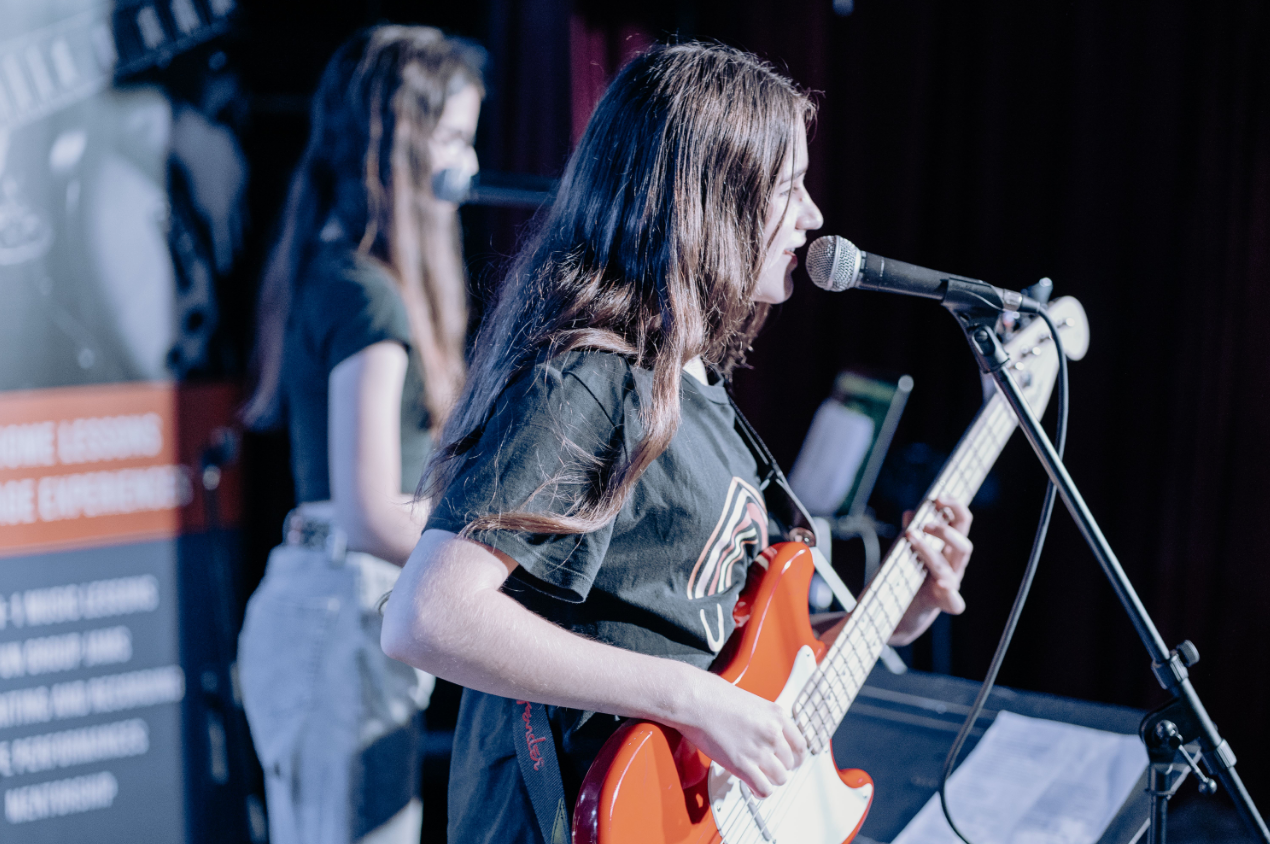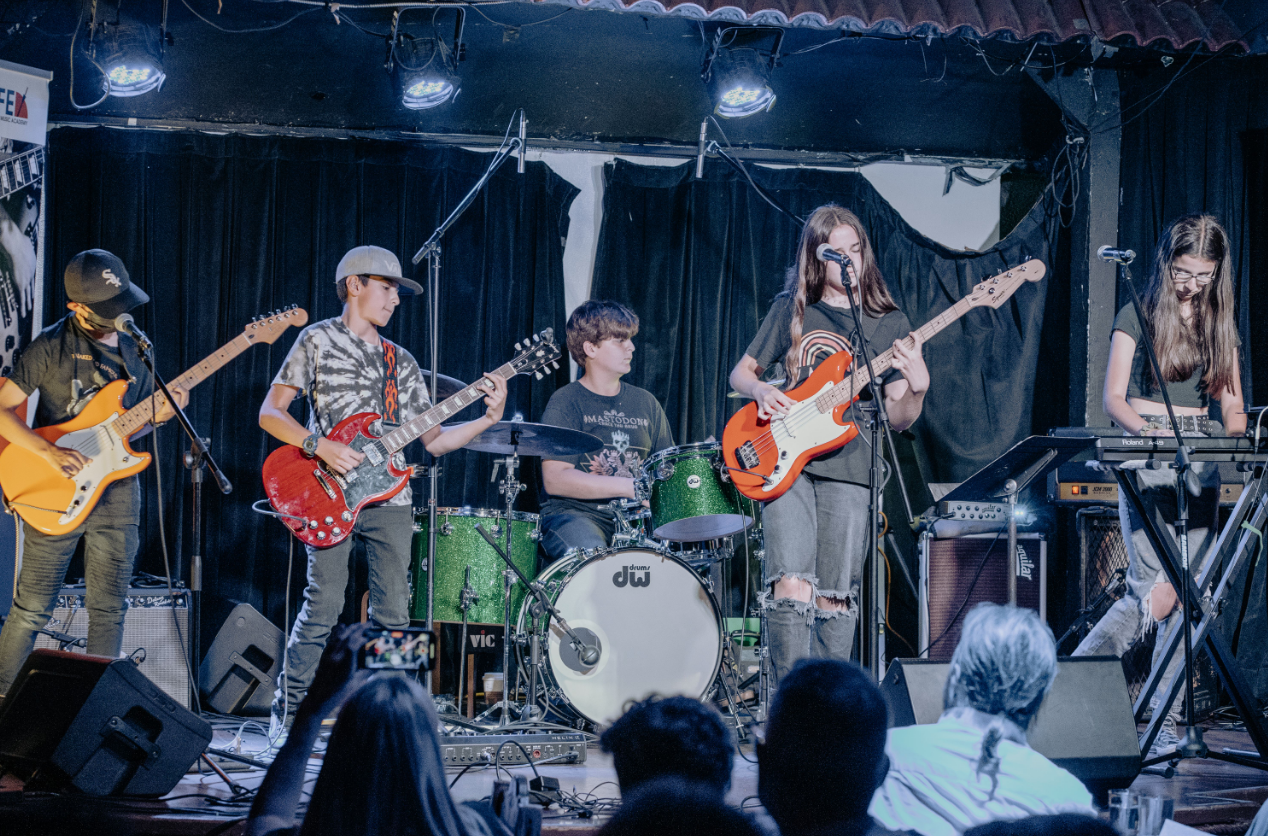 Closing out the afternoon was Orpheus, a band on the rise. Orpheus played through 25 minutes of new and classic covers mixed in with their originals. Orpheus is maturing and honing their unique sound. Their original music is a blend of vintage rock tinged with funk and R&B. Orpheus features Cole on vocals and keys, Michael on guitar and vocals, Brady on bass and vocals, and Corbin on drums.