Teacher Feature showcases the incredible journeys and accomplishments of SoundLife mentors that you may or may not be familiar with, but should be!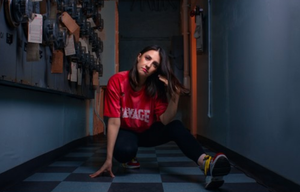 Born in BarnAul, a small town in Siberia, Russia, Anna Mezentseva found her way to Los Angeles through the transformative power of music. As a vocalist, pianist, and songwriter, Anna followed her dreams from BarnAul to Boston, studying with the top contemporary instructors in the world at Berklee College of Music. Go ahead and read that back: From Russia to Boston, that's what music can do. 
Anna started writing songs, singing, and performing at a very young age, but being from a small town and from a family of non-musicians, she put her dream aside and pursued linguistics for five years. After all, music to many is — like most "dreams" — a hobby rather than a career path. However, Anna was meant to shine, and she couldn't shake the passion to pursue music. While studying linguistics, she continued to write, perform, and make videos until one day a friend pointed her toward Berklee. She applied and was accepted, and before she knew it, a path toward her dreams was created.  
In Boston, Anna strengthened her skills and honed her craft. Berklee is a melting pot of students and educators from all over the world. Being a part of their student body is like living in a town full of nothing but musicians. This environment helps shape students and shows them just how big the world of music really is. Behind the ideas that everyone has of a "musician" are thousands of jobs and career paths. Berklee helps instill in students a belief that there is a place for every musician in this great big world, and helps arm them with tools to navigate.  
Anna found her place in Los Angeles, citing the ambitious energy of the city as her inspiration for moving. Since relocating to Los Angeles, Anna has become an incredible mentor and teacher while continuing to pursue her goals as a writer and singer with her group, HalOver. Her original project, which is a writer/producer duo with a friend from her time at Berklee, is deep and dark dance-oriented pop music. Her writing is mature, and the production is top-notch. 
We feel blessed to have Anna as a member of our SoundLife family. Her students receive so much inspiration and information. Aside from seeing her students grow on their instruments, we love seeing them grow in their love for music. This is a direct reflection of Anna's love for music. We look forward to witnessing Anna grow in her career and continue to inspire our student body. Check out her original project HalOver, and follow them on Instagram @thisishalover.